Updated on March 2nd, 2018
Anyone that works in the music industry knows who Adam is. Adam was founded in Berlin in 1999 with one goal that they have achieved nicely.
The goal was to create studio monitors that were exceptional, that reduced distortion and gave users a truly reliable listening experience.
Adam has since its inception been a leader in the audio industry. As early as the 1960's the development of the Accelerating Ribbon Technology fondly known as the ART tweeter by Klaus Heinz has put Adam in the forefront of audio equipment development.
The ART technology produces sound via a pleated diaphragm that can move the air 4 X's faster than the traditional piston design.
The results of this invention prompted the company to move forward because it was met with critical acclaim.
Modern materials were used like a durable foil diaphragm and rare-earth magnets which made modern driver-geometry a possibility.
Thanks to these new innovative designs new developments arose that showed incredible reliability and that offered amazing sound characteristics.
The results were loudspeakers that offered low distortion and that were highly honest in the sound emulation.
Adam's did not stop with this breakthrough design. They have continued to stay on the cusp of innovative technology applications to create reliable, honest, low distortion monitors.
Adam's started the company with very lofty goals to "raise standards in audio reproduction noticeably and audibly".
They have met their initial goals many times over by continuing to be a forward thinking company that is not afraid to take risks with their sound systems.
The ART driver has gone through several transformations over the years, even being reengineered from the ground up and transformed into the X-ART driver.
The X-ART Midrange speakers and Tweeters offers an extended range of frequencies and are clearly offer higher efficiency when compared to the earlier ART driven tweeters and midrange speakers.
The newer generation X-Art offers a 50kHz thanks to the AB amp that has a bandwidth up to 300 kHz which offers considerable improvement in the sound.
The product line that has come from Adam's has been impressive and they have continued to impress nicely.
Their newest releases are really a testament to what innovation and commitment to producing audio monitors that are crafted with the professional in mind.
At every turn Adams has provided consumers, professionals and hobbyists with great listening opportunities.
They have really set the pace when it comes to studio monitors and seemingly out do themselves at every turn.
They have reached their goal nicely and most would say they have surpassed it with the Adam's A7X, which is easily one of the top  monitors that they have produced.
This is likely one of the most budget friendly active monitors that Adams has come out with.
Understandably, although it falls on the budget side of the spectrum it is still an Adams and still has the quality and commitment behind it.
It is a prime example of paying less for a lot more. The low pricing actually makes this a really unexpected find.
You would expect to experience "less than ideal" monitoring situations with a budget friendly monitor but you can rest assured that the quality is always going to be there when the Adam logo is present.
Adam's commitment to quality is not really relevant to how much you pay, it is relevant to bearing the brands name.
Typically, Adam's equipment is on the high end of the budget spectrum because you do pay for what you get in many situations but they have done a nice job of creating an Adam's quality monitor in a package that is a little more budget friendly with the A7X.
Adam's commitment to bringing the best sound possible clearly shines through with their budget friendly A7X.
What Does the Adams A7X Have to Offer?
Any monitor that leaves the Adams facility and bears the brand is going to have the performance that you would expect.
You can expect to find top notch construction, technology and innovation in this monitor that you would be hard pressed to find in any other active monitor at this price range.
By keeping the price affordable Adam has made the effort to reach a wider array of professionals.
This nearfield monitor has folded ribbon X-ART tweeters. Carbon-fiber Rohacell Cone to offer strong rigidity and decent self-damping so the technology is there even at this low price.
You also get a recessed main driver that lays flush with the front baffle that are shielded magnetically and that are powered by 50 W/80W peak RMS amplifiers that have a crossover frequency of 2.2 KHz.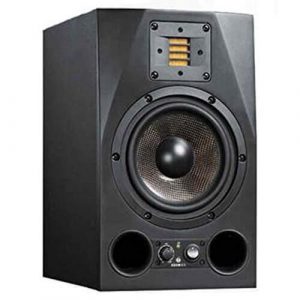 Click Here for Pricing, Pictures and Reviews on Amazon.com
The cabinets are a compact 180X330X280mm and weigh in at about 8Kg each which is absolutely portable "enough" to take on location.
Even with the smaller compact size the A7X offers a pretty decent frequency range at 46Hz to 35Hz with -3db.
The maximum SPL at 105dB with a peak of 116dB (as quoted for the pair of speakers) with a THD better than 1%.
Adam also offers a 2-year warranty period for these speakers which is always a bonus because no matter how much quality control there is you just never know so a 2 year warranty may wind up coming in very handy.
You find the power switch and the domed level control (which is shaped a little oddly) at the front panel.
The rear panel has the controls to control the level of the tweeter, the low and high frequency filters for setting compensation.
The tweeter can be adjusted (+/-) 4dB. The shelving filters offer a range of +/- 6dB.
The setup does not have ¼ inch jacks which is a bit disappointing. The balanced XLR and unbalanced RCA connectors come fitted.
The cabinet itself like all Adam's monitors is very well-made from MDF board. The cabinet is finished with black paint and has chamfered sections to the edges or the upper baffle.
This look reduces diffraction from the corners of the cabinet and gives the monitors a very distinct look.
The styling is very sleek and really adds a little bonus to the Adams sound!
Listening Experience
The design of the tweeter is of course innovative and results in a very clear, open sounding top that works really well for being able to hear and pick out all of the details that you can sometimes miss with other monitors.
The monitor offers a smooth clear midrange as well thanks to the 6.5 inch (main) driver. When you set all of the controls flat what you get is the "ADAM sound". This sound helps you to easily dissect the mix that you are working on.
The sound may at first seem a bit overstated but quickly you realize that while it is overstated it is not oppressively overstated.
The stereo imaging is great. These are nearfield monitors but they do not lack the volume.
Don't expect a lot of insane bass from these monitors because that is not what they are meant to do but you can expect enough to get an accurate listen.
You get a perfect balance of real bass but not to the extent where the room is thumping along with you.
This can be a very good thing when you are stuck in a smallish studio and trying to dissect your mix without blowing out your ear drum and getting fatigued with the whole thing.
Overall
There are a lot of monitors out there in a full range of price points. Trying to choose the single best "accurate" monitor is nearly impossible because there are so many variables involved in choosing an accurate monitor.
What is perfectly accurate for one setting may not seem accurate at all for another setting. One of the best things about choosing the ADAM A7X is that it is a monitor that is accurate in many different settings of course the price point is also a nice selling point as well.
This is marketed by ADAMS as their entry level monitor but do not be fooled by the marketing this monitor can work well regardless of your experience or what you are trying to do with it.
It is a bright clear monitor system that can easily outperform other monitors that are much more expensive.
Give it a listen (after the break in period of about 25 hours) and you will see exactly what we are talking about here.
It is an ideal monitor for on location because of its compact size and it is also an ideal monitor for the studio.
It is an exceptional option for small work rooms where you do not want to be trapped with a monitor that is pounding out the bass to the point that you just cannot catch any of the other sounds.
Adam is THE name is audio equipment for the studio so it is no surprise really that the ADAM A7X is a reliable, accurate monitoring system that is versatile and great for use in many different listening situations.
Summary
Reviewer
Review Date
Reviewed Item
Author Rating