This Apogee Symphony Review is going to take a look at whether or not Apogee's claim that 25 years of research and development has helped them to create the perfect interface.
Apogee Electronics does have well over 25 years of experience in the digital audio field.
They got their start by making replacement parts for digital recording machines that were available back in the day.
Of course as the industry moved on to other things there was no need for replacement parts any longer so Apogee recreated themselves as a manufacturer of master clocks and digital audio converters.
They are credited with leading the industry way into word length noise reduction with their UV22 algorithm.
All that is grand and they are a trusted manufacturer but the question is "does that point to the Symphony being the best choice out there"?
Apogee claims that their new interface is the result of 25 years of research into digital audio – so we have high expectations for it. Find out whether the Symphony lives up to them.
For some of us PC fans, when Apogee made the choice to only support Mac 10.5.8 and up, it was not only a slap in the face but a little heartbreaking but for Mac users the news was endearing.
Sure it is a disappointment when a manufacturer like Apogee seemingly snubs a huge part of the producing community that are still trudging through using their PC because that is what they prefer, but there are a few concessions even for the lowly PC users that the Symphony offers but do keep in mind this is really optimally a Mac tool.
It is created to be a Mac tool so you are going to get the best features and the best uses out of it if you are a Mac user.
What is the Symphony?
It is an I/O converter with 8 optical I/O cards. It can be used as a direct plug-in with the Avid Pro Tools and some native options as well. It is a nice flexible option when it comes to Avid hardware.
The Symphony uses USB, audio drivers which are part of the MAC OS. The Maestro software only runs on Mac.  Apogee has made a statement about why they choose to make this an exclusive Mac interface.
They simply think that they can do a much better job with Mac. On the upside of things those PC users that are really interested in using the converters with their PC can use them as a standalone option.
In this function the system is an analogue converter with multi channels. The problem is as a PC user if you need a routing configuration that is non-standard, you will still need a Mac.
Apogee stands behind the Apogee Symphony and considers it the best converter that they have ever produced.  This converter is evidently based on updated circuitry that has been defined from their older models.
This model uses silicon in a unique way which has helped to greatly reduce latency and increase overall performance results.
The settings were optimized to increase clarity. It is designed to offer super low distortion. Apogee has used its C777 clock which also has recently received some updates.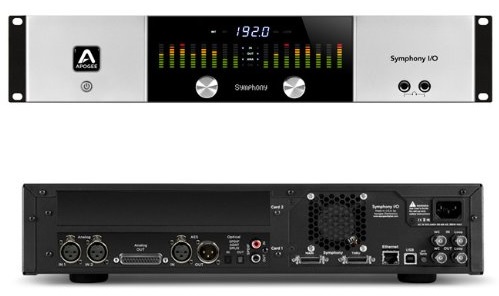 Click Here for Pricing, Pictures and Reviews on Amazon.com
The Hardware in the Symphony
First thing you notice about the Symphony is that it is a good looking setup. It has a 2u rack mounting box, with sixteen bar graph meters that are nice and bright and 10 that are segmented right in the middle of the front panel.
There are 2 encoders with switch actions that are over press.
There are 2 headphone inputs that are individually controlled. An LED display is numerical and makes it very easy to see what the sample rate is.
AIM (audio interface models) are located at the bottom of the panel that gives you system status and denotes the operation modes.
There are 4 easy to manage interface modes. The most used mode by users is the Symphony 64PCIe card which is used to control the data to and from the Mac. The Pro Tools Mode is used to configure the unit's data port to work with the Pro Tools HD card.
If you use this system in the stand alone mode you get exactly what it says, a standalone system in a static condition which offers A-D conversion.
The goal of these 4 different modes is so that the Symphony can be optimized for every type of interface. It allows for instant recall when you are switching between systems.
The back panel has 2 PC32 pin connectors. 1 connector is typically used for the 64 PCI ecard or it can be used for the Pro Tools Card. The 2nd connection can be used to daisy chain another unit which than allows a 3rd and 4th unit to be connected and so on.
The USB port on the rear also is available to connect 16 channels at 96khz rates which can be streamed bi-directionally using a Mac.
When combined with the Logic Studio the latency is 1.8ms and below. You will not find a Fireware base on this unit and according to the Apogee folks none is planned.

Click Here for Pricing, Pictures and Reviews on Amazon.com
There is an Ethernet port but it has yet to be activated in the Firmware. The entire unit fan cooled and it works on a temperature control sensor. The fan is completely quiet.
It was never noticed during the entire review process, as a matter of fact you could not tell if it was running or not.  There is your standard IEC socket as well on the back of the panel.
There are 2 I/O slots that allow for a wide range of I/O specifications. The slots provide 16/24/32 channel capabilities in both digital and analogue. It includes a mic preamp that offers 8 channels.
The specs for this converter is pretty impressive.  The published specs have been confirmed with the testing that was done for this review. The D‑A section offers a THD+N figure range which is quite impressive at ‑117dB.
The D‑A dynamic range is an impressive 129dB. Analogue output and input levels were at +24dBu. Overall it was a pretty impressive range of specifications. It outperformed expectations.
Typically, when you read the literature that comes along with an interface what you are reading about are the upper limits so you really do not put a lot of stock into what the specs have to say but Apogee did a good job of really preparing the user for what to expect with this system.
If you listen with a critical ear as was done in this review, you will be impressed. The latency is no detectable for the most part, you certainly do not have to deal with those ridiculously long delays.
You also do not get that extra "sound" that you can sometimes detect with the other Apogee models, anyone that has used an Apogee before knows what the sound, sounds like.
It is not a noise you can really describe it is more like a nuance than a noise but apparently Apogee has worked that out because you do not notice it any more at all in the Symphony.
Overall
Once this was put into use, it became clear that Apogee may not have been exaggerating when they said it is the best interface they have ever released.
It offers up all the capabilities that you could want/need and the beauty of it, that it offers plenty of room to grow.
It may be a work in progress but it has the expandability that makes it easy to update when the updates become available.
Apogee has some further enhancements on the drawing board that they plan on implementing down the road but frankly this interface does exactly what you need it to do without the need to deal with too many updates or changes.
Of course if you are a committed PC user there are things that you will look forward to in the future that can help you to get more out of the system.
If you have been disappointed by Apogee in the past this may be your opportunity to take a second look. this interface is all that the company says it is and so much more.
The Symphony can become a huge threat to some of the big names in the industry because it really delivers and it does so quite elegantly.
If you want a reliable, well-built interface that really does have 25 years of research and design behind it, then you should be considering this one.
It offers everything you could want in an interface and it is something that you can grow with because of its nod towards future updates.
Apogee has really put their best foot forward with this model and it shows. It is a great highly functional option for you Mac users and even us lowly PC fans can get something out of owning this interface.
Buy it, it is worth the investment!
Summary
Reviewer
Review Date
Reviewed Item
Author Rating