From time to time, even the best producers run into budget constraints. Whether you are creating "tape" for the professional studio or the homebound outfit, you may find yourself financially tapped and professionally overwhelmed.
Fear not! For a little outpouring of mullah, you can outfit the studio with new equipment that meets your budget and expectations. Take a look at the cheap but terrific mics on the market. Purchase one, enjoy the savings and savor the quality.
Shure SM58
You can't really go wrong when the name "Shure" is on the label. The "SM" on the Shure label stands for studio microphone, but it really can serve as a workhorse wherever you need it.
The SM58 is a rugged beast that can withstand the beating placed on it by rockers, students and backyard bands. Designed for the stresses that come with life on the road, the SM58 sports a tight cardioid pickup pattern that enables it to shine on stages big and small.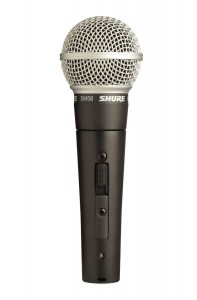 Teaming with the sensitivity, the SM58 hears everything right in front of it and will not be overwhelmed by the bleed of peripherals like percussion, guitars and nearby vocal accompanists.
Equipped with an inherent proximity effect, the SHURE SM58 will boost the bass frequencies of a nearby sound by six to 10 dB at 100 Hz. This wonderful feature darkens the tones associated with sound source.
Shure Beta 58A Supercardioid Dynamic Microphone
Staying in the familiar well tested Shure family we find the Beta 58A. When you need top performance from your live vocal mic. It has to be ready for the job, day in and day out and sound great every time. In other words, you need a Shure Beta 58A!
Perfect for vocals in the live environment, this go-to dynamic mic gives you the ruggedness you need, while its supercardioid pickup pattern excels at keeping outside sound sources at bay. The Beta 58 has a very smooth frequency response, so it works well on all kinds of voices.
When clean, clear, detailed stage sound is a requirement, choose the Beta 58A. A favorite among vocalists, the 58A is a handheld that is shaped and tuned for a stunning live vocal performance. The high-output Beta 58A has a natural presence boost at 4 kHz and 9 kHz.

Ideal for intimate vocals that demanded clarity, the 58A features shaped frequency response. Because of a deft bass roll off, the 58A helps control proximity effect, fostering consistent performance from the mic while the performer focuses on vocals. Another helpful feature is the Beta 58's internal shock mount that stymies bleed from peripheral noise producers.
Shure's Beta 58A is designed to endure some insane punishments that reach far beyond what you would expect in the studio environment. The good people at Shure designed this mic to be a dynamo on the stage while being durable enough to take-on the rigors of the road. This bad boy will hold-up day after day.
Samson C02
The Samson CO2 is a two for one, as it is a matched pair of condenser microphones. Like Shure dynamic and a few other notable dynamic microphones, Samson CO2s are rugged and versatile. A matched pair of Simson's creates a stereo effect mirroring what you naturally hear with your ears.
Like other condenser microphones, the CO2s won't work without phantom power. If you paired the CO2s with a good mixer, 48 volts of phantom power will be delivered with a push of a button. If you do not have a mixer with phantom power, you can use a pre-amp which will afford the Samson phantom power.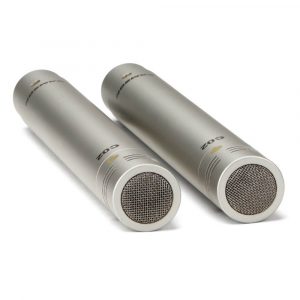 A pair of Samson C02 microphones can be used to amplify the sounds of drum sets, cymbals, and toms in crisp stereo. The CO2s are useful in making live recordings of bands, outdoor ensembles, church choirs, orchestral concerts or a smattering of singers and instrumentalists gathering in the studio for a jam session. You can also use the C02s to mic acoustic guitar (stereo) in the studio.
On the downside, the Samsun's lack good high frequency response. To hear delicate sounds like chimes or ride cymbals or to record the crisp clean sound of an orchestra or choir, you'll need to use a higher end condenser microphone.
CAD C195 Handheld Vocal Condenser Mic
The CAD C195 is a superior low-noise, electret condenser cardioid microphone designed for professional vocalists and musicians. The CAD C195 provides the performance and features to satisfy today's most demanding professionals.
Recognized for its wonderfully wide and flat frequency response, the CAD C195 provides unsurpassed transparent/organic sound quality. The cardioid pickup pattern curtails unwanted feedback that's often grabbed when used close to sound reinforcement speakers and monitors.
The C195 also reduces the pickup of unwanted off-axis sounds. We also like the C195's internal multistage pop filter that minimizes wind and breath noise.
The CAD C195 has a patented Flex-Form hardened steel grill screen designed to virtually eliminate grill deformation while greatly reducing any risk of adverse performance caused by a bent or dented ball screen. This unique ability to retain its original shape assures that the CAD C195 will maintain its attractive appearance.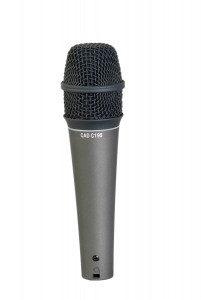 The CAD C195 features CAD's exclusive Impact Noise Rejection system. Here's how it works… A rubber shock mount isolates the transducer from the barrel, reducing extemporaneous sound that may bleed from a number of sources.
Because of this deftly engineered internal shock mount, the need for any external shock mounting device is virtually eliminated. Another great feature? The low-frequency response of the CAD C195 may be enhanced by increasing or decreasing the distance from the sound source.
This technically known proximity effect feature is typically generated at a distance of 24 inches or more. However, as the distance to the sound source decreases, the bass sensitivity increases, providing a solid robust character.
Rode M3 Studio Mic
The Rode M3 Studio Mic is stylish and modern, representing RODE's outstanding microphone technology and their continuation of bang-for-the-buck thinking.
Built for studio, stage and location work, the M3 is crafted of the highest quality components and delivers the sonic results demanded by engineers and musicians alike. Affordable, the M3 is priced under 300 clams, making it within the reach of most studio folks.
A permanently polarized condenser microphone, the M3 can be powered via its internal battery or by external phantom power. Its low self-noise, high fidelity performance and value pricing make the M3 hard to beat. We also like the versatility of the M3.
The mic can be adjusted for handheld or stand mounted operation depending on the needs of the consumer. Incorporating a true permanently polarized condenser (cardioid polar response) transducer with an ultra-low noise electronic circuit means very high immunity to R.F. interference.
The RODE M3's construction incorporates a rugged welded and heat-treated mesh head and all metal body. Like many of the competitors in the CAD family, the M3's internal capsule shock mounting system keeps handling noise down. The M3 also comes complete with windshield and a stand mount
Sennheiser XSW35A Vocal Wireless
Rugged, reliable and easy-to-use, XS Wireless delivers renowned Sennheiser sound to small venues, conference rooms or houses of worship. The Sennheiser XSW 35 Vocal Set with e835 cardioid dynamic capsule provides up to 10 hours of operation, a convenient mute button and excellent feedback rejection. An all-metal True Diversity receiver offers 960 tunable frequencies, with powerful scan and sync functions that ensure worry-free operation.
Behringer's Ultralink ULM202USB
Behringer's Ultralink ULM202USB is tantalizing wireless mic system that allows the artist to maintain a static presence in the performing venue or roam through the audience. A bundled set of mics, the Ultralink includes two ULM200M handheld microphones and the thumb-drive-sized ULM200D dual-mode USB receiver.
The dynamic hand-held mic with built-in transmitter gives you high-quality sound, and features license-free 2.4 GHz operation for a range of up to 400 feet. Did we mention that because the receiver can be connected directly to your Mac or PC's USB port, you can record directly into your favorite DAW? Wonderful features!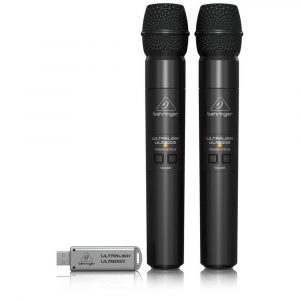 With the Behringer Ultralink ULM202USB, you won't have to deal with the hassle of frequency matching because the receiver automatically pairs with the transmitter, so set up is as easy as plug-and-play.
Behringer also devoted special attention to the ULM202USB's battery design to ensure that battery life is extended as long as possible which becomes especially helpful for those roaming in the audience. With up to eight hours performance time from a pair of AA alkaline batteries, the Ultrualink bundle is geared for ultra-long usage.
Final Thoughts
Low prices, fine quality. Those are the core characteristics of the lovelies on this list. As your budget and performance demand grows, you can certainly move up to higher cost and higher expense microphones. Or maybe not. Some of these options are so terrific, that you might find yourself using them indefinitely. Enjoy the savings, the craftsmanship, and the sound!