Every vocalist or studio technician will eventually be confronted with the harsh reality of the microphone wars. Do I go condenser or dynamic? No worries, here's a hard rule, if you can afford it, always go with a condenser.
A condenser microphone, while not as rugged as its dynamic counterparts, is better equipped to handle the vibration speed of a variety of sound sources. In a word, the condenser is incredibly sensitive. For example, when a vocalist has a multi-octave spread in his or her voice, the condenser microphone is best equipped to accurately reproduce the variances in the vocalist's output.
That said, there are few nit picky details about the condenser microphone that all consumers should consider. First of all, most condenser microphones require auxiliary power. If you purchase a condenser, you should make sure you have the "oomph" to keep it going.
Second, remember the condenser is not very rugged. The condenser should be well-stored when not in use, and deftly cared for when it is in use.
Before you head out and purchase a condenser microphone for your studio use, it is important to understand what a condenser microphone is and is not. A condenser microphone is recognized for its use of capacitors, which in some circles are simply called condensers.
A product of Bell Laboratories of yesteryear, the condenser in the condenser microphone produces sounds by the use of a diaphragm that acts as one of the plates of the condenser. Sound vibrations produce changes in the distance between the plates. As you can imagine, the intricate qualities of the condenser make it susceptible to damage if treated harshly.
Now that you are versed in the intricacies and challenges associated with the condenser, let's take a look at some of the best options available on the market today. The list below highlights quality and not necessarily price-point.
When it comes to condensers, you typically get what you pay for. Inasmuch, be willing to drop some of your green so that you may purchase a microphone that meets your needs and/or the demand of your studio.
AKG Pro Audio C414 XLII
We begin our tour of terrific condenser microphones with a recording legend that has been around since the early 1970s. The Pro Audio C414 may be expensive but it has certainly risen to the top of the recording world.
Owners of the Pro Audio C414 XLII are quick to call it "flawless," "precise," and spectacular. Used to record the vocal tracks of an extensive list of artists, the Pro Audio C414 XLII is often sought after by artists who wish to ensure that their trademark "sound" is carried over to the digital track.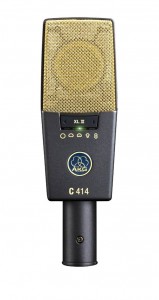 Pro Audio C414 XLII features a beefy 20-20,000 Hz frequency response. Further, it is lauded for its superlative multi-phase pickup, nine settings for input, and deftly designed construction. With an integrated capsule suspension, bass filters, and a handy "lock mode," the Pro Audio C414 XLII has the specificity demanded by the products produced by the modern studio. With an attractive gold and black finish, the Pro Audio C414 XLII is a sexy device to behold, as well.
If there's a downside to this one, it's the price. Not only does ASG hit you hard on the front end of the purchase but repair costs tend to be high too.
Audio-Technica AT4050
We certainly like the Audio-Technica AT4050. Although you step down in price from Pro Audio's C141 XLII, you certainly do not take a big step back in quality. Operating at a frequency response of 20-18,000 Hz, the Audio-Technica AT4050 comes with three polar patterns, along with lovely and large dual-diaphragm capsules.
Enhanced by nuanced engineering, Audio-Technica AT4050 is an exceptionally sensitive option, providing terrific sound transfer at all ranges of voice and instrument.
Many studio technicians remain especially impressed by the Audio-Technica AT4050s tremendous recording characteristics in the highest registers. It seems that this noteworthy condenser has a special affinity for the female voice and soprano instruments.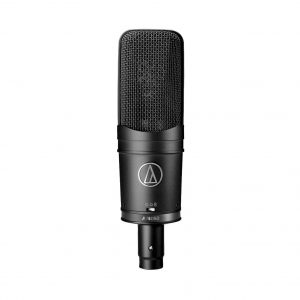 If there is a downside to note, it is simply that the Audio-Technica AT4050 seems a bit flimsy considering the heftiness of the purchase price. Several professionals who have chosen to place the AT4050 in their studio suggest that it be suspended from the ceiling for safest use. You bump or ding this one, you are in trouble and out a chunk of cash.
Bluebird
For studio recordings, the Bluebird is an aesthetically pleasing option with dynamic recording capability. Crafted with instrumentalists and singers in mind, the Bluebird Condenser is engineered especially for vocalists, but has the versatility to handle everything from percussion to synth.
Loved for the rich, luscious sound it produces, the Bluebird is an extremely accurate condenser that will not leave you scratching your head when you are engaged in replay in the studio.

The Bluebird condenser features front end sound capture. With a large diaphragm and a shape that minimizes self-noise and distortion, the bluebird is another studio favorite if precision is the key characteristic you are looking for. With a surprisingly rugged design and a three-year warranty, the Bluebird comes with "replaceable" reliability.
The stylish look of this microphone is enough to make you want to make the purchase.  Can you beat the silvery, 50s finish? This microphone says "Rock On" in every language.
On the downside, some argue that the Bluebird tries to be too many things to too many people. Given its versatility-inspired engineering, the Bluebird does a lot of things well but none of them outrageously well however it can do EVERYTHING well enough.
Neumann KMS 105 MT
We typically associate Neumanns with classic design and a high-tech studio backdrop. While this stereotype certainly fits the Neumann mystique, the Neumann KMS 105 MT proves that stereotypes are made to be shattered.
The Neumann KMS 105 MT is a stage condenser. Although it has all the sound production hallmarks of a studio condenser, this puppy is made for the live "venue." At just under a pound in weight, and just over 8 inches tall, the Neumann KMS 105 MT is a sturdy, ruggedly crafted microphone designed to handle the rigors of the stage.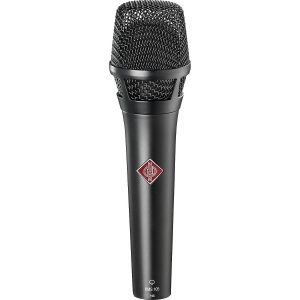 With a super-cardioid design and a frequency range of 20 Hz to 20kHz, the Neumann repels outside noise, and nurtures crisp, consistent sound reproduction. We all love the wireless power option on this model.
With a transformerless output design, the Neumann can be cleanly yoked to phantom power without the unpredictable constraints of battery power.
 Like the Bluebird, the Neumann tries to do too much. While Shure is often associated with venue sound, Neumann is not. This microphone is a performer but it drifts a little bit from what Neumann is really good at building.
Shure KSM9
In a word, the Shure KSM9 is a versatile microphone. This particular microphone is at home in the studio or on the stage at the concert hall. At under 1 pound in weight and under 8 inches in length, the KSM9 packs terrific capability and durability into a tiny package.
While on the expensive side of the market, this microphone is well regarded for its ability to focus a razor-sharp "digital bead" on the performer. Lauded for the brilliance of its sound reproduction, the KSM9 features sturdy shock mounting, a gold-layered finish, and a respectable 50 Hz to 20 kHz frequency response.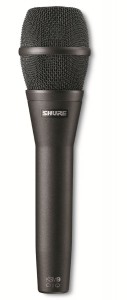 We certainly appreciate the ability to customize sound with this mic.  From finish color to power supply options, the KSM9 dazzles the studio crew and crooner behind the condenser. While the customization features are great, you will be paying the price for those featurs.
Avantone Audio CV-12
Our final review focuses on a rosy offering from Avatone. The Avantone Audio CV-12 offers a wonderful amalgam of price and quality performance. This microphone comes equipped with three unique polar patterns and a wonderfully open approach to the diaphragms, the CV-12 is an incredibly sensitive device.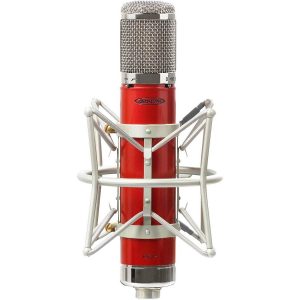 With a high grade of 25-20,000 Hz frequency response and  9 polar patterns, this mic offers pristine voice reproduction, percussion, and acoustic instruments of all types. A very attractive offering, the Avantone comes in a variety of colors to add a bit of style and sexiness to the studio.
The concern with Avantone is durability. Like other studio mics, this microphone is susceptible to tremendous damage if not treated with kid gloves.  It takes a little effort in the care department like most mics but it is well worth the effort.
Final Thoughts
There are many wonderful condensers on the market. In reality, if a manufacturer is taking the time to craft a condenser, then they will take the time to insure that the construction of the microphone is paired with a strong, suitable package.
 There's something for everyone and every need in the condenser market. Do not rush this purchase. Consider your options. Take your time. Spend some money, and prepare to enjoy the results.