Focal has long been held as the go to brand when it comes to the studio monitoring market, the question is can they have that same impact with professional headphones.
The Spirit is a closed back headphone that comes from the French, Focal company.
Focal is THE studio monitor manufacturer that has brought some pretty amazing sounds into the studio and now we will take a look at the Focal Spirit to see if the sound can compare.
This much loved manufacturer has set the bar pretty high when it comes to monitors and hopefully they will do so with their headphones.
This is a highly competitive market where trends come and go but Focal has managed to carve out their niche and have stayed the course, the Focal Spirit Professional is an exciting new prospect in the world of listening.
In many cases the next latest thing in this industry does not really hang around for too long because it is quickly replaced by the new next latest thing.
Click Here for Pricing, Pictures and Reviews on Amazon.com
The experts that have reviewed these before are predicting that this model may be around for the duration.
The biggest complaint so far about these headphones is the price tag, most people would like to see the price come down a little lower but you do get what you pay for in some cases, we will see if that is the case with these.
In spite of the fact that these headphones are coming from Focal there have been some buzz from nay sayers that they did not think they were going to live up to the hype.
When you are a leader in the industry anything that you do is going to be help under a microscope and the expectations are going to be high.
Focal is an industry leader in monitors so it would stand to reason that if they were going to offer basically scaled down monitors they would really have to put some effort into engineering and design to have the impact that they hope to.
Many people will buy these headphones sight unseen just because they are made by Focal, no one recommends that either.
Learning as much as you can about the headphones before you make the purchase is always a good idea.
By some standards these are pretty expensive headphones so you want to make sure that you learn all that you can to see if they would be a good fit for your purposes.
What Are The Spirit Professionals
They Focal Spirit Professionals are closed back headphones that have custom Mylar and titanium- alloy driver's that are combined to offer rigid yet lightweight damping properties.
In other words, Focal has applied a great deal of innovative technology to crafting headphones that should be comparable to at least the quality level you would expect from Focal.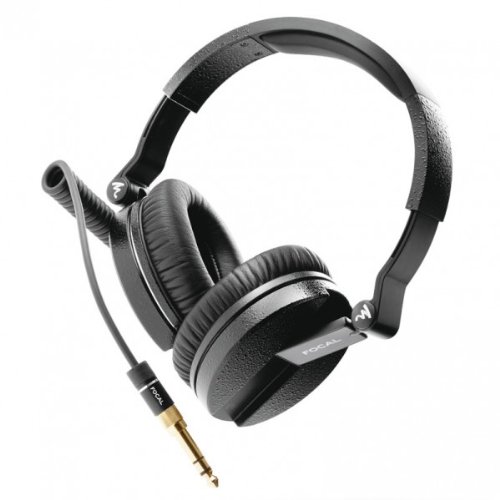 Click Here for Pricing, Pictures and Reviews on Amazon.com
The Spirit arrives in a foam lined box, with two sets of cables. The curled cable is just your average curled cable, the straight cable houses a remote control button for easy use and has a mic so that you can use it with a smartphone.
It also has a hands free kit option.
The cables are attached via the left ear with a mini connector. The connector fits perfectly, it is snug and cannot accidently pull out. The jack offers adaptability for a ¼ barrel.
Focal Spirit Professional has a design that you will either love or you will think it is too old fashioned looking either they are a decent looking pair of headphones.
They have "right" or "left" written on the ear cups that fade when you turn them on an angle.
Not really a big deal but some people have had negative things to say about them because of the disappearing writing.
None of it affects function at all so it is really a moot point.
Comfort and Noise Cancellation
Closed back headphones are always better for noise cancelling and sound bleed through. The balance between comfort and noise cancelling is one of those things that requires attention to engineering.
The snugger the seal around the ear cups the better the isolation is BUT the snugger the seal the more uncomfortable the headphones are.
Focal has been able to achieve the perfect balance with this model. They fit well, not overtly snug but snug enough to manage the passive noise cancelling features that you want.
Passive noise cancelling is always preferred when you need them for work in the studio, the active noise cancelling sets always seem to struggle with keeping the white noise out of the system.
These headphones are an ideal option if you are really focused on keeping down the background noise..
They have designed these headphones with substantial sized memory foam cushions. These foam cushions surround the entire ear and allow for a much more comfortable fit.
The user does not feel that all too common pressure when the cups create that noise cancelling seal.
These headphones easily compare to the performance of the Sennheiser HD 25 which of course in the industry standard for offsite recording.
The Spirit's easily rival some of the top brands with a long history of exceptional performance.
They are extremely comfortable and battle fatigue well. You can wear them for hours and literally forget they are there.
They provide just the right amount of pressure to keep them from sliding around on your head but they do not exert an uncomfortable amount of pressure.
The head band is snug without being overtly tight which is what you find in other models. A lot of research and development have gone into these models and it really shows.
If you were buying headphones solely on the basis of looking for something comfortable that had amazing noise cancelling ability these would be them but they offer a lot more that can help you to make your decision.
The Sound
They offer an impedance rate at 32Ω and sensitivity of 102dB SPL/1mW at 1kHz, they are easy to get to a decent volume even when you are using a USB powered amp.
The major problem you are going to notice with these headphones is that during the break in periods familiar tracks are going to sound different.
The sound is fresh and the midrange is pretty hard to ignore. You are going to hear nuances that you have never heard before.
After using them for a while it may seem that the sound has mellowed but the reality is you grow used to hearing things differently. They have a prominent sound that is hard to forget.
The other issue is that it takes a little time to hear thing differently but once you do if you try to switch to another set of headphones it is nearly impossible to get used to those.
Click Here for Pricing, Pictures and Reviews on Amazon.com
The bass is nice and easily helps you to pick up the kick drums and bass guitar in every selection and that is without any emphasis on the bass.
It does take a little time to get acclimate to the sound because it is that CLEAR. You can pick up things you never heard before in some of your favorite mixes and it really makes them sound like something new.
Here is the deal, in most all cases closed back headphones are not the best options for mixing, at the very least they should never be your only source but these headphones really make an exception to that rule.
This model can be used for mixing, overdubbing and whatever else you want to do. It is great in the studio and would even be a great option for committed casual listeners.
Overall
These are versatile headphones that can meet a wide range of needs from in the studio to on the road to even in the living room.
They are definitely living up to the hype and would be a great investment for anyone that takes music monitoring seriously.
The fact that they come from Focal is also a huge selling point.
Focal knows how to make listening devices that can stand up to a wide range of preferences and they really deliver. This may be one of the rare occasions where you really do get what you pay for.
Are they expensive? You bet! Are they worth the expense? That would be a resounding "yes".
If you are looking for headphones for professional purposes these are the ones you should have.
They bring music to your ears like you have never heard before!
They are built well, they are comfortable and they have those awesome passive noise cancelling properties and super comfortable fit.
If you are looking for new headphones these are something you should be considering.
Summary
Reviewer
Review Date
Reviewed Item
Focal Spirit Professional
Author Rating