We were introduced to the Focusrite Scarlett 2i2 recently and asked to give it an honest review. Focusrite is well known for producing reliable equipment so we were excited to see how this model panned out.
We were familiar with their products because we had reviewed some of their equipment in the past. We held out high hopes that we would not be disappointed by this offering and we were happy to find that we were not disappointed at all.

Click Here for Pricing, Pictures and Reviews on Amazon.com
There is always some hesitation when you are trying out a new range even when you trust the brand. We were apprehensive about the Scarlett because it was new and none of us are really that big on changes.
We did not want to lose our love for Focusrite if this model did not work out so while our expectations were high we did approach this review with a bit of caution and really went in with our eyes wide open.
Not that we are cynical but we have seen this situation in the past where a trusted brand came out with a new range and it was sorely disappointing.
Luckily we were not faced with this. There is nothing worse than having a trusted brand create a range that is just a disappointment. It dashes your hope in all their future product ranges.
When we heard that the engineers were looking to create a portable option that was also going to be price friendly, we figured we would have to be giving something up.

Before you get started reading this review, let's just say that our jaded expectations were completely off. This is a great Focusrite range that easily compares to the other high quality ranges that they have developed, its just smaller and easier to use!
The Focusrite Story
We like a good back story to a brand and Focusrite has one. The company actually has two global brands that do pretty much the same thing. Focusrite and Novation are both growing companies in the music industry.
They have earned their reputation as dependable brands by producing high quality equipment and keeping their prices reasonable.
They started out small and increased their size in increments that were manageable so as to never compromise the quality of their electronics which may be the old way of doing things but still a highly effective way of doing things.
Focusrite has always focused on the electronics of their equipment. They have put a lot of work into perfecting their preamps and have earned their top spot as a leader in the industry.
All of their ranges including this one has spent a great deal of time in the engineering stages and it certainly does show through in the performance capabilities.
We expected that the Focusrite Scarlett 2i2 was going to have to live up to very high expectations built on what we know about the company.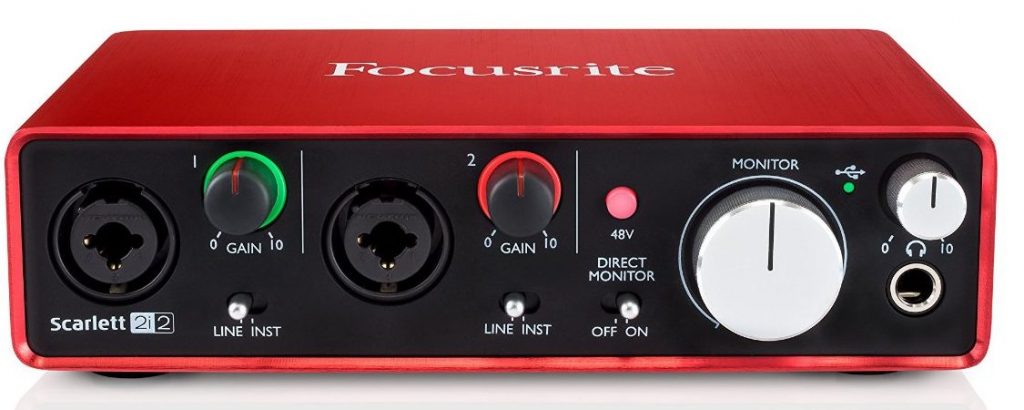 Click Here for Pricing, Pictures and Reviews on Amazon.com
The Basics of Scarlett
While it is true Focusrite has earned their reputation by producing great interfaces and mic pre amps, the Scarlett series had even loftier goals.
The 2i2 was built around maintaining those glorious features that you find in the other interface series crafted by Focusrite but it also was going to be one of the most portable interfaces out on the market.
It is one thing to cram a lot of power into a full size chassis but then an entirely different thing to do the same with a smaller sized chassis.
Right out of the box we have to say that the construction of the chassis was impressive. The words "tough" and "durable" instantly came to mind. The chassis is something that you know right off the bat you will not have to worry about.
Since it is built with portability in mind it was important (at least to us) that Focusrite put so much effort into building a box that could withstand the bumps and bruises of traveling on the road.  Its fiery red color is an eye catcher as well.
The stand out features about this model is the simplicity with which it is constructed. It is simple but frankly you are not sacrificing anything in the name of simplicity.
We have found a lot of times when we try out an interface "simple" can also mean "not great quality" or "lacking in function". We are happy to say that was not the case with the Scarlett. Simple, just means easy to use and easy to manage.
The Back of the Box
On the back of the interface it is all relatively simple. There is only one USB 2.0 port and line outputs for stereo. We liked that it is easy and simple. The ports are well made and not flimsy like you find on other models.
You can tug (although we don't recommend that you do so) and not have to worry about pulling out the port (yes it has happened to us).
That about sums up the back of the box. There is not a lot going on, on the back panel which is a okay with us. We like to keep things simple so we are not messing with equipment for hours a day.
The Front Panel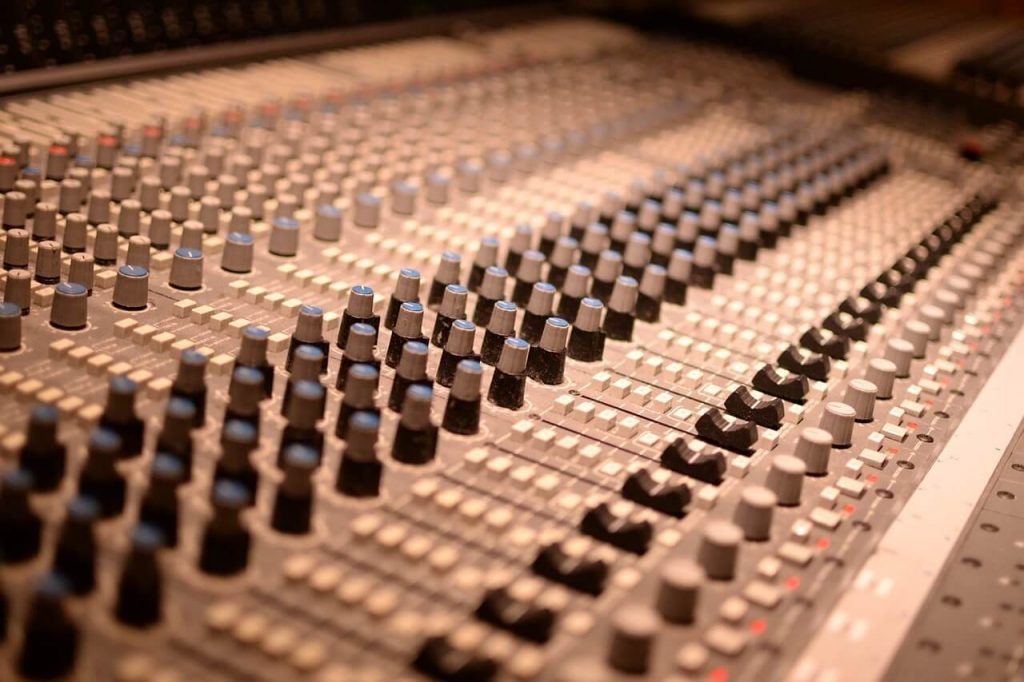 The front panel is where you are going to find all of the action. There are 2 Focusrite preamps on front with some nicely done hybrid inputs. The hybrid inputs can either take a XLR or ¼ inch jack.
There is a sturdy rocker type switch that allows selection between instruments and mic inputs. The 48V phantom button is also on the front. It has a nice bright light when it is active and services both inputs.
There are two dials as well. One for headphones and one for the monitor volume. The dials are nice and chunky without being too oversized.
We liked the brightness of the LED that indicated USB connection because it was easy to see even when it was a little out of the way.
We also liked the gain dials because they too were illuminated in an easy to recognize pattern (green zone-perfect level, orange -too much gain, red-way too much gain).
Overall the front panel was laid out intuitively so we did not find ourselves stumbling around with dials and controls trying to figure it all out.
The Presentation
We liked that the 24 bit 96Khz offered great recording ability.  We found the same great quality that we expected that is present on the Saffire range.
The sound was clean. We liked the plug suites that are available and that can be loaded easily. The Abelton Live 8 Lite was our favorite.
It worked exactly as expected. There was no disappointment and we could not see how it could be improved beyond what it already had to offer.
Overall Our Verdict
We travel a lot and we take a lot of equipment with us. The Scarlett worked out great for on the road movement. Some of the features that we found really helpful were:
Small compact size
Rugged construction
Well-made switches and dials
Great performance
The small compact size is not only great for travel and movement but it is also a great space saver in a small home studio or even a cramped commercial space. It is one of those things that works out surprisingly well in more than one type of space so that you find yourself questioning "what did I do before without it?"
This is a well-thought out piece of equipment both internally and externally because it is tough, small but does not lack the performance that you need.  It is rugged without looking like a steel box. It has style but it has the dependable performance and it is built to take a beating.
The dials and switches are well made so you do not have to worry about breaking them or them popping off at any point.
Of course the biggest selling point is that you get all the great Focusrite performance quality that you have come to expect.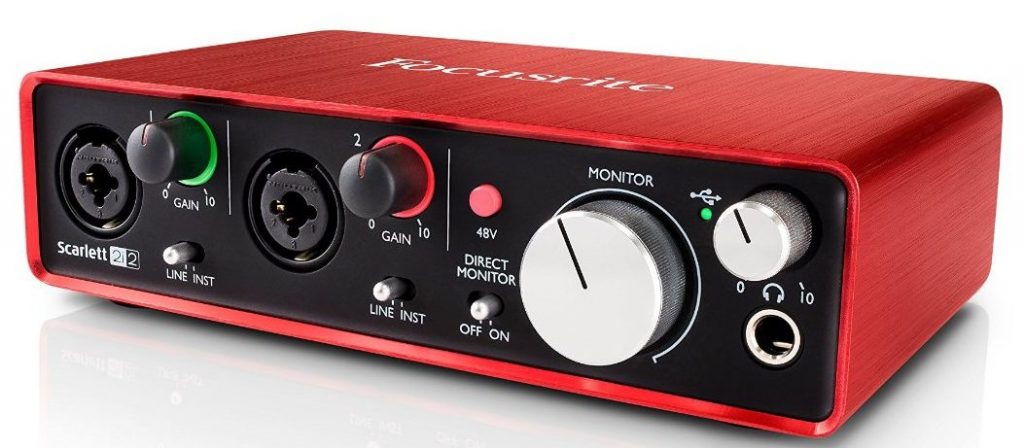 Click Here for Pricing, Pictures and Reviews on Amazon.com
We can easily recommend Focusrite Scarlett 2i2 for anyone that wants something portable but that does not want to give up any of the quality of a full size interface.
We liked that it was really intuitive to use and think that anyone at any experience level can get a great deal of benefit out of adding this to their equipment repertoire.
It is a great piece of equipment that is fairly priced and that will serve you well both in the studio and on the road.
You can move about with this interface with 100% confidence in the build and never have to worry about it being jumbled around and not working.
The price point is also really fair which we also thought would be a great benefit for those that are on a tight budget or even those that are just building their studio.
This is a great option for most anybody.
Summary
Reviewer
Review Date
Reviewed Item
Author Rating