Choosing the right studio monitors is one of the most important decisions you make for your studio. This KRK Rokit 5 G3 review will help you to make a choice that is sure to live up to your expectations.
Far too many times a studio monitor just is not doing what it should and you are mixing and creating based on faulty information that you are hearing. The right studio monitor.
One of the biggest problems to overcome when you are searching for a studio monitor is the cost. Budget plays a huge role in what type of studio monitor that you can purchase.
Monitors can easily range in price from inexpensive to quite expensive and in many cases you are not getting much more in the way of features, sound or design.
Going too cheap can be a mistake but if you do not have the money to spend you may have little choice.
There are good options that are super budget friendly like the KRK Rokit 5 G3. You are not going to wind up with a professional monitor for a few dollars but you will wind up with a very good monitor for a few dollars if you do your research.
Who Is KRK?
KRK Systems is well known in music circles. This company was founded in 1986 by Keith Klawiter. Keith was an engineer that worked on films like "The Doors" and "Brainstorm". He was frustrated by the monitors that he had to use because he felt that they were missing clarity.
Like all good things "necessity was the mother of invention" when it came to the KRK monitors. Keith began building his own monitors for his personal use by piece mealing together components from other monitors before too long he was being asked to put together monitors for other engineers.
He started by working on commission to build monitors for engineers and producers and the business literally just blossomed from there. Since that time KRK Systems has grown exponentially.
KRK Systems has a very simple philosophy when it comes to their design. They believe that sound starts in the heart and starts with the truth. The build equipment based on the consumers need to hear the truth.
The KRK Rokit 5 G3
What if you could get a decent studio monitor for about $150 USD? You would likely jump on it. The price is very fair for the KRK Rokit 5 G3 but that does not mean that you are not getting a good quality product, as a matter of fact this are very high quality monitors.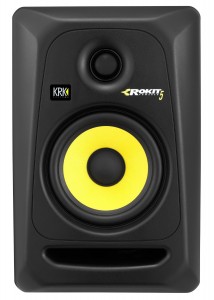 Click Here for Pricing, Pictures and Reviews on Amazon.com
While the price is not the lowest on the market it is certainly fair for the quality that you get in these speakers.
Some manufacturers find a way to produce quality products without charging the consumer hundreds and hundreds of dollars. The KRK Rokit 5 G3 offers many of the features that you would find in monitors that are twice the cost and beyond.
Here are some of the features:
Soft dome tweeter (1 inch) that offers crisp clear sound and a response of 35kHz. There is a glass woofer that is aramid composite for nice tight midrange sounds.
The glass woofer is 5 inches. The monitor is optimized for top notch stereo imaging thanks to the patented waveguide tech that is used.
It offers universal RCA jack inputs so that it can be used with most any equipment in the studio. It has a built in A/B amplifier that offers 50 watts of total power.
 The cabinet has raised edges to reduce the distortion and to keep the sound clear and crisp.
The frequency response is 45Khz -35 KHz, low frequency is 30W and high frequency is 20W. The HF level is adjustable to -2db, -1db, 0 +1 db.  The system volume range is adequate.
 It offers a sturdy MDF cabinet that is wrapped in vinyl for not only a slick look but also for a great sound. The cabinet is black and the speakers are yellow.
They are affectionately referred to as the "bumble bee". They have a low profile but the color combination makes them really stand out. The cabinet is nice enough for display in any room.
 There is an SPL max peak of 106Db according to the manufacturer specifications.
The bottom of the cabinet has a nice rubber pad which keeps the monitor not only firmly in place but also helps to keep the rattle down no matter what surface you have set the monitor.
You can go a lot more expensive when it comes to your monitor but you will not be able to beat the quality at this price point and in many cases if you spent a lot more money you will not find a monitor that offers this sound.
The KRK systems laboratories focus on creating monitors that provide seriously on point stereo imaging while keeping the distortion at bay.
It is the dedication of the KRK systems engineers that bring high quality monitors to market at affordable prices.
The Sound
You can have all the right components and a great cabinet and still not have the right sound. Fortunately for anyone that is serious about listening the KRK Rokit 5 G3 has one of the best sound qualities out there.
All the components and technology come together perfectly to give you a true and honest sound that can further your mixing skills and help you to hear what you have been missing.
This monitor offers an honest sound which is what you should be after in the studio or even when listening for pleasure.
You want to be sure that what you are hearing is accurate and many times even with much more expensive monitors that honesty is just not there. KRK is committed to bringing honest sound to everyone that is listening to their monitors.
The KRK Rokit 5 G3 is a monitor that really makes you perk up and listen because you will notice sounds in old familiars that you have never noticed before. You don't get those muddy sounds that you experience with some monitors. It is clear and crisp.
The volume level is adequate and can easily make it to the range of WOW that was way too loud in just a few seconds. It offers everything that you need right now to really start improving your mixes.
This generation of the KRK Rokit has already made some substantial improvements over early generations like more power and better cabinet design and stability so there really is not much in the way of changes or disappointments.
Some Changes
Most users agree that there is nothing that needs to be done to change this monitor. Every detail is exactly as it should be. Out of 85 users that reviewed this monitor the monitor received 4.5 stars on a 5-star rating scale.
At this price point you really cannot ask for more but there has been quite a bit of chatter online about how easily you can upgrade these monitors by doing relatively simple things like using better cables.
Who Are They Good for?
These monitors are ideal for PC recording, mixing and listening for the home studio. With a few upgrades you could use them in a professional studio but if you want to use them as is they are ideal for the hobbyist that enjoys recording and mixing.
They are also great for anyone that just wants a really great pair of monitors to use for listening pleasure. They offer great neutral tones that really bring the emotion of the music to the forefront.
They are solid speakers that offer solid sound. They would be a great addition to any music lover's arsenal of equipment.
Overall
You can easily drop hundreds and hundreds of dollars on monitors. Of course you can also buy monitors for very cheap. These monitors are ideal because they are mid-priced.
They are not too expensive for the quality that you get but they are certainly not cheap. They are affordable and they can give you an honest listen to your mixes and your music.
Almost 100% of users that were asked have said that they would recommend these monitors to their friends and other people that were thinking about making the purchase.
Can you spend less? Probably but you cannot spend less and get a better monitor. Of course it works moving in the other direction when it comes to cost.
Can you spend more? Yes of course you can but you may also be hard pressed to find a monitor that works as well even at higher prices.
Is this the best monitor out there? Probably not. Is it the best monitor for the money? Yes, it is very likely the best monitor you can buy at this price point.
If you are on the fence about this monitor, come down and make the purchase you will be very happy with it.
Summary
Reviewer
Review Date
Reviewed Item
Author Rating