We hope you love our reviews fellow musicians! For your information, we do earn money from commission in the link in the content! For more information click here!
Updated on February 14th, 2020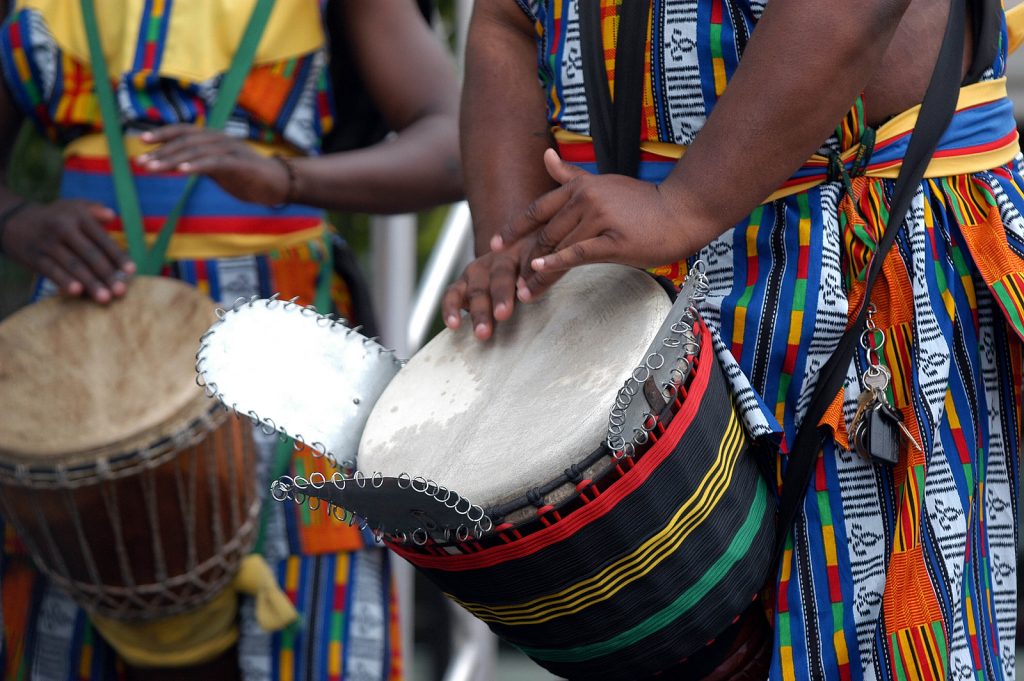 African Drummer
African Drums: Their History, Cultural Significance, And How To Choose One For Yourself
Drums are one of the oldest musical instruments in the world. People all over the world use drums for music without understanding their rich history.
African drums are more than musical instruments. They are a sacred part of the continent's rich history. Africans use drums for religious ceremonies, celebrations, and communication. They provide the musical backdrop for tribal dances, along with modern songs all over the world.
To understand the cultural importance of the African drum, you must know the history. African drumming represents hope, despair, and perseverance in the face of the attempted cultural destruction of millions of people
Scholars believe that widespread use of drums in Africa began around 500 AD. This is an estimate of course, as spoken word history dominated Africa in the pre-colonial era. Some Africans kept written records, but this was rare. Unfortunately,  Europeans destroyed most of them when they tried to Christianize the continent.
Modern belief is that Africans used drums to communicate with Gods and other tribes. The sound waves produced by traditional African drums are discernible for miles. This allowed information of impending armies or massive storms to spread quickly.
Marriages, births, and deaths were also announced using drums. Once empires began to form, particularly in Western Africa, information from the central government passed from village to village using drums.
The Mali Empire
One such empire, the Mali, used drums to transfer information along the Niger river. Timbuktu, one of the richest cities in Africa during pre-colonial times, was the financial and cultural hub for Western Africa. Not only were drums used for communication, they also served diplomatic purposes. Neighboring empires and smaller communities sent their best drummers to gain favor with the Malese people.
In the 15th Century, when Timbuktu fell to the Songhai Empire, there were reports of African drumming for hundreds of miles. It's likely that information was being passed along, both from the Songhai and Mali empire.  There also would have been thousands of people mourning lost family members.
After the invasion, migrations began. Leaders used drums to organize the migrants and keep their spirits high. The invaders also used drums to rally their soldiers during the invasion. Luckily for all parties involved, the drums were different. Various beats meant different things, similar to using languages in the modern world.
The Kingdom Of Kongo
According to oral history, the kingdom began when Luken Lua Nimi raised an army against the Kingdom of Mwene. The empire began at the foot of the Mongo Dia Kongo mountain.
As with any African empire forged by war, drums played an essential role in the military. Not only were drums used to keep spirits high, but to communicate orders and keep soldiers marching. Kongo stretched over modern day Angola, the Democratic Republic of Congo, and the Republic of Congo.
Dominating most of Central Africa for centuries could not have been possible without solid lines of communications. Kongo carried this communication out using a mixture of messengers and drums. Diplomatic emissaries announced themselves and their intentions using drums. People found out about treaties, declarations of war, and truces in a similar fashion.
Religious ceremonies played a major role in the life of the Kongo's people. These ceremonies required the use of African drums. They believed that the Gods delivered the sounds coming from the drums. Later, when Europeans arrived, they wrote journal entries about the music and dancing of the Kongolese people. They admired their talent while questioning their religious principles.
African Drums And Slavery
Drums played an important role in the history of African slavery. Before Europeans arrived, slavery existed on the continent, but it wasn't based on race. Slaves were mostly prisoners of war captured during tribal battles or people in debt. There were times when slaves were able to earn their freedom.
Once the Europeans arrived, race-based slavery began. The British, French, and Dutch slavers bought prisoners of war taken by Africans and sent them to the Caribbean and the Americas. Unlike their African counterparts, the Europeans wanted to break the slaves of their heritage and culture. They viewed this as the best way to stop any potential rebellion.
Europeans viewed communication between slaves suspiciously. Slave owners in North America killed many innocent people because they feared a rebellion. The slaves outnumbered the Europeans, and with native Americans seen as a constant threat, whites took every precaution.
One of these precautions was attempting to take away the Africans access to drums. It didn't take long for the Europeans to figure out that the slaves used drums for communication, especially in the Caribbean. Their attempts failed, however, and the drum lived on. As Africans spread across the Western Hemisphere, drums became more popular.
The Influence Of African Drumming On Modern Music
African drum music survives to this day in modern music. Many styles of music incorporate the beats and styles of traditional music.
R&B And Rap
R&B and rap music both implement heavy bass drumming. Rapping is be reminiscent of the chanting that accompanies African drum music.
These two musical styles bring together many of Africa's musical influences. Many rappers pay homage to the African roots of the musical movement through their words and/or dress.
Trance
Religious ceremonies made use of African drums. During these performances, the participants went into trances. They believed that the drums transferred their God's voice and energy to them.
Trance music, created in Europe during the 1990's, seeks to do the same. Listeners of this music report an elevated and relaxed mental state. Many of the mixes rely on drums measured in a 4/4 time. While the sound is different, the base inspiration of the music is the same.
Tribal trance music acknowledges their ties to African drum music. Chanting and melodies are common in this music, as are live drummers. Most tribal music relies on digital music though, but the instrumentation stays closer to its source material.
North And South American Music
African music is polyrhythmic. This complexity, when mixed with the melodic music of Europe, resulted in the ragtime movement of the 1890's/early 1900's. Jazz was the direct by-product of ragtime. Almost every form of American music we enjoy today descended from this musical form.
In fact, people use the phrase "hep cat" to describe Jazz musicians that epitomize greatness. In Wolof, one of the dominant Western African languages, the word hepi means awareness. Cat means music. Thus, a "hep cat" is a musician with great awareness.
South American music is also influenced by African drumming. Latin American music relies heavily on drums. Slaves brought these drums and rhythms with them from Africa via the Atlantic slave trade through the Caribbean.
Now that we know the historical foundation and modern use of African drums, let's look at the different types that exist.
Types Of African Drums
There are hundreds of variations of African drums. Different tribes put their own spin on drums, from using different types of animal skins to design styles. Here are some of the most popular drums you can buy.
Ngoma Drums
Ngomas are in Uganda and hold a special place in the country's history. They are traditionally used for religious and celebratory purposes.
The word Ngoma in Swahili means "drum", making it difficult to define what this drum is. In Western Africa, drummers tie Ngoma drums together in groups of six or seven and played by one person. Think of it as a portable drum set.
African Talking Drum
African talking drums are one of the most impressive types of African drums due to the variety of sounds they produce. The drums consist of an hourglass shaped body with strings attached from one skin to the other. By changing the tension of these strings, you change the pitch of the beat, causing the drum to "talk".
Users place the middle of the drum under their arm and change the pitch by squeezing or releasing pressure with their arm. This act is how they manipulate the tension of the strings mentioned earlier.
Squeezing the drum makes the tone higher, while releasing makes it drop. Drummers use a curved stick on one side of the African talking drum and their hand on the other side. The variation in tones and strength of the beats captures the tone and fluidity of human speech. Many artists use these drums to tell entire stories, albeit without words.
Kpanlogo Drum
Known as West African drums, these ceremonial music pieces are able to push their sound out over long distances. Much of the communication between tribes mentioned earlier relied on this type of drum.
Separated family members used this drum for communication as well. Think of them as the world's first cell phone, but without the annoying data plan.
A dance and story accompany the Kpanlogo drum, a tradition passed down from generation to generation.
Djembe Drums
Djembes are a traditional rope tuned drum from West Africa. They are the most popular of all African drums. The body consists of hardwood with a head made from untreated goat skin.
Drummers use their hands, producing a loud, booming sound. The level of sound is adjustable based on the tension of the goat skin. The three methods used when playing the Djembe drum is bass, tone, and slap. These methods provide sounds ranging from low to high, respectively.
By varying the position and method, drummers create complex sounds. These drums are a major part of West African culture and music.
Slit Drums
These drums are hollow box shaped with one or more slits on the top of them.
Many people believe that slit drums are the first ones ever created. African drummers use them to send messages from tribe to tribe. These drums produce sounds that travel further than any other drum. Since the slit (or tongue) is the only opening, the drum becomes a resonance chamber.
A mallet strikes the slit, projecting the pitch. The sounds produced aren't as loud as those made by a djembe drum. During the time of slavery, tribes used these drums to notify others that European or African slave traders were on the way.
Tongue Drums
Tongue drums are also known as finger or hand drums. They are round or box shaped, usually made of wood that's hollowed out with different tabs. These tabs, known as tongues, cut into the surface. When a drummer strikes a tongue, a particular pitch resonates from the drum.
These pitches qualify the drum as an idiophone. Cutting tongues different lengths produces higher and lower pitches. These drums are also communication and ceremonial devices, although they aren't as effective as the Djembe and slit drum.
Play African Drum Beats
Playing the drums is pretty straightforward. You either use your fingers or a tool of some sort (like a stick) to beat out a rhythm. The more you play, the easier it becomes to create the desired effect.
This process is something that isn't teachable in an article: it's learned either through experience or a hands-on teacher. There are three areas of concern to write about. Training your fingers, concentration, and breathing.
Training Your Fingers
Finger pain is common when people begin to first play African drums. This pain takes away your ability to concentrate on the beat.
In the beginning, practice playing three times a week in hour long intervals. Monday, Wednesday, and Friday are good days to practice. This schedule gives your fingers rest in-between days.
There are three basic techniques when playing to produce the African drum beats sounds. The first is using your entire hand to strike the drum, producing a bass sound. The second is striking with your fingers, from the fingertips down to where your fingers meet the base of your hand. This strike gives you a rhythmic sound. The third strike is using your fingertips, called the open-grip technique. The open grip gives you the highest African drum beats sound.
In the beginning, focus on learning these three techniques. You can worry about producing a rhythm later. Get your fingers used to make contact and learn the sound each technique produces. You'll be able to string these sounds together to make music later.
Concentration
Music is a universal language. The best African drummers are able to communicate through their instrument. Each sound that comes out is a word of sort; to hear the drum talk to you, you need to focus.
Begin by practicing in a quiet room without distractions. Allow yourself to get carried away by the sounds. When drumming, it's natural for your body to want to move to the rhythm. Don't fight the urge: swing, sway, and dance away.
Once you're able to cut loose, try playing it with the tv at a low volume. Make sure it isn't loud enough to drown out the drum. You want to simulate a low hum of activity around you. Progressively turn it up, creating more of a distraction until you're able to completely block it out. You should get to the point that your drum is the only thing you notice.
If it takes a while to develop this skill, don't worry. You don't want to rush your development, as that breaks your concentration. If you play on the street or in a band, you're going to have constant distractions around you. You don't want to be in the middle of a set and lose your rhythm.
Breathing
Getting the proper African drum beats is physically demanding. You will move and sway, your fingers will hurt, and you might be nervous the first time you play for your friends. Proper breathing helps maintain your concentration and fights fatigue.
When playing a slow rhythm, take long, deep breaths all the way down into your stomach. Breathe out slowly, letting your arm and finger muscles relax as your exhale.
As you speed the rhythm up, it's harder to take deep breaths. Your fingers start to hurt, your back will tighten up, and you'll feel tired because of the energy you exert. This is natural; maintain your focus on breathing. Take shorter breaths, but don't breathe quickly. Take your time, breathe slowly, and keep your focus.
As you gain experience playing an African drum, you'll notice your longevity increase. Breathing becomes natural, and you'll be able to judge when to speed up or slow down without thinking about it.
Choosing The Best Drum For You
Now that we've covered the basics of drum playing, it's time to get down to the nitty gritty: choosing a drum. Before we delve into the best drums, let's discuss how to choose one that serves your needs.
Traditional African belief states that the drum chooses you as much you choose it. There is truth in this statement: your African drum should be a part of you, an extension of your spirit.
There are some things that you should consider before picking your instrument, however.
Size
Maintaining focus when playing the drum requires comfort. A drum that is too big or small for your arms and hands makes it impossible to feel comfortable with it. One mistake first time drum buyers make is finding the cheapest, smallest drum they can get.
This is a great strategy if you're buying a drum for a child, but adults cannot use smaller drums and expect to learn how to play.
You'll want a drum with a playing diameter of at least 9-10 inches. The height should fall within the 19-20 inch range, unless you are taller than average. If this is the case, go up a few inches in height.
The Environment
African drums should NEVER come from wood or other products that aren't compliant with the Lacey Act.
Illegally sourced wood hurts environments all over the world, with the most dramatic impacts felt in poor countries. Workers aren't paid a fair wage and are often worked to exhaustion in unregulated conditions. Playing an African drum should be a spiritual experience. You do dishonor to the drummers of old by taking advantage of their ancestors to save a few bucks.
Cost
This might seem counterintuitive: be willing to spend more. Don't worry though, you're a drummer. Your brain works differently than most people's anyways.
Getting a good deal is always ideal, but the old saying "you pay for what you get" holds true for African drums. If a drum seems to be unrealistically cheap, there's a reason for that. Either it's made from inferior products or it's made using underpaid labor. Either one of these options is bad for your and the global community at large.
Do some research and see what the average drum costs. If you find that most drums are $120, and you find one for $50, it's safe to assume that it's too good to be true.
The Best African Drums For Sale
It's time to look at our recommendations for African drums. For this section, we are going to break our choices down by drum type, starting with the most popular: Djembes.
The Best Djembe Drums
Meinl Percussion HDJ3-M Black River Series 
The Meinl Percussion comes with a hand-carved mahogany shell with a horizontal rippled motif. This design allows for amazing acoustics, from deep bass to high-pitched slaps. The Mali weave technique secures the goat skin head and tunes the drum.
This drum produces traditional djembe sounds, making it perfect for drum circles or individual playing. It comes pre-tuned, meaning you can start playing right away. There is also a two year warranty, so you won't have to worry about it getting banged up.
Remo Mondo Djembe Drum
If you're looking for a drum with a little bit of flair, check out the Remo DJ-0012-24 Mondo Djembe Drum. It's a little more expensive but comes with amazing artwork and features a Skyndeep Fiberskyn drumhead and Acousticon shell for superior sound.
Remo produces top notch quality products. Professionals use these drums for professional touring. Remo is the Gibson of the African drums djembe market. They'll cost you more, but you can justify the extra cost because of the quality.
Ngoma Drums
Tycoon Percussion Dark Wood Ngoma Drum
Earlier, when discussing drums being eco-friendly, this is one of the drums I had in mind.
The company uses sustainable harvested Siam Oak Wood. Not only is it friendly to the environment, but it's durable as well. Tycoon's are a little on the pricey side, but they last forever.
The traditional shell shape of the Tycoon provides the most authentic African drum sound you'll ever hear. Every beat comes off crisp and resonates with the listener. The goat skin heads are durable and perfect for performance, and the 5mm rope allows you to easily tune the drum.
REMO Standing Ngoma, Key-Tuned
Deciding whether to put the Tycoon or REMO first was a difficult decision.
Both have amazing sound and durability. Drummers around the world trust both brands as well. Where the REMO stands out is it's beauty.
Nigerian drummer Babatunde Olatunji designed this drum, adding his own personal flair to the design. In 1959, Olatunji released Drums Of Passion, the album that introduced Americans to world and African music. His influence reaches far beyond African drumming. He developed a following in the jazz community as well.
The legendary jazz artist John Coltrane was a fan and personal friend of Olatunji. Together, they opened the Olatunji Center For African Culture in Harlem. Olatunji influenced music in a way no other African drummer has. He appeared on numerous albums and receiving recognition from Bob Dylan in the song "I Shall Be Free".
The fact that this legend designed the REMO before his death in 2003, even if it's just for nostalgic reasons, puts this drum at the top of any list.
African Talking Drums
For this category, we decided to present a budget choice and an expensive choice. Actually, "decided" is the wrong word; it was a happy accident.
Jamtown J014I African Talking Drum with Mallet
The Jamtown talking drum is a budget choice, but don't think that it isn't a high quality drum. In fact, it's recommended that new drummers purchase this drum first to learn with. They can get the more expensive option later when they are ready for the next level.
The sound with this drum is amazing. When paired with the beautiful, yet simplistic, design, it puts the drummer and the audience in the right frame of mind for a performance. The drum is easy to tune and durable. This makes it easy to use and focus on learning the three essential aspects of drumming listed above.
Remo Talking Drum – Fabric African Stripe
If you're noticing that Remo finds their way in each category, there's a reason for that. They represent the very best in African drumming. Master drummer Francis Awe collaborated with the company to design this beautiful instrument.
Awe formed the Nigerian Talking Drum Ensemble with his wife, using it as a way to educate people of the world about Nigerian culture. The drum features an Acousticon 316 shell and ambassador-weight and diplomat-weight suede drumheads. This gives the user superior sound and control over tone.
Tongue Drum
JIVE Wood Tongue Drum Slit Tongue Log Drum
Jive's slit drum is fair trade certified, meaning it's made by skilled artisans paid a fair wage for their services. The drum features four unique notes, allowing musicians to experiment with their style.
The sound quality is excellent, producing beautiful and crisp sounds. The drum is suitable for live performances and studio productions.
Slit Drum
Mali Krin Log Drum – Professional African Kolokolo Slit Drum
Hand crafted by African village artisans in Mali supported by the Africa Heartwood Project, the Mali Krin Drum helps support the African economy. Once they arrive from Africa, they get inspected, cleaned, and checked for quality before going up for sell.
The keys are expertly tuned a third to a fifth apart, letting listeners enjoy the full array of sound. Every piece of wood is unique, with beautiful wood grains. The drum is also small enough to make travel and transport a breeze.
Celebrate African Culture
As you can see, African culture is dynamic. The history of the continent is one of celebration, perseverance, and hope. Through their music, the people of Africa express these ideals and inspire the world.
Playing African Drums is more than making music. It's an act of bravery and defiance. It's looking at the history of the people and refusing to allow it to get washed away in a sea of indifference. It's looking at the world and demanding they pay attention to the people of the continent.
If you would like more information on African drums, or any drums in general, check out our tips and tricks page. Here you'll find information about technical aspects of drumming, whether you are playing in a garage or a club. Don't wait! Decide which African drum for sale you'd like to try out today and start making amazing music.
Summary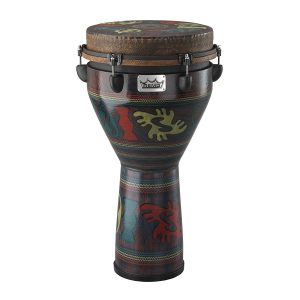 Article Name
The Definitive Guide To African Drums
Description
African Drums: Their History, Cultural Significance, And How To Choose One For Yourself
Author