Updated on September 19th, 2019
When you are searching for the best drum heads it can get frustrating pretty quickly because of the amount of options that are on the market.
We wanted to be able to help you make a choice that you would be happy with and save you some time in your search.
| | | |
| --- | --- | --- |
| Picture | Drum Heads | Our Review |
| | Evans Onyx 2-Ply Tompack Coated | full review |
| | Remo Controlled Sound Coated Drum Head | full review |
| | Evans Hydraulic Black Drum Head | full review |
| | Evans Hydraulic Blue Bass Drum Head | full review |
| | Remo RemOs Tone Control Rings Pack | full review |
Evans Onyx 2-Ply Tompack Coated, Standard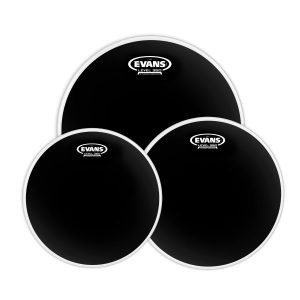 Evans is a well-known brand in the music industry. They have a been manufacturing drum heads for decades.
These Onyx 2-Ply Tompack Coated are not only very durable and high quality drum heads, they look awesome at the same time.
The drum heads have black coating that makes them look amazing.
2-Ply stands for two layers. The drum heads are designed for toms and come in three standard sizes: 12-inch, 13-inch, and 16-inch.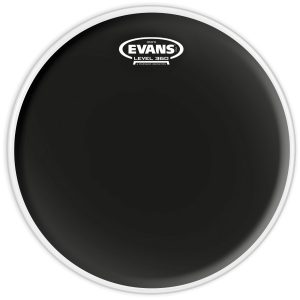 The coating on the heads is a frost coating and it increases low-end response and attack. The heads are durable and they create an amazing sound when they're tuned right.
We can assure you that these tom heads will make your kit look and sound superb.
Remo Controlled Sound Coated Drum Head with Reverse Black Dot – 14 Inch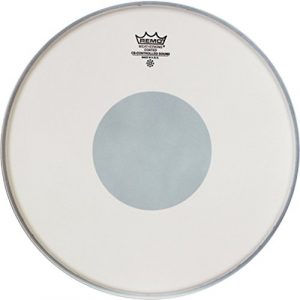 This 14-inch snare drum head has a reverse black dot that adds durability and tonal focus while the area of the head's playing surface offers mid-range and sensitivity.
Remo is just like Evans, a well-known brand in the music industry and has been producing drum heads for a significant amount of years.
The price for this drum head is relatively low while the quality is very high.
This drum head will make your snare drum sound amazing and it will allow you to add depth in your play.
This drum head can also be placed on a tom if you prefer toms with reverse black dots, however, the head is originally designed for a snare drum.
The sound that this drum head is able to produce is unique and nothing like any other snare drum head, thanks to its coating and reversed black dot.
Evans Hydraulic Black Drum Head, 14 Inch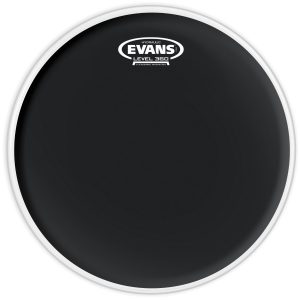 We could say that this snare drum head by Evans is one of a kind.
The Hydraulic Black drum head by Evans has a thin layer of oil between two plies of blue film to suppress unwanted overtones.
Usual snare heads don't have this layer, that's what makes this head so special.
The head has a classic sound with short sustain which makes it an excellent drum head for jazz drummers. But it's also durable enough to withstand heavier playing.
This is the only drum head with the thin layer of oil available on the market. With this head you'll be able to create a truly 'unique' sound.
Evans Hydraulic Blue Bass Drum Head, 22 Inch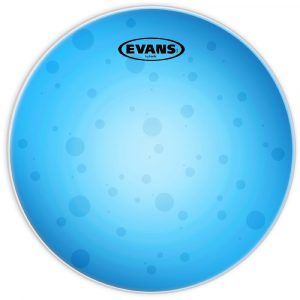 The Hydraulic 22 Inch Blue Bass drum head by Evans is made with the same feature as the Hydraulic Black snare drum head.
There is a thin layer of oil between two plies which suppresses unwanted overtones.
The two plies offer consistency and durability which are required for longer playing. This drum head can easily withstand a 6-hour session.
This head will create a deep, short sound which is perfect for playing rock.
This drum head made it in our list because it uses a special hydraulic technique and it looks as amazing as it sounds.
Furthermore, it is the perfect match for the Hydraulic Snare drum head mentioned above!
If you aren't satisfied with the deep blue colour don't worry, this head is also available in "glass".
Remo RemOs Tone Control Rings Pack – 12″, 13″, 14″, 16″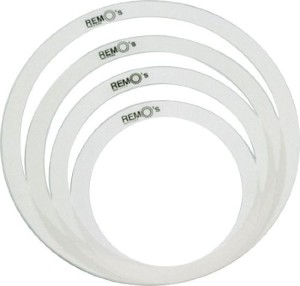 These are not exactly drum heads, but they're a great addition to a drum head.
If you do hear unwanted overtones from your set and you prefer not to spend too much on a drum head, these RemOs tone controlling rings might be a very good alternative.
They come in different sizes: 12-inch, 13-inch, 14-inch and 16-inch.
The RemOs rings help in reducing unwanted overtones on toms and snares.
It's a quick and easy way to help you control your drum sound.
How to Tune Your Drum Heads
It's important to tune your drum head right. If you fail to do it the right way, you'll end up with a crappy sounding drum kit.
You can find some tips and tricks on how to properly tune your drum heads below.
Step 1: Seat The Head
Place the new head on the drum and tension all rods to a finger tight. Place two or three fingers in the middle of the drum and press firmly. Look out for wrinkles and move on to step 2.
Step 2: Get Rid of the Wrinkles
Work around the drum by tensioning the rods to de-wrinkle the head, you don't have to go criss-cross yet, just make sure there are no wrinkles left.
Apply pressure in the middle of the head again, new wrinkles may arise.
Repeat this until your drum head is completely de-wrinkled.
Step 3: Tension In Half Turns
Take two drum keys and tension the rods in opposite pairs, this is crucial for the sound of the head!
Tension the rods in half turns and keep doing this till the head is tensed up to a level that would be above of what most players would use.
Leave the head for several hours, if after checking the head is not balanced, even all rods.
Step 4: Detune
Detune the tension rods in opposite pairs just like you tightened them, make them finger loose again.
When you've finished, turn you drum upside down.
Step 5: Tune The Bottom
After detuning the top head its now time to tune the bottom skin.
The bottom is what affects sustain, tone and projection.
Step 6: Make It Sing
When all of the wrinkles have disappeared, it's time to use our ears.
Continue tuning the head in smaller turns and hit it gently with a drumstick.
Notice how the sound changes and stop when you've attained the desired sound.
What you should be looking for is a nice note that decays into an even note after a light tap.
Step 7: Take It To The Top
Turn your drum around and start tuning it, remember the head should be tightened finger tight only.
This time don't use half turns but use smaller turns instead.
Continue till your top head sounds perfect.
Tip: Tune your toms 'in-situ', this means attached to whatever holds them. This is how they're played and how they will eventually sound.
Conclusion
After reading this article, you've hopefully learned what are  the best drum heads in our opinion.
We've chosen drum heads that are worth every buck and you shouldn't be afraid to try one of them.
With this step by step guide, your drums will sound superb, no matter which head you chose. The heads featured in this article are our favourites and ensure to make your drum kit sound amazing.
From one ply heads to hydraulic two ply heads we've covered them all.
Take good care of your drum heads and keep them clean, the more attention you pay to maintain quality the longer your drum heads will last.
Clean your drum kit regularly and use a good pair of sticks!