Updated on January 5th, 2022
The first commercial drum machine burst onto the scenes in the late 1950s, providing a quick and easy accompaniment to solo musicians.
Since then the progression and innovation has been vast, giving us more beats, more sounds and more musical possibilities.
There was a time when drum machines were feared to be the final death knell for living human drummers, but thankfully, for drummers, that has not been the case.
With that in mind, lets take a look at the Best Drum Machines .
Visit any top recording studio around the world and you will find an array of beat-making devices designed to provide much needed rhythmic background for any musical genre.
In this article we will examine some of the best drum machines on offer today, their pros and cons, and the ever-expanding selection of software solutions such as smartphone apps currently available to download on iTunes and Google Play.
Budget
When it comes to physical standalone drum machines the price point can be anything from $50 to $2000 depending on your needs.
Most drum machines of a professional standard hover around the $300-$500 range but in most cases more expensive does not always equal better quality.
The $1500 drum machine might be better built and more robust with an impressive catalog of sounds, but the $50 one could have the sound you so desperately need, and that is always the bottom line.
Purpose
A good drum machine can fulfill a number of purposes depending on your requirements.
Most mid-range modern drum machines come with playable pads on top so you can play either in real time or easily input and save new beats with more of a human feel.
If you are not concerned with real time playing you might be more interested in the simpler programmable models on the market.
Korg Rhythm KR Mini
The Korg Rhythm KR Mini is an introductory level drum machine with 54 preset drum beats, a tempo knob and a volume level knob.
The presets vary in style with a wide range of rhythmic beats, including Rock, Metal, Pop, R&B, Jazz, Latin and Dance. There's also '8 Beat' and '16 Beat patterns for complex syncopated rhythms.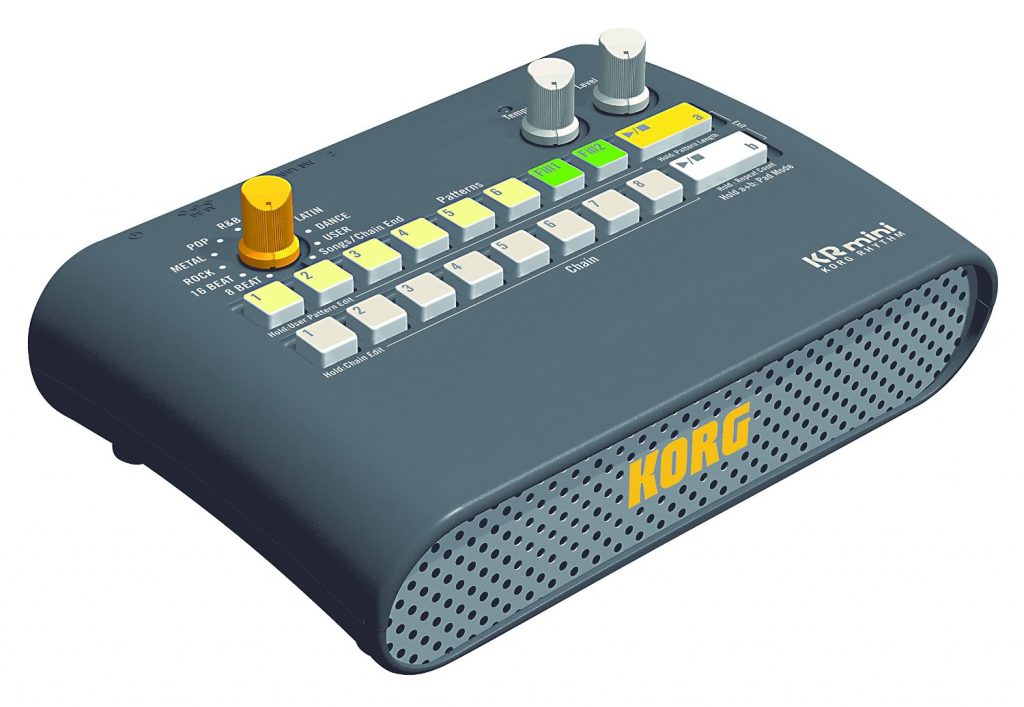 Click Here for Pricing, Pictures and Reviews on Amazon.com
Sometimes all you really need is a simple easy to use mic in the studio that is unafraid to be simple.
The KR Mini is definitely more suited to a practice aid as it is not as versatile when it comes to sounds. There is one kick drum, one snare, one rim click, and a selection of cymbals, including hi hat and ride.
If you're looking to use this drum machine in the studio this may not be the one you need.
It's far too limited but that's what you expect for a product in the under $100 range.
The 'Song' feature is a nice addition and allows you to chain different presets together in order to create a varying structure. Build wise, It's reasonably sturdy and the output sound quality is clear but not very dynamic.
The 'Jazz' presets were clunky and stiff and lacked any subtle nuances to be taken seriously.
The KR Mini is certainly one of the best affordable drum machines on the market today and is a pretty good kit for the money, unfortunately it is probably best suited to being used as a basic playalong aid.
Pros
Cons
Limited sounds to choose from
Alesis SR16
The Alesis SR16 is a drum machine that can be used in the traditional style of playing loops and also in real time with the large square finger pads on the surface.
Offering a great deal more sounds to choose from than the KR Mini, the SR16 has 233 samples which can be used with or without the built in reverb effects.
Straight out of the box this drum machine has 50 kits to choose from and also the ability to create and save another 50 your own kits.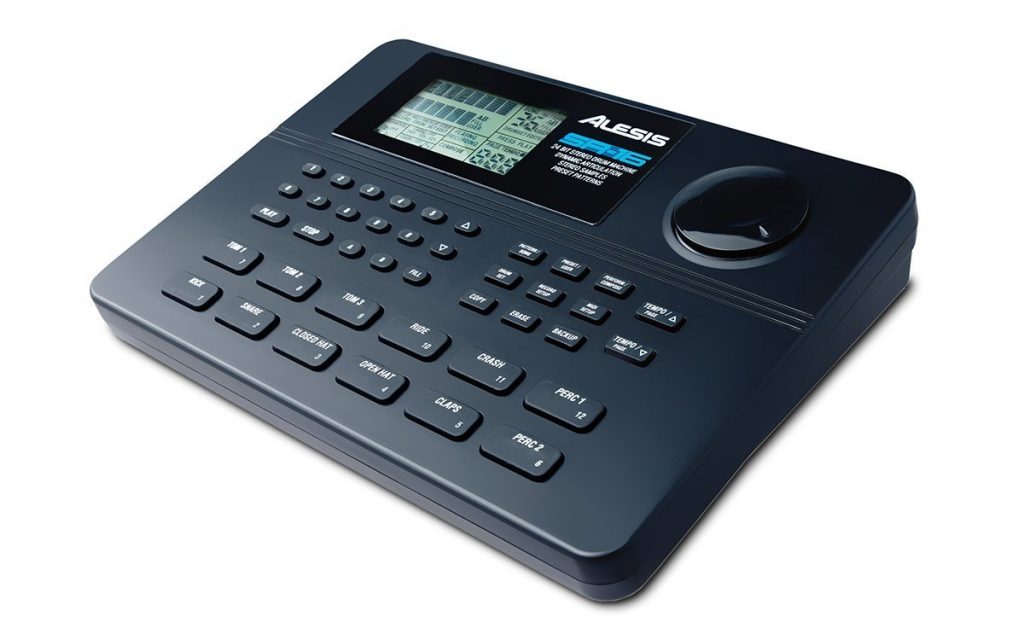 Click Here for Pricing, Pictures and Reviews on Amazon.com
The sample quality is impressive with different sounds for different velocities, so you can strike the pads at different strengths and you can noticeably hear a difference in tonal quality.
When it comes to preset beats the SR16 has 200 patterns to choose from, 50 of which Alesis tells us were performed by some top studio drummers in order to give a more natural feel.
Like the Korg KR Rhythm Mini you can string patterns together to create song structures and save for later.
On front of the SR16 there are 12 velocity sensitive pads including the usual drums from kick and snare to toms and percussion such as woodblock and cowbell.
There are 2 hihat pads, for both open and closed hihat, a ride cymbal, one crash cymbal and handclaps.
On the back along with the outputs you'll find a MIDI connection for use with computer sequencers.
There are also two foot pedal connections so you can control the machine whilst playing another instrument.
The SR16 is quite rightly one of the most popular drum machines ever and is used extensively throughout the world by musicians and producers.
Pros
Cons
For the price there aren't really any
Boss DR3
The Boss DR3 is the next in line from Boss's early 'Dr. Rhythm' machines of the 80s and 90s. The Dr. Rhythm was long considered one of the top drum machines by musicians and producers.
Like the original, the DR3 is compact in size and comes with a small LCD display.
The buttons on the control area light up red when activated which gives the interface a cool look, especially in dimly lit venues or studios.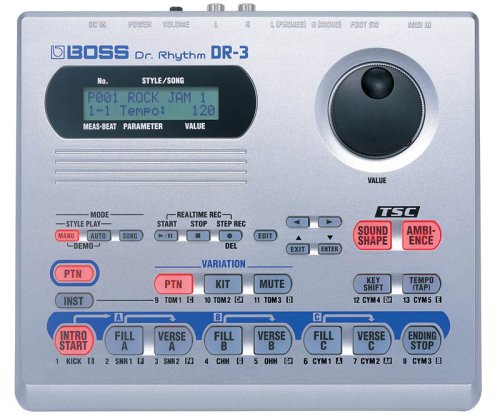 Click Here for Pricing, Pictures and Reviews on Amazon.com
This drum machine is similar to the earlier discussed Alesis SR16 in that there is the ability to convert the existing pads to represent different drums and cymbals.
That said, this machine caters more for the user who wants a wide catalog of beats and rhythms to choose from quickly and off the bat.
Along with an array of beats, you can choose to add an accompanying bassline to your drum patterns.
This may be useful to musicians who like to practise scales and chords over a strong pulse, possibly guitarists and piano players.
From a musical and song building perspective it's unlikely that these bass lines will get much use in the studio.
The DR3 is one of Boss's mid to low end offerings but it's not exactly cheap.
Coming in under $250 you really expect a machine for all occasions, especially in the age we live in with so many digital products for computer and smartphone.
The Boss DR3 won't leave you wanting for more rhythms, it has 100 preset styles and 11 patterns for each style built in, but it is limited in its usability when it comes to programming your own beats.
With a tempo range of 20 bpm to 260 bpm and varying degrees of swing or straight eight feels you'll find a use for the DR3 in most musical situations.
The downside is that the inbuilt samples are not very customisable and the beats tend to take on a very same sounding feel after a while.
Pros
Quick and easy to get started
Cons
Customising beats is a chore
Akai XR20
The Akai XR20 is a impressive looking machine. It's sleek black finish and neon blue light up pads give it the look and feel of a high end professional music making tool.
On first use it seems to be fairly intuitive to get started, with a big clear display and rotary dial to help with navigation.
Central to the XR20's design is the twelve large rectangular pads just under the digital display.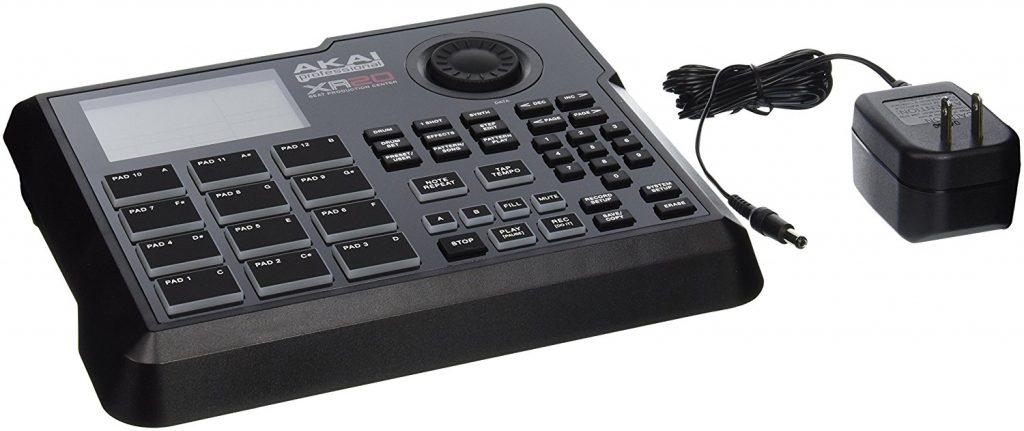 Click Here for Pricing, Pictures and Reviews on Amazon.com
These pads are primarily used for assigning different sounds to.
They also light up when replaying stored beats to indicate in time which sound is being triggered and when.
The XR20 is loaded with not just drum sounds, but bass, synth bass, synth pads and various percussion and SFX.
With over 700 sounds and 100 presets is easy to while away a good chunk of hours just toying with the on board sounds.
You can store 100 of your own user created beats too, so there's plenty of memory to go around. The XR20 is a pleasure to get to grips with.
The only disappointing aspect is that the selection of kits means that there aren't many suited to dance or techno music, a slight oversight on Akai's part.
Pros
Cons
Ideally suited to hip-hop and R&B
Roland TR-09 Rhythm Composer
Roland's TR-09 is an accurate redesign of the original TR-909 drum machine which was the staple of many recording recording studios of the 1980s and 90s.
Heard on countless songs and albums the TR-909 was long considered the best drum machine around.
With this model you have all the same access to control over sounds that you had with the original only in a more compact and refined design.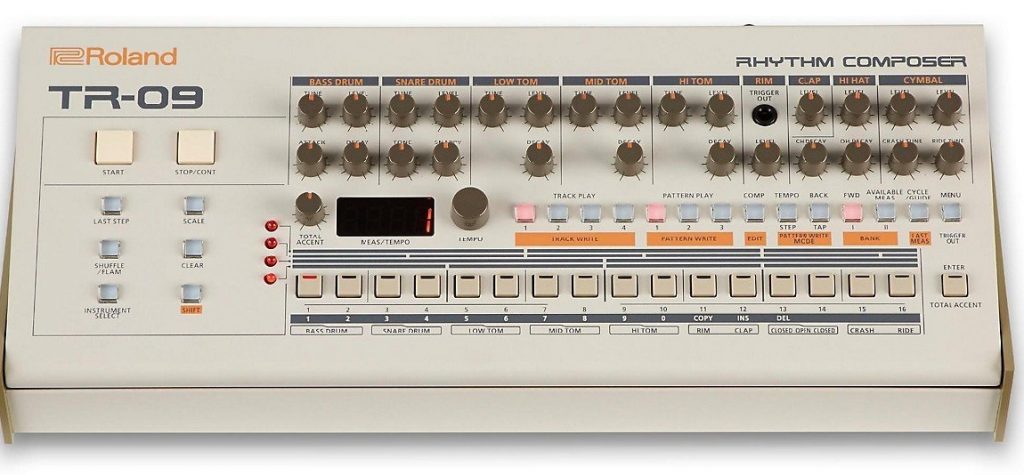 Click Here for Pricing, Pictures and Reviews on Amazon.com
It has the classic 'step' and 'write' 'modes which makes it very easy to programme and features high fidelity 24 bit/96kHz stereo in and out USB interface too.
The ability to customise your sounds has always been a strong feature of the original TR-909 and this reincarnation does not disappoint.
The whole build and feel of this drum machine feels rock solid and built to last and this is overly evident when it comes to tweaking sounds.
The knobs have a smooth action and not too much resistance.
Programming beats on the TR-09 is relatively simple once you get the hang of it. Like the original too, the TR-09 has the addition of a flam feature for added power and punch.
This feature places an added duplicate sample just before the selected sample for extra projection.
Typical use of this feature would be with handclaps, in order to simulate the sound of more than one person clapping.
Unlike the original though, the TR-09 has new 32nd note capabilities. This will be music to the ears of artists and producers looking to create more complex patterns such as drum and bass and dubstep.
Playing with the TR-09 is a lot of fun and it's easy to get to grips with merely by pressing play and using your sense of curiosity.
Pros
Honours and compliments the original nicely
Cons
Boss DR-880
With 20 drum pads for finger drumming the Boss DR-880 is a remarkable upgrade from the previously discussed DR3. It's an entirely different beast with a lot more features that you would expect with a product of this price.
Included in the DR-880 is 440 drum and percussion sounds, 40 bass sounds with COSM bass-amp models, guitar/bass input with multi-effects, as well as a chord progression feature.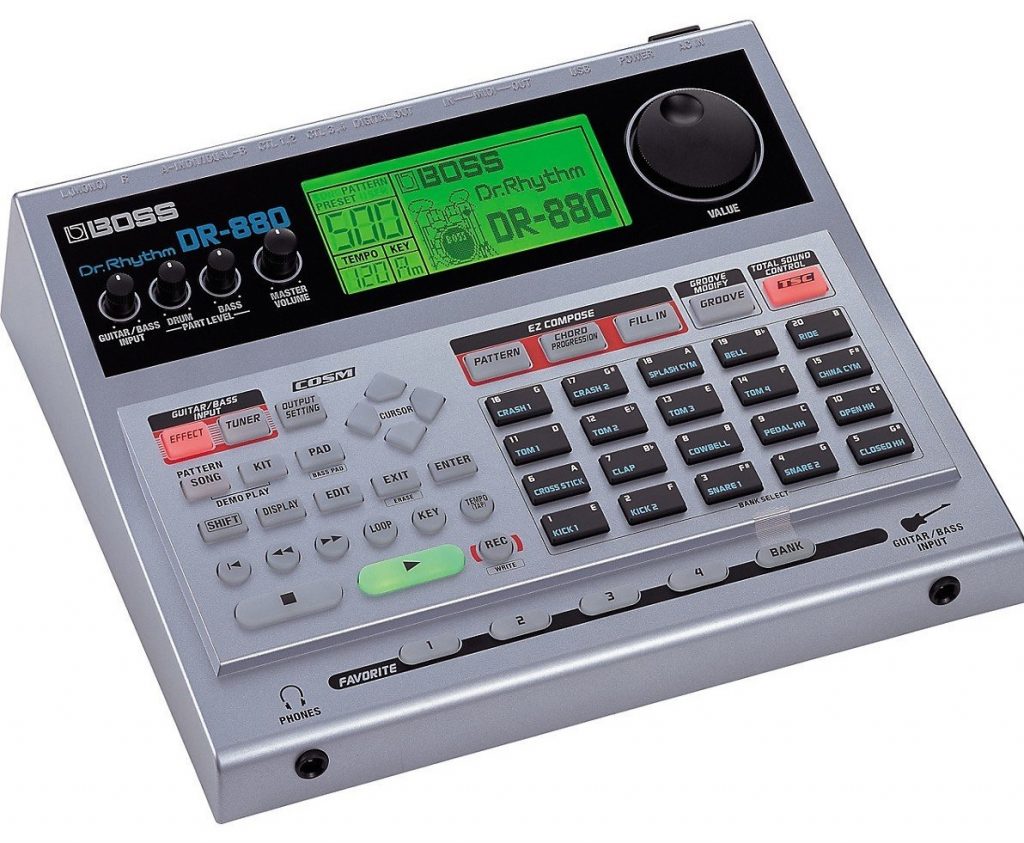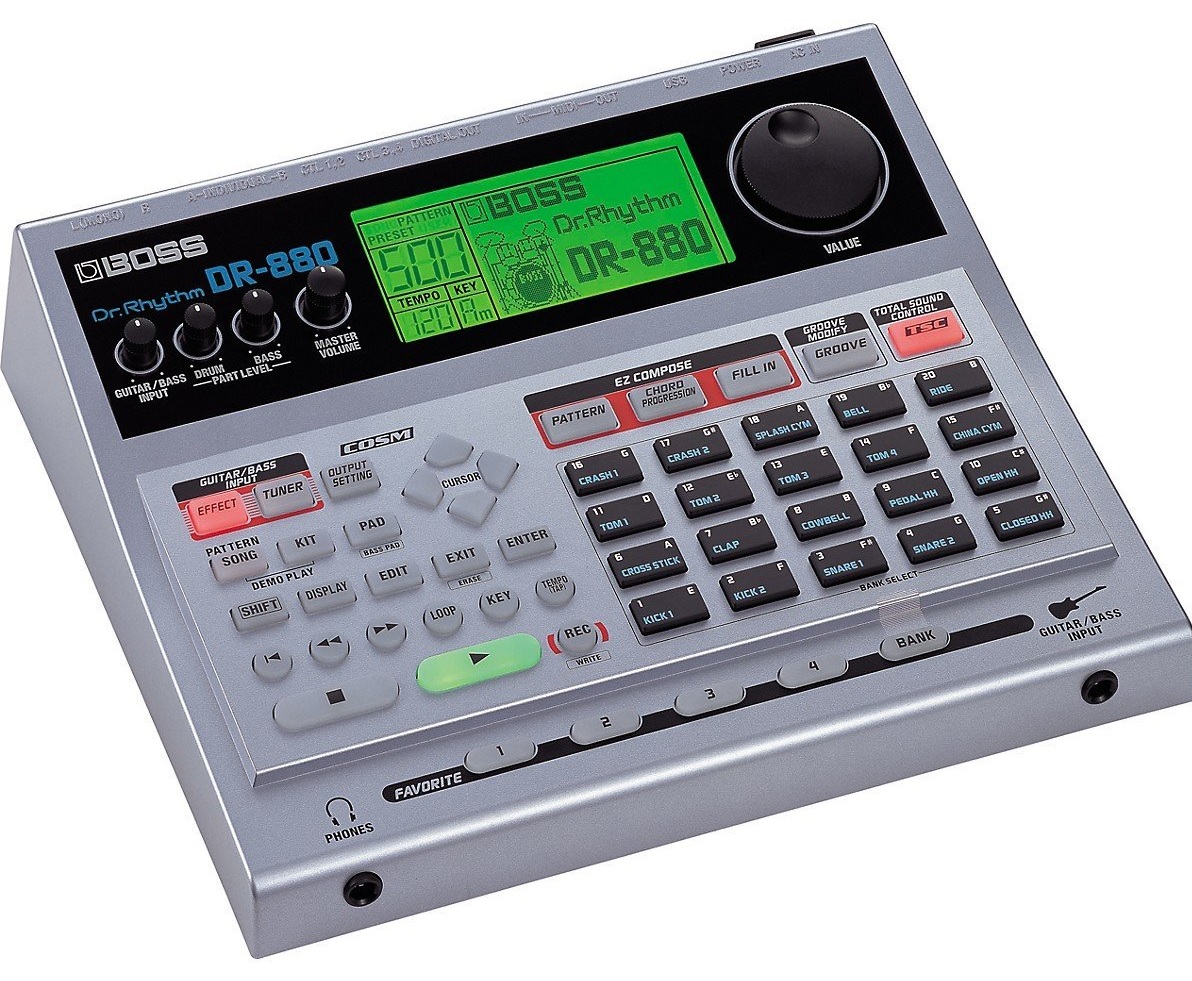 Click Here for Pricing, Pictures and Reviews on Amazon.co
The latter is ideal for practising musicians and students who need a quick band on the go to work on scales and modes.
With 500 preset patterns there's a wide selection of differing world rhythms to choose from, from jazz to techno, it's all there in the DR-880.
You can also save up to 500 of your own composed patterns whether you choose to input using the finger pads or step by step in the LCD display.
One downside is the DR-880's inability to reassign drums from pads to other pads.
It's a slight limitation and one that Boss could easily have avoided.
The 20 velocity sensitive pads respond admirably to touch and the samples respond in turn with realistic tonal and volume changes.
It's quite easy to get a beat going in record mode and loop it. The Boss DR-880 will quantize your playing to either a straight or swung feel depending on your preference.
There are also four customisable foot pedal inputs on the back of the console which you can use to stop/start beats and as expression controls.
You've got both EQ and compression plugins built in which allows for further fine tuning.
The DR-880 is a versatile and useful product and is competitive value considering other products around the $550+ range.
Pros
Cons
Arturia DrumBrute
The Arturia DrumBrute is one of the best analog drum machines on the market today. Even to look at the Arturia have created more of a beauty than a beast.
It has a classic aesthetic with mahogany style side panels and big vintage looking knobs. The performance is equally as impressive.
With 12 drum pads and over 40 control knobs the DrumBrute has more in common with the early 1980s drum machines such as the TR-909.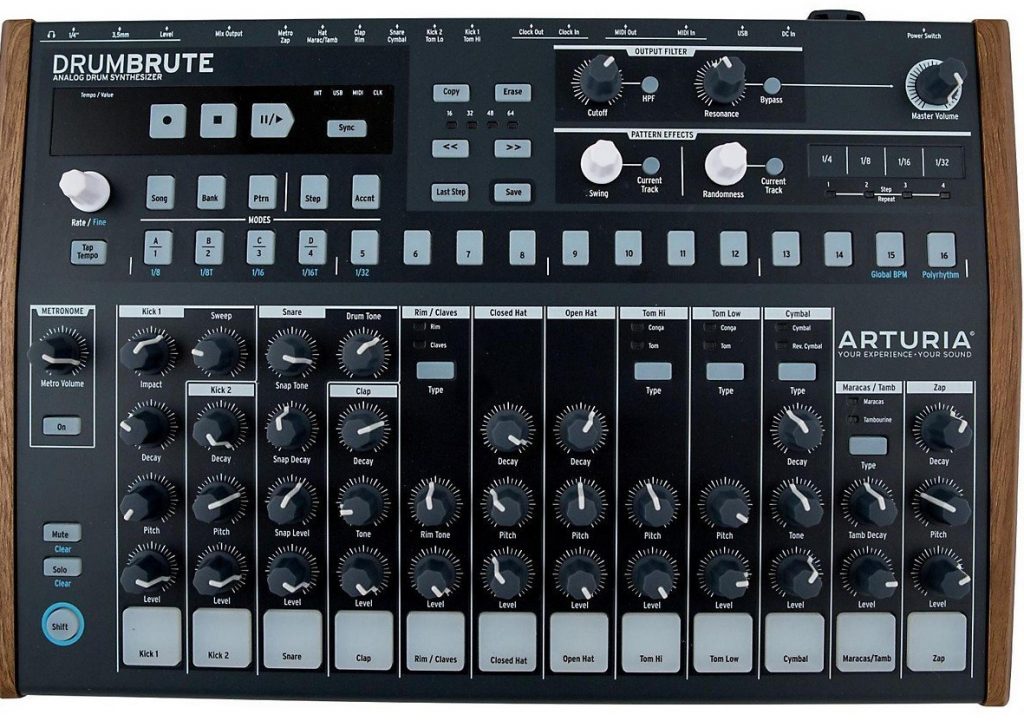 Click Here for Pricing, Pictures and Reviews on Amazon.com
Price-wise Arturia have priced the DrumBrute on a par with the Boss DR-880 but that's where the similarities end.
With 17 drum and percussion sounds to choose from and with full polyphony, you can also chain patterns to create full songs.
For analog enthusiasts you can't get much better than the DrumBrute, but for users in search of something for all occasions then you might be barking up the wrong tree here.
Whilst the range of control and after effects is astonishing, essentially you are still limited to a dated style of electronic drum trigger.
The sample sounds are spectacular but not for every musical situation. That said, the DrumBrute doesn't claim to be a jack of all trades, more a master of one and it excels at that.
Pros
Cons
Elektron Analog Rhythm
At the upper end of the drum machine market we have Elektron's Analog Rhythm.
With 12 outputs, one for each drum and full MIDI compatibility this drum machine really is state of the art.
Each of the 12 drum pads is velocity and pressure sensitive and backlit for extra style. The ability to layer samples on top of existing drum sounds makes this an immensely powerful music tool.
Click Here for Pricing, Pictures and Reviews on Amazon.com
You'll find Ableton Live 9 Lite bundled for free with the Analog Rhythm so you can start building tracks right away. Storage is not an issue either with over 4000 sounds and 1GB+ drive storage for samples.
Along with the 12 drum pads you have 9 endlessly rotating knobs for parameter adjusting on each individual sound.
You can view values and effect settings on the small backlit LCD screen in the center of the console.
There are 8 banks available for drum patterns and each bank has 16 patterns. On the back we have ¼ inch stereo in, MIDI in, MIDI out, MIDI thru & sync.
The Analog Rhythm can also receive MIDI through its USB port. The chromatic mode allows you to play around with the pitch of any sample you wish to.
There's a nice array of filters and LFOs along with master effects like reverb and distortion. It's added features like this that makes the Analog Rhythm streets ahead of any other drum machine currently out there.
Pros
Best drum machine on the market
Cons
Drum Machine Apps
With the advent of the smartphone, drum machines have become readily available on our handheld devices, meaning you can create and save beats on the go.
Here are 5 of the best drum machine apps available to download today.
Drum Machine (Android)
Simple and easy to use, Drum Machine does what it says on the tin. It has 8 big pads that can be tapped to create and store beats. There's a selection of effects to add to your beats such as reverb, echo, flanger and chorus.
Along with a built in mixer you can choose from classic drum machines of the past such as Roland's TR-909 and Akai's MPC-60.
Loopz - Best Drum Loops! (Android)
Loopz is a handy app which focuses on providing quick and easy drum loops. You can set the tempo simply by tapping the screen and there are a tonne of basic drum loops to choose from. The beats are labelled with similar titles to the songs that they are copied from. This app is perfect for guitarists and bass players who want something to jam along to.
Groove Vault (iOS/Android)
Groove Vault is essentially two apps in one. Not only can you create your own beats with numerous different kit sounds, you can also load in famous classic beats from the Groove Vault catalog.
Pretty much every beat is there to view, load and play with. Whether it's Aerosmith's Walk This Way or something from John Bonham & Led Zeppelin, they're all there in Groove Vault.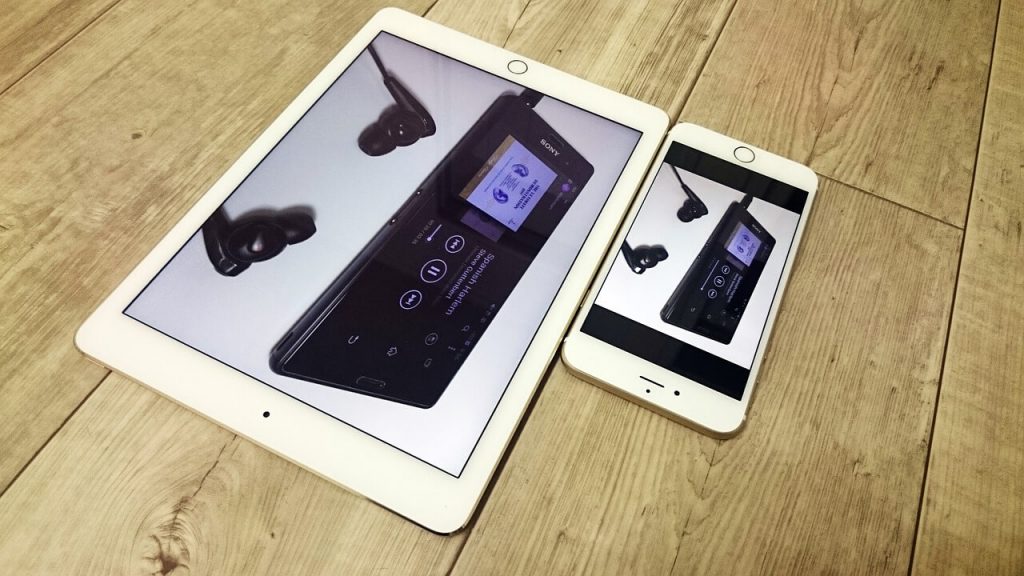 Drum Pads 24 (iOS)
Drum Pads 24 is a neat little app for iPhone and iPad with a fresh and colourful look and feel. Featuring 12 brightly coloured pads, creating fun beats is effortless.
Drum Pads 24 makes it easy for those with limited or no musical experience to tap along to their favourite tunes.
EasyBeats Drum Machine (iOS)
With a slick layout EasyBeats is a great drum machine app for iOS. The grid is very intuitive and easy to work with. Adding effects is quite straightforward and mixing is equally simple too.
The interface is based on the traditional drum pads like the Akai XR20 with big and easily playable squares, especially on bigger devices like the larger iPads. The only thing missing now is an android version.
Conclusion
Answering the question of 'what is the best drum machine?' requires us to consider the demands that a user might place on the product.
If you've little money to spend and you want the basics then it's worth stretching the extra few dollars to purchase the Alesis SR16.
It's a great product and value for money whether you're composing or practising.
For mid-range purchases it's hard to look past the Akai XR20 with its supreme usability. It's built to last and has some really impressive sound editing abilities.
Finally, if money is no barrier you should definitely consider the Elektron Analog Rhythm. It has more features than you could dream up and will keep you occupied and entertained for countless hours. It's more of a musical instrument than just a regular drum machine.
It's no surprise that it's rightly regarded as the best drum machine on sale today.
More to read:
5 Best Alesis Drum Set in 2021 that You Need to Check Out
Summary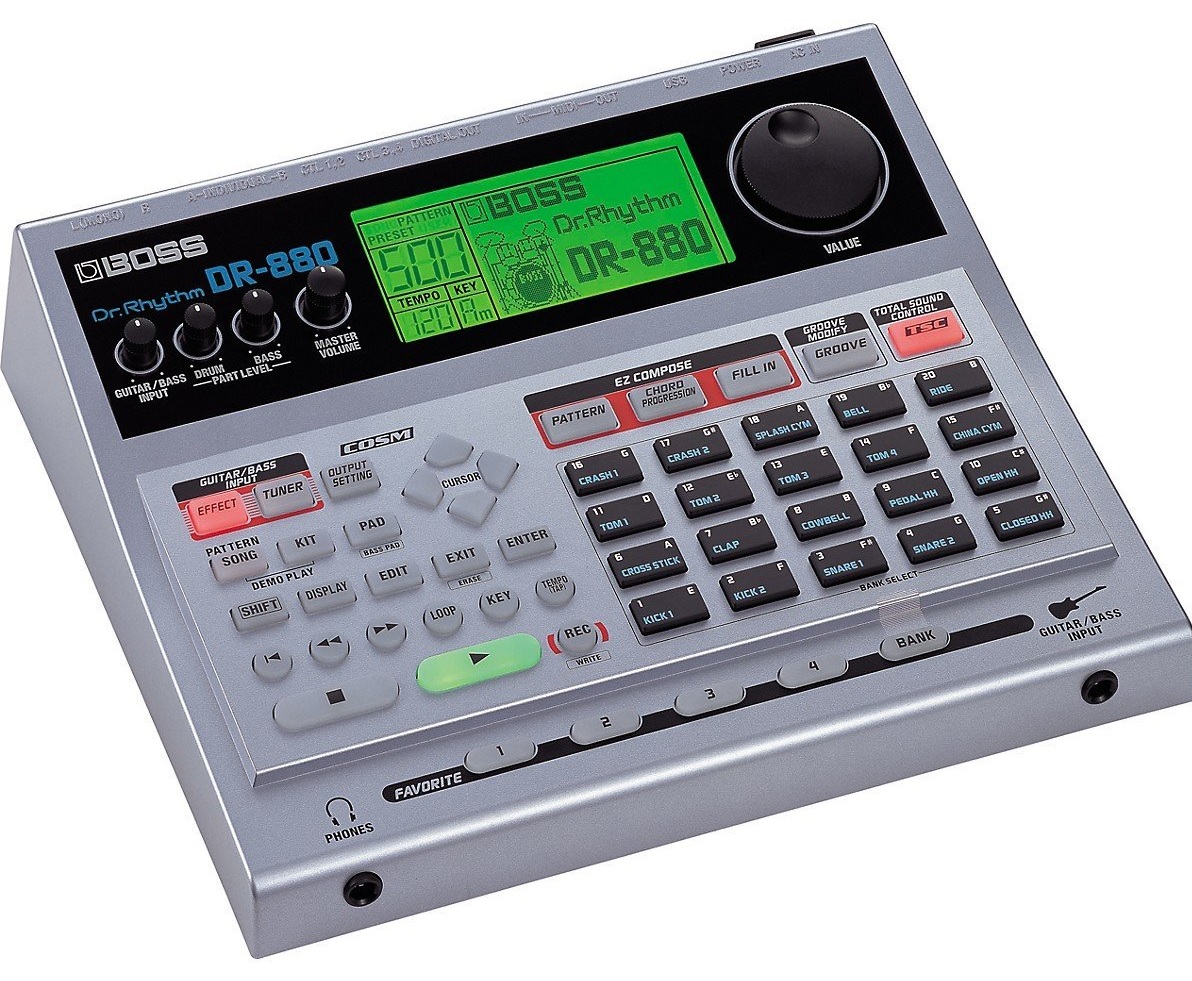 Article Name
Description
Best drum machine for 2019. In order to make a purchasing decision easier for you, here are some of the top rated drum machines. Check out the reviews!
Author