Updated on April 2nd, 2022
Although the low price tag may fool you, the Marantz Professional MPM-1000 was built as a microphone for top-notch studio recording. That being said, you won't get a mic that is on the level of more expensive recording gear, but you'll definitely get a piece of gear that's absolutely worth the money.
This unit might be an entry-level microphone, but you can expect studio-quality sound from it. If you need it for podcasts, video commentary, or isolating instruments on a crowded stage, the MPM-1000 is a perfect condenser mic for you.
Marantz Professional MPM-1000
The Marantz Professional MPM-1000 is a large diaphragm condenser mic. Some would say that this doesn't fall under the category of large-diaphragm microphones, but it either is or performs like one. Marantz's main goal was to create a great product for people on a tight budget. Sure, it does come with its own set of downsides, but at a price this low, can they really be called 'downsides?'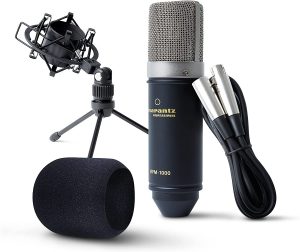 Who is the product for?
The MPM-1000 may not be the best microphone in the world, but its affordability shouldn't deter you from giving it a try as a musical pro. It might not be applicable to every instrument out there and you may find better solutions for certain recordings, but this unit works wonders in particular settings and environments. As such, this product is a useful tool for the amateur and professional alike, whether you are a self-recording artist or a studio producer.
When it comes to podcasts, streaming, and YouTubing, Marantz Pro MPM-1000 stands proudly at the top. Many content creators out there favor the MPM-1000 for its convenient price, but also for its simplicity, sound quality, and durability.
As a rule of thumb, YouTubers don't tend to go for expensive mics (unless they are music YouTubers), and this is exactly where this unit shines. This condenser mic brings you the quality of an expensive unit for a quarter of the price. YouTubers and podcasters will thrive if they get this Marantz unit.
What's included?
The MPM-1000 product box comes with a custom windscreen, which is very useful, as finding a non-custom perfect fit for a microphone is a tedious process that often results in failure. Honestly, there is no good reason why some mid-tier mics don't feature a custom windscreen inside the box when units this cheap do.
Additionally, the MPM-1000 includes a desktop tripod stand that proves that this is a model primarily intended for YouTubers (it really does perform remarkably well in the studio, too).
Now, here's a feature that most of MPM-1000's peers don't include – a shock mount. Shock mounts are of tremendous importance for vocal recording when it comes to avoiding the risk of damaging the mic itself.
These things are usually sold separately and tend to be custom-fits, making them even harder to find. The guys and gals from Marantz have decided to include a shock mount in the packaging, which is very convenient, keeping in mind the price of the product.
Finally, you get a standard XLR cable, which is the only way that this mic establishes connectivity.
Overview of features
First of all, and, perhaps, most importantly, the Marantz Pro MPM-1000 has a standard cardioid pattern that provides the majority of sensitivity in front of the capsule, rejecting the sound directly behind the capsule. This makes it incredibly useful for gaming YouTubers who don't want their videos to be cluttered with keyboard sounds and mouse clicks.
Also, this means that you won't have to buy an additional cover to avoid the keyboard/mouse click problem.
When it comes to frequency response, the MPM-1000 ranges from 20Hz to 20 kHz, which is more than decent. Emphasizing clarity and tonal character usually comes at the price of harshness in condenser microphones, but the Marantz Professional MPM-1000 doesn't suffer from these issues.
The microphone does require 48vDC power, supplied by phantom power. Unfortunately, this unit doesn't feature USB connectivity, which would truly make it the perfect tool for the YouTube crowd.
Now, for more technical details:
Self-noise: 17dBA
Max SPL: 136dB
Signal-to-noise ratio: 77dB
Dimensions: 6.5"x1.90"
Weight: 10.5 oz.
How to use it
First of all, here's what you will need in order to use this one — the only way to connect the MPM-1000 is by using an XLR cable, which either goes straight into the mixer (for live performances) or into your audio interface. Make sure that your sound card has an appropriate input and, if you want to record music, install a DAW.
To connect it, first turn all the gain/volume knobs down (on your preamp, headphones, audio interface, studio monitors, and/or speakers). Then, connect your preamp/audio interface/mixer with the microphone using the provided XLR cable. Once fully connected, turn on the phantom power.
To attach the shock mount to your mic, follow this procedure:
Check if the screw on the mounting piece is loosened and loosen it if it isn't. Move the mounting piece up until it's free to attach to the mic stand.
Bring the mounting piece up to meet the threaded end of the arm on the mic stand.
Do not spin the shock mount. Spin the arm of the mic stand while holding the shock mount steady.
Position the shock mount to your preference and then tighten the screw on the mount.
Use the wire clasp to release/tighten the grip around the mic.
Pros
Incredibly budget-friendly
Ideal for podcasters and YouTubers
Delivers a clear tone without being harsh
Comes with a shock mount
Includes a custom windscreen
Cons
Doesn't have USB connectivity
Isn't too versatile for music recording purposes
Alternatives
The Samson Meteor is a desktop USB microphone that also has a large diaphragm. If you need a similar microphone to the Marantz, but don't want to spend money on buying an audio interface, check out the Samson Meteor. However, keep in mind that it is much less satisfying than the MPM-1000 tone-wise.
When it comes to recording versatility, there isn't a better piece of gear than the Audio-Technica AT2035. It also sounds marginally better than the MPM-1000. However, at around thrice the price, it doesn't always pay off.
Conclusion
The Marantz Professional MPM-1000 is a fantastic microphone for most desktop recording purposes and is also applicable to some extent in music recording. It is very affordable and packs quite a punch for its price class. Better alternatives exist, but you won't get a better deal for the price, especially if you are a YouTuber or a podcaster.
Read also:
AKG Pro Audio C214 Review 2021
TOP 10 Best Drum Mic Stand for Singing Drummers with Reviews
Are Condenser Mics Good for Vocals?
We hope you love our reviews! For your information, we do earn money from commission in the link in the content! For more information click here!