Updated on April 4th, 2023
CES 2023: Here's What To Expect
As always, the consumer technology showcase CES 2023 is set to be a remarkable event for tech lovers around the world. The future of consumer technology is set to be on full display, as companies from all over the world show off their newest and most advanced gadgets and devices. Some of the highlights of this year's show are expected to be the newest virtual reality headsets, connected home appliances, and self-driving cars. On the other side of the spectrum, there's also expected to be a big focus on robotics and AI-powered systems, with many companies looking to demonstrate the potential of these technologies in everyday life. Another big focus is set to be on the future of charging technology, as companies continue to look for new ways to make their products more portable and convenient than ever before. With the world continuing to move at a rapid pace into a digital future, it's clear that CES 2023 is set to be a major event for anyone interested in the exciting possibilities of consumer technology.
World's First Wireless TV
The world's first truly wireless TV is expected to launch at the 2023 Consumer Electronics Show (CES). This innovative television will be able to be wirelessly connected to your other home theater devices, including your speakers, gaming consoles and other smart home devices. This revolutionary technology will give people the ability to move around the room without having to worry about getting tangled in cords or constantly plugging adapters in and out. Additionally, it will provide a way to access streaming services like Netflix and Hulu without needing a separate device. The CES 2023 debut of this product is sure to be an exciting event that will showcase the latest in home entertainment technology.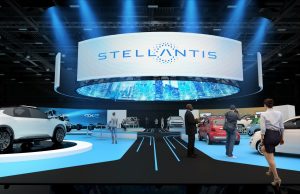 Stellantis Sustainable Vehicles
At CES 2023, Stellantis will be showcasing its latest line of clean and affordable mobility solutions. The company will feature electric vehicles, fuel-cell vehicles, automated driving technology, and connected vehicle services.
The company plans to highlight its commitment to sustainability with the showcasing of its new hydrogen fuel cell vehicle. This vehicle will feature advanced technology and improved fuel efficiency. Stellantis will also showcase the use of Autonomous Driving features to improve safety and convenience for manual drivers.
Additionally, Stellantis plans to enhance user experience through connected vehicle services. This will allow drivers to stay connected with their vehicles and access real-time traffic updates and other important data while on the move. Lastly, Stellantis will showcase its commitment to affordability by introducing programs that allow customers to finance their vehicles at competitive rates.
LG InstaView Refrigerator
LG is set to present its InstaView Refrigerator at the 2023 Consumer Electronics Show. The InstaView refrigerator boasts a spacious yet sleek design. It features updated inverter linear compressors with a 10-year warranty, an enhanced InstaView Door-in-Door, and a CoolGuard storage bin that safeguards food. Additionally, the refrigerator includes DoorCooling+ technology, which helps keep food fresher for longer. LG also included its advanced SmartThinQ technology in the refrigerator, allowing users to control the temperature and other features from their smartphone.
More to read:
LG Display to Introduce Two Curved OLED Designs at CES 2022
We hope you love our reviews! For your information, we do earn money from commission in the link in the content! For more information click here!