Updated on April 4th, 2023
The Controversial Lensa App
Lensa is an artificial intelligence powered art app which is quickly taking over the internet. It uses AI technology to turn photos of people into 'magic avatars' - an avatar which is designed using your portrait photo. The app allows users to customize these avatars using various tools, adding hats, glasses, earrings, and other accessories to the photo to create a custom image. Additionally, users can apply filters, change backgrounds, and add designs to personalize their avatar even more. Lensa is an easy and fun way to create a unique profile picture and share it on social media. It also provides a platform to showcase your creativity with the help of AI art tools, letting you express yourself with a personalized avatar.
The app is part of the mobile photography revolution, and it's being used by thousands of people to create stunning shots. Lensa offers creative tools that let you customize your photos. Adjust brightness, contrast and saturation, apply color toning, add text, and much more. The app also comes with dozens of filters and effects that take your photos to the next level. Lensa is a great way to quickly edit your photos on the go, and it's available for both iOS and Android devices.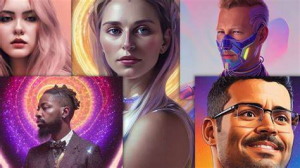 The Controversial Side of Lensa
The Lensa app has sparked controversy due to its use of facial recognition technology. The app claims to be able to identify a person by their face alone and make predictions about their characteristics such as age, gender, occupation, and even their income level. This use of facial recognition technology has raised fears among privacy advocates, as they are concerned that the information gathered by the app could be used by companies or governments to track and potentially manipulate individuals. Additionally, the accuracy of Lensa's predictions has been questioned, with some critics arguing that its algorithm is biased and inaccurate.
Many of these concerns stem from the issues that arose when Facebook began using facial recognition technology in its photo tagging system several years ago. Facebook was accused of using facial recognition to discriminate against people of color and other minority groups, a claim that the company denied. Nonetheless, the controversy sparked a debate over the use of such technology and its potential to be used for malicious purposes.
In response to the concerns surrounding the use of facial recognition technology, Lensa has stated that it does not store or share users' personal information and that its predictions are based on an aggregate of data from a variety of sources. The company also implemented a feature that asks users to opt in before their data is collected and shared.
While some have praised Lensa's efforts to protect user privacy, the app remains controversial, with many privacy advocates still wary of its potential to infringe upon users' right to privacy. As such, Lensa's use of facial recognition technology is likely to remain a topic of debate for some time.
More to read:
Snapdragon 8 Gen 2 Unveiled: Powered by Groundbreaking AI
We hope you love our reviews! For your information, we do earn money from commission in the link in the content! For more information click here!