Updated on April 4th, 2023
No Sensible Reason to Prevent Activision Deal Says Microsoft
As you all probably know Microsoft is facing staunch contentions from watchdogs around the world with the Activision acquisition. The tech giant is writing long letters to justify the Activision deal to different authorities. In a new reply filed by Microsoft in response to the lawsuit filed by the US Federal Trade Commission (FTC), the tech giant puts forward strong arguments for why the deal should go through.
The FTC in its complaint had argued that the Activision deal would "enable Microsoft to suppress competitors to its Xbox gaming consoles and its rapidly growing subscription content and cloud-gaming business."
We Are the Weak Players
Microsoft has been trying to paint itself as a weak player in the gaming arena even saying that it is "stuck behind PlayStation and Nintendo Switch". In a 37-page document submitted to the FTC, Microsoft tries the same thing.
This is how Xbox begins the document: "This case involves a transaction between the third-place manufacturer of gaming consoles and one of many publishers of popular video games. Microsoft competes in gaming through its Xbox division ("Xbox"). Xbox started behind Nintendo and Sony when it began making consoles 20 years ago, and it remains in third place today. Xbox also has next to no presence in mobile gaming, the fastest-growing segment of gaming and the place where 94% of gamers spend their time today."
"Microsoft is buying Activision to try to become more competitive in this expanding global industry. Its vision for the transaction is simple: Xbox wants to grow its presence in mobile gaming, and three quarters of Activision's gamers and more than a third of its revenues come from mobile offerings. Xbox also believes it is good business to make Activision's limited portfolio of popular games more accessible to consumers, by putting them on more platforms and making them more affordable. That includes making Call of Duty, one of Activision's most popular games, more broadly available. Microsoft made this public pledge on the day the deal was announce," the tech giant added in the document.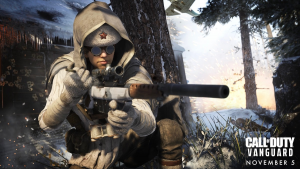 Microsoft has deftly tried to push off any concerns regarding gamers favorite "Call of Duty" becoming an Xbox exclusive. Sony's PlayStation platform has constantly tried to slam the Activision deal in fear of Call of Duty (COD) becoming an Xbox exclusive, as COD is a game that fetches Sony a great deal of revenue.
The Washington tech company strongly opposed Sony saying that: "The acquisition of a single game by the third-place console manufacturer cannot upend a highly competitive industry. That is particularly so when the manufacturer has made clear it will not withhold the game. The fact that Xbox's dominant competitor has thus far refused to accept Xbox's proposal does not justify blocking a transaction that will benefit consumers. Giving consumers high-quality content in more ways and at lower prices is what the antitrust laws are supposed to promote, not prevent."
Activision Blizzard Is Keen on the Deal
Activision is also pushing for the deal to go through. The company is not only standing to gain money from the deal but also tech intensive resources available to Microsoft to develop more of their thrilling games. A Verge report said that Activision Blizzard's CEO Bobby Kotick is also waiting for the deal to close.
"There is no sensible, legitimate reason for our transaction to be prevented from closing. Our industry has enormous competition and few barriers to entry. We have seen more devices than ever before enabling players a wide range of choices to play games. Engines and tools are freely available to developers large and small. The breadth of distribution options for games has never been more widespread. We believe we will prevail on the merits of the case," said Kotick.
More to read:
Microsoft Surface Event: Greet New Surface Products Soon
Xbox Game Pass Lineup for November Is Interesting
We hope you love our reviews! For your information, we do earn money from commission in the link in the content! For more information click here!