Updated on April 2nd, 2022
During the early half of the 20th century, Afro-Caribbean rhythms had a huge influence on popular dance music and jazz worldwide. This brought bongo drums into our cultural vocabulary, from Beatniks to Mambo to the current revival of Cuban folkloric music.
The drummer normally keeps the bongos between their legs while playing them. The location of the bongos is determined by player choice, but the method for hitting them is the same: the drummer hits the bongos with their finger pads, thumbs, and heels of the hand, never their knuckles.
With the growing popularity of bongos, many different models have been introduced in the market. If you're a drumming enthusiast who is looking for the best bongo drum, then we have handpicked top 5 models for you. 
Our Best Bongo Drums - Reviews and Comparisons
1. Tycoon Percussion TB-8BM Ritmo Series 6″ & 7″ Mini Bongos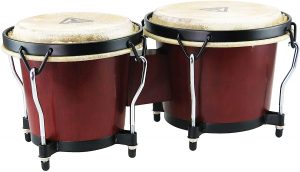 Product Highlights
The Ritmo Bongo package from Tycoon Percussion, an up-and-coming instrument maker from Thailand, is a step up in price. These bongos sound remarkably nice for such a simple collection of drums.
Features 
The staves of these drums are made from the wood of rubber trees. These have been cut down after they have stopped making latex, although some manufacturers call it "Siam Oak" wood.

Rubberwood is a medium-density wood that is very durable. This collection is available in a transparent stain or a deep reddish-brown stain known as mahogany.

The Tycoon Percussion brand is well-known for its high-quality beginner bongos. This pair is flawless in terms of appearance, with skins that have fantastic natural color and texture and hardware that is black and powder coated.

These bongos are still small for bongos, at 6" and 7".

Their tones are very high. The top ring is also very high, making it a little more difficult to hit perfect rim shots without injuring your fingers. However, the overall tone is perfectly acceptable.

These are smart-looking, robust, and good-sounding bongos for the price.

They're simple to tune and provide stability, and they'll last you years if you use them often. Unlike with plastic bongos, the sound is not monotonous. These bongos are suitable for both beginners and more experienced players because they are simple to play and last a long time.
What We Like About Tycoon Percussion TB-8BM Ritmo Series
When it comes to building consistency, they are far superior to average bongos. The center block, which holds both bongos, is very firm and durable. The shells are made of Siam oak wood and have a fantastic appearance. They are all smooth, polished, and meticulously done.
What We Don't Like About Tycoon Percussion TB-8BM Ritmo Series
These drums give off a high-pitched sound. 
        Pros
        Cons
High on durability
Impressive overall tone
Small in size and high-pitched
Rim might hurt your hand after prolonged playing
2. Meinl Percussion HB50BK Bongo Drums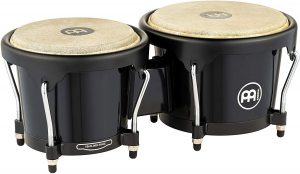 Product Highlights
The Meinl Percussion HB50BK Bongo Drums are the latest addition to their Headliner Series of musical instruments. With its durable and solid construction, this set ensures nothing less than completely stunning results. 
Features 
The pair of bongo drums are ideal for any type of performance, from home practice to live performances and even recording studios. A tuning wrench is included with the instruments for tuning purposes before playing. 

Another major explanation for the product's huge popularity in the market among other similar models is its long lifespan.

The ABS plastic that the bongos are made of is responsible for its lightweight and durability. 

Due to the shell's capability, some amount of banging on the heads is possible. Buffalo heads that have been hand-picked are used to create authentic music. Each instrument in the pair measures 6.5 inches and 7.5 inches in length. 

Rounded rims have been applied to the instruments to ensure perfect synchronization and comfort while playing. 

The instrument weighs approximately 7 pounds and is very large.

The instruments have been designed and finished to a high standard. Its silky texture, lightweight, and sun-bleached finish make it irresistible. 

When the Bongos are played, they have a very intoxicating feel to them! The rich acoustic mixture that emanates from these beauties is another excuse to keep playing them. 

The tuning wrench can easily tune the lugs of the bongos to produce excellent bongo music. Each material has been chosen to intensify the resonating sounds to create the ultimate perfect music. The Bongos' lightweight is an additional benefit when they're being played on the lap.

The inclusion of soft rubber feet is another great feature of this kit. This comes in handy when the package needs to be stored correctly and when the games need to be played on smooth surfaces like tiles or tabletops.
What We Like About Meinl Percussion HB50BK Bongo Drums 
The bongos are just right in terms of volume. When played with a collection of percussion instruments, it is not too loud, but it can be heard clearly. Furthermore, if silence is to be preserved in the area where it is played, it can be stuffed with a cloth when being performed to reduce the loudness.
What We Don't Like About Meinl Percussion HB50BK Bongo Drums 
The tuning of these drums is quite inflexible. 
        Pros
        Cons
Well-priced and durable
Loud, bright sounding tone
Inflexible tuning
3. Meinl Marathon Designer Series Wood Bongo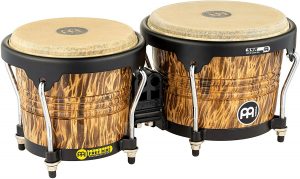 Product Highlights
The Marathon Design Series wood bongo is Meinl's second product in our best bongo drums review. Let's see what that means in terms of appearance, consistency, and sound compared to our previous two bongo drums. To begin with, the highlight of this drum is its plain rubberwood stave shells have a striking appearance. 
Features 
The shells have a series of rings lathed into them and are finished in a glossy lacquer to resemble leopard burl wood. They're finished off with the same kind of hardware as the Journey Series, which makes them look very slick. 

The shells have been lathed and sanded to perfection on the inside. Not only does the hardware look good, but it also stands out from our previous two bongos.

When hitting rim shots, the top ring sits far lower from the bongos' rim, clearing it entirely. The same water buffalo skins are made to sound colder and darker with the Marathons by using slightly larger wood shells.

Bright popping overtones, on the other hand, remain, making a more dynamic sound.

The Marathon Series bongo uses a woodblock connector (like the Ritmos) or a plastic one (like the Journeys). This drum, on the other hand, is linked by Meinl's "free-ride suspension system."

This means that none of the wood in the shells has been drilled. This stops any humming and lets the pure wood resonances show through. The end result sounds fantastic.
What We Like About Meinl Marathon Designer Series Wood Bongo
Not only does the Meinl Marathon Designer Series Wood Bongo drum look beautiful but its dynamic sound leaves a lasting impression. 
What We Don't Like About Meinl Marathon Designer Series Wood Bongo
The only downside of these drums is that they are quite expensive. 
        Pros
        Cons
Complex, dynamic sound
Good tuning range
Aesthetic
Expensive
4. LP Matador M201-AW Wood Bongos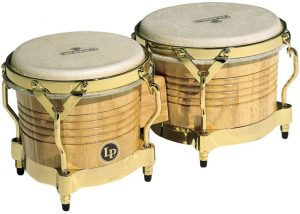 Product Highlights
LP has been creating classic percussion instruments for over half a century, as well as patenting hundreds of innovations and innovative designs for musical instruments that meet the stringent requirements of skilled musicians. 
Professional and amateur musicians from all over the world are putting Latin Percussion instruments to the test today. Latin Percussion designed this series of bongos, and the company is known for producing high-quality percussion instruments that are highly durable, such as this one. 
Features 
The shells of this bongo are made of high-quality Siam oak and feature typical rims on the outside. 

The wood's longevity means that it can remain in good shape and sound for many years to come. 

The heads are 7-1/4" and 8-5/5" in diameter, and when struck, they emit a crisp, rich tone. 

The bottom piece, which holds the bongos, is made of aluminum and is very durable. 

Despite its durability, the Matador bongo is light enough to provide a relaxed playing environment for the player.
What We Like About LP Matador M201-AW Wood Bongos
The LP Matador M201-AW Wood Bongo stands out in terms of its highly durable construction that can withstand years of wear and tear. 
What We Don't Like About LP Matador M201-AW Wood Bongos
If you are looking for a bongo drum in the lower price range, then this model is not for you. 
        Pros
        Cons
Durable
Lightweight
High-quality construction
Expensive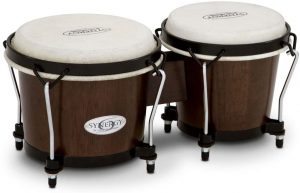 Product Highlights
The Toca Synergy Series is one of the most common bongo options. This bongo is identical to the standard Afro-Cuban bongo in sound and appearance. The heads of the bongo are made of natural rawhide, which produces an excellent and bass tone sound.
Features 
The heads are 6 inches and 6-3/4 inches in length. It has two-ply wood shells, and the wood used in its manufacture is ethically sourced. The body measures 28 inches in diameter. 

It also has a black powder coating on the hoops and lugs. The EasyPlay hoops on this drum enhance the sound of the drum. It also covers your hands at the same time.

Tuning rings on the bongo allow you to change the tuning ranges.

The four tension plates run the length of the shell. For musicians, the Toca bongo drum set is extremely valuable. It's a great option for people of all skill levels and applications.

The best thing about this series is that even a non-musician can quickly learn to play them, making this bongo ideal for people of all ages. It is ideal for both studying and producing new music, whether you are a professional musician or a young child.

This drum comes with stands that make it easy to play, and the overall construction is of high quality, making it a robust instrument. 

This series also allows you to fine-tune the head tuning as required, and the use of plywood ensures strength and stability. This stunning bongo collection, which comes in a chic Bahama Blue color, is one of the best bongo drums on the market.

 This bongo package is nice to go with its superior quality; you can play them with your kids or add them to the musical piece you're working on.

It's also handcrafted by Thai artisans and made of plywood shell construction, which gives it power while also making the percussion tuneful and melodious.
What We Like About Toca Synergy Series Bongo
Toca Synergy Series Bongo Set is made by talented Thai artisans and offers excellent percussion for beginning musicians. It's particularly great for kids who want to learn how to play the drums and bongos. 
Besides, the Toca Synergy Bongo has a low price and excellent percussion. This bongo set, made of Thailand wood, emits beautiful tones and is highly regarded by many musicians for the percussion it offers.
What We Don't Like About Toca Synergy Series Bongo
The tightening tool that comes with these drums is not of the best quality. 
        Pros
        Cons
Beautiful sound
Great for beginners
Flexible tuning range
Low-quality tightening tool
Final Verdict
Meinl Marathon Designer Series Wood Bongo is the best bongo drum according to us. It looks good and emits a beautiful dynamic sound that is hard to forget. However, the other models that we have mentioned are also trending among drummers and can be taken into consideration. 
Read also:
Best Tongue Drums That You Must Check Out Now 2021
Best Toaster in the U.S. That Are Worth Buying 2021 
We hope you love our reviews! For your information, we do earn money from commission in the link in the content! For more information click here!