Updated on April 3rd, 2022
Holidays are incomplete without a scrumptious dinner with family and friends, especially during festivals like Easter. This is a great time to get together with your dear ones, enjoy the spring-summer holidays, and obviously enjoy some great food. Whether you're planning a small family dinner or a virtual party with friends, cooking a full-course dinner often becomes exhausting. Delicious easter dinner recipe to try with your family.
However, you can always cut down on elaborate dinners and try something that is easy to prepare and is less time-consuming. Opting for easy and delicious Easter dinner recipes will surely save you from fatigue and give you more time to spend with your family.
But confused about what to make this Easter? Well, you need not be, as we have listed 5 delicious Easter dinner recipe, which you can make without any hassle.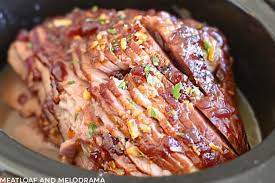 1. Crock Pot Ham
Easter Special is kind of incomplete without Ham, and we're sure most of you would agree. However, sometimes preparing Ham can be an uphill task with all roasting and coating with sauces and so on. Undoubtedly, it takes too much time. So, here's a quick one-pot Ham recipe, a 4 ingredient dish that you can make for your Easter night dinner.  Believe us your family would love it.
Ingredients & Method
You would need Ham (pre-cooked), pineapple slices, pineapple juice, and brown sugar.
Begin with placing the Ham in a pot. Slice pineapples and stuff them inside the ham and all over too, you can also add some candied cherries. On the other hand, take a bowl, pour all the pineapple juice, add brown sugar to it and whisk it until it dissolves. Now, pour the pineapple juice all over the ham. Cover the crock pot with a lid and let it slow cook for 3-5 hours. Your crock pot ham will be ready in no time.
Try this quick and easy ham recipe today, and enjoy the tangy, sweet-flavored meat this Easter.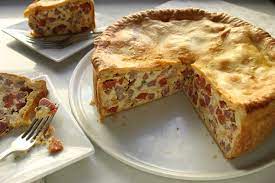 2. Pizza Rustica
Want to make something Italian, try making Pizza Rustica. A classic Italian Easter pie! Perfect dinner to celebrate the end of Lent!
Ingredients & Method
To make Pizza Rustica, firstly, you need to knead pie dough with flour, butter, and eggs. You can use a stand mixer to make your dough faster. You can try out the Acekool stand mixer that comes with a 1400W/660W high-performance copper motor and a 7L stainless steel bowl. We assure you it will save you a lot of time.
Next for the filling, sauté sausages for at least 6 mins in a pan, then add spinach and garlic, and sauté it further and let it cool. Then, in a large bowl, mix eggs, ricotta, mozzarella, parmesan, salami, and the sausage with spinach mixture. Next, roll out dough to make a layer for the pie, fill the top with the sausage mixture, and lastly place another thin layer of dough. Slide it into a preheated oven for 1 hour 15 minutes.
Enjoy your Good Friday or Easter dinner with this luscious Italian Pizza Rustica.
3.Leek and Spinach Pasta
Well, Easter is not only about ham, lamb, or turkey but a lot of veggies too. Vegetarians have many delicious options for Easter dinners and one simplest dish is spring pasta or what it's commonly called Leek and Spinach Pasta. This is a versatile dish, so you can replace leek with yellow onion and spinach with any of the greens like kale or Swiss chard.
Ingredients & Method
Since making this is quite easy, you would just need a few ingredients. Begin with boiling Fusilli in salted water. Meanwhile, in skillet or pan, heat olive oil, add leek and cook it until soft.
Then take a bowl and whisk a little cream to make it thick. For this, you can use a hand blender. Try out the Acekool 5-in-1 immersion stick blender. It makes your work super easy and quick. Add the whisked cream to the leek and cook on simmer for 5 minutes. Lastly, add spinach and cook for another 2-3 minutes before adding the Fusilli. Toss the fusilli for 2 mins, season with salt and pepper, and serve your guest/family a streaming plate of creamy leek and spinach pasta.
Well, don't forget to pair it with a glass of luscious and aromatic Chardonnay to enhance the flavors.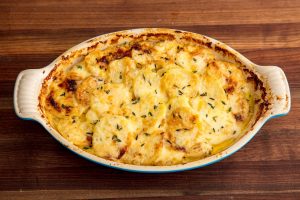 4. Potatoes au Gratia
Holidays are often the best time for kids too, as they get to spend more time with their families. Besides, during these times often kids want something different, besides the food they eat; and if it's loaded with cheese then it's a must-eat.  So, here's a simple, yet delicious Easter dinner recipe, especially for kids - Potatoes au Gratia.
Ingredients & Method
You have to begin with slicing potatoes in ¼'' thickness. Once done heat a skillet with butter, sprinkle some chopped garlic and sauté it for a minute. Once you get the aroma from the sautéd garlic, add fresh cream, milk, thyme, red pepper flakes, salt, and bring it to boil.
Next, in a large baking dish, layer the potatoes in an overlapping way and then pour a portion of the prepared cream-garlic mixture. Continue adding another layer of potatoes followed by the mixture. Don't forget to add a layer of your favorite cheese - be it cheddar or parmesan and bake it for 45 minutes. Make this for your kids and we're sure they would love it!
Besides, here's a pro-tip for Potatoes au Gratia. Let the dish sit for few minutes after it's baked. By doing this, the potatoes absorb the cream sauce well and make the dish creamier and tastier
5.Carrot Cake
Easter dinner without a dessert is definitely incomplete. So, if you're thinking about what to make for dessert then try your hands at baking a carrot cake. A classic crowd-pleaser, with loads of homemade cream cheese frosting!
Ingredients & Method
To make this carrot cake, you must first coat a baking pan with butter and flour. Then chop the carrots and keep it aside. Next, in a bowl add flour, baking powder, baking soda, ground allspice, nutmeg, cinnamon, and salt. Mix these well and add the mixture to the carrots followed by a quick toss to coat the carrots well.
The next steps involve mixing sugar, brown sugar, yogurt, and eggs. For this, you can use a hand blender to save time and energy. Now, pour the wet mixture into the coated carrots and mix well. Since your batter is ready, pour it all into the baking pan and shift it to a preheated oven for 45 minutes. Remember gradually after 20 minutes you will have to reduce the temperature from 3500 F to 3250 F and even lower to 2100 F.
Now for the frosting, you can resort to your hand blender again for beating the cream cheese. Once it's done, layer and coat the cake well. Enjoy this cake with a glass of red wine!
Try out these delicious Easter dinner recipes, and your family and friends are never going to forget it for sure.
Read also:
Best Toaster in the U.S. That Are Worth Buying 2021 
Best Stand Mixers in the U.S. That Are Selling Like Hot Cakes 2021       
We hope you love our reviews! For your information, we do earn money from commission in the link in the content! For more information click here!