Updated on April 4th, 2023
Arsupen Hair Dryer: A Professional Hair Dryer for No Frizz Hair
A professional hair dryer is a high-quality hair styling tool typically used by hairstylists and professionals in salons. These hair dryers are designed to provide powerful airflow and advanced features for faster, more efficient hair drying, and styling. The Arsupen professional hair dryer is one of the best hair dryers giving you salon-quality hairstyles at home .
Arsupen Professional Hair Dryer with Powerful Brushless Motor, Lightweight Foldable Dual Ionic Blow Dryer, High Speed for Fast Drying with Magnetic Nozzle, 12 Modes, Super Quiet, for Travel Salon Home
Consumer-grade Hair Dryers Vs Professional Hair Dryers
Compared to consumer-grade hair dryers, professional hair dryers typically have stronger motors and higher wattage, resulting in faster drying times and more heat options. They also typically come with various attachments like concentrators, diffusers, and nozzles to provide more versatile styling options.
Professional hair dryers also tend to be more durable and long-lasting due to their higher quality materials and construction. They are often made with ceramic or tourmaline technology that distributes heat more evenly, reducing the risk of hair damage.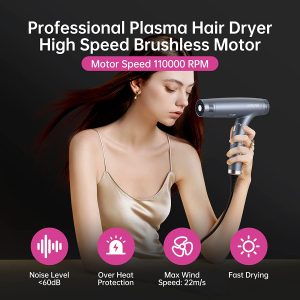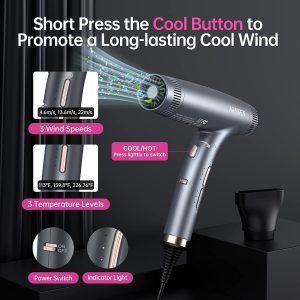 The Arsupen Professional Hair Dryer
The Arsupen professional hair dryer is an innovative hair dryer packed with a bunch of features that can style your hair and at the same time protect your hair. Let us explore the feature of the hair dryer from Arsupen in detail:
The hair dryer has 12 hair drying modes. There are 3-speed settings, 4 heat settings, safe delayed shutdown. You can also switch between hot and cold air by tapping a button.
Traditional hairdryers can be as loud as 90dB. Arsupen's blowdryer has low noise operation reducing the noise by 30% with the help of a unique powerful brushless motor. At the low-speed setting the dryers sound is as low as 35db, at medium speed it is at 55db, and at the high-speed setting it is at 60db.
Arsupen hair dryer is powered by a 110,000 RPM high-speed brushless motor for ultra-fast drying. The wind speed reaches 22m/s, which is 4 times faster than traditional hairdryers.
Equipped with intelligent heat control, the hair dryer measures the scalp's sense of heating and prevent your hair from heat damage.
The hair dryer helps lock in 95% of your hair's natural moisture for natural shine. This helps you reduce frizz, remove static, prevent split ends, smooth hair, close cuticles and protect your hair color. Arsupen hair dryer has millions of positive and negative ions which makes your hair silky smooth and prevents its from being frizzy.
Microfilter and auto clean
The hair dryer is fitted with a microfilter to prevents the passage of tiny dirt particles. It also has auto-clean technology which makes the the motor turbine rotate in the opposite direction to expel any dirt left on the filter. You just need to press the wind speed button for 3 seconds to reverse the blower and activate the microfilter.
The Arsupen professional hair dryer is lightweight do it is portable. You can put it in your bag and take it for your trips. It is reasonably priced and is also a good gift for your friend.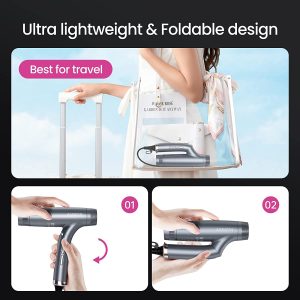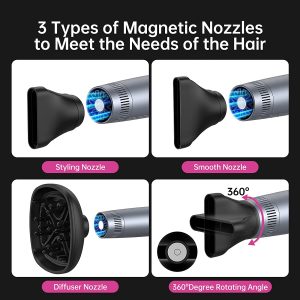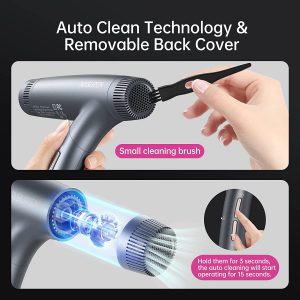 What to Look for When Buying Hair Dryers?
When buying a hair dryer, there are several factors to consider to ensure that you choose the right one for your needs. Here are some things to look for:
Wattage: Look for a hair dryer with at least 1,500 watts of power. Higher wattage means more heat and airflow, resulting in faster drying times.
Heat and speed settings: Choose a hair dryer with multiple heat and speed settings so that you can adjust it according to your hair type and styling needs.
Attachments: Consider the attachments that come with the hair dryer, such as diffusers, concentrators, and nozzles. These can help you achieve different hairstyles and textures.
Weight and size: Make sure the hair dryer is lightweight and easy to hold for extended periods. Consider the size, as well, especially if you plan to travel with it.
Technology: Look for hair dryers with ceramic, tourmaline, or ionic technology, which can help reduce frizz and damage to your hair.
Price: Hair dryers can range in price from budget-friendly to high-end. Choose one that fits your budget and offers the features you need.
By considering these factors, you can find a hair dryer that will help you achieve your desired hairstyle while also being convenient and easy to use.
More to read:
Logitech MK270 Wireless Keyboard And Mouse Combo For Windows Now $19.99 Save 29% On Amazon
We hope you love our reviews! For your information, we do earn money from commission in the link in the content! For more information click here!