Updated on April 4th, 2023
The Wait Will be Longer for iPhone 14 Pro and iPhone 14 Pro Max
Apple has announced that it will cut iPhone shipments for the holiday season. According to a Blomberg report, China lockdowns have affected the iPhone maker's factory production. This will impact the number of iPhone 14 Pro and iPhone 14v Pro Max shipments for the holiday season.
"We now expect lower iPhone 14 Pro and iPhone 14 Pro Max shipments than we previously anticipated and customers will experience longer wait times to receive their new products," announced Apple. Foxconn's largest iPhone assembly facility located in Zhengzhou is operating at a reduced capacity. Foxconn, a Taiwan-based contract manufacturer, is responsible for the production of the majority of iPhone units assembled every year.
The COVID-19 Lockdown
Last week, the Chinese government implemented a COVID-19 lockdown in some areas that includes Foxconn's Zhengzhou facility. The lockdown will last until November 9th. A video was posted online showing Foxconn workers leaving the assembly facility in droves.
Foxconn stated that it is working the government "in concerted efforts to stamp out the pandemic and resume production to its full capacity as quickly as possible," according to a post on its website. According to Counterpoint Research, the Zhengzhou factory produces 80% of the basic iPhone 14 base models and 85% of the high-end premium iPhone 14 Pro units.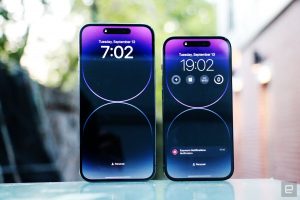 In Zhengzhou, the Chinese government has restricted movement of people and vehicles on the streets except for medical or essential reasons. Apple said that it is working with the Taiwan company to return the factory to "normal production levels while ensuring the health and safety of every worker."
Foxconn will find it hard to find additional workers and supplies to keep the assembly lines running at high production capacity. Usually, during the holiday season, Foxconn runs these lines  at full capacity to produce as many iPhone units as possible to cope up with the approaching holiday shopping season.
The iPhone 14 Pro and iPhone 14 Pro Max have advanced features not offered on the iPhone 14 and iPhone 14 Plus. The Pro models will house the latest Apple designed SoC, the A16 Bionic chip, promising superfast performance. Apple has installed shape-shifting, multitasking and Dynamic Island notification system. These phones also have better AMOLED displays with a 120Hz refresh rate.
Some iPhone experts are pointing out that the demand for iPhone 14 Pro models is overpowering the demand for cheaper non-Pro handsets. Consumers have been buying the more expensive Pro models this year which is great for the company's flagship models. Therefore, this COVID-19 production setback could deal a big blow for Apple in terms of revenue.
More to read:
iPhone 14 Plus Or Pixel 7 Pro: Which Offers Better Value!
iPhone 14 Release Date Is Sooner Than You Think
We hope you love our reviews! For your information, we do earn money from commission in the link in the content! For more information click here!