Updated on April 2nd, 2022
As is the case with all instruments in the percussion family, marching bass drums are produced in a variety of sizes, shapes and finishes by a full range of providers.
While no particular bass model is universally lauded as the "top bass drum on the market," a few basses consistently rise to the top of most of the lists.
Often featured by DCI finalist ensembles, the top bass drums receive high marks for craftsmanship, durability, sound production, attractiveness, and affordability.
Designed with a 14 inch "universal" depth, modern marching bass drums come in 2-inch diameter increments spanning from 14 to 36 inches.
Unlike other members of the battery, most notably toms and snares, bass drums have two heads that can be played constantly because the drum barrel is configured horizontally with the heads facing east and west respectively.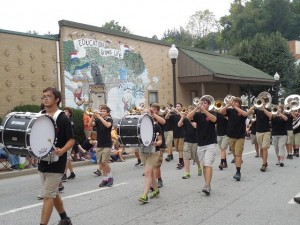 The heads of most bass drums are affixed with a smooth PET film, affording the drum tonal characteristics between those produced by clear and coated heads.
In most outdoor ensembles, a bass line consists of 4 to 5 percussionists, each carrying a different-sized drum, with the largest or strongest percussionist carrying the largest drum. In corps-style outdoor ensembles, "split parts" are the order of the day.
In a split part arrangement, each bass drummer only plays one segment – one pitch - of the entire bass drum manuscript. Unison playing, on the other hand, implies that all bass percussionists are playing the same part of the score.
The Decision
Before a band director or caption head purchases a set of shiny new basses for his or her percussionists, a simple question should be addressed-Does the ensemble need pitched basses or just drums that offer a consistent "thump?"
If the purchaser affirms the first part of the question, a lot more work will be needed in the research phase of bass purchase! Pitched drums and heads should be coupled with the overall mood and trajectory of the full ensemble's score.
For example, an outdoor ensemble playing a repertoire replete with Rachmaninoff offerings, will seek bass pitches that match the brightness of some of Rachmaninoff's pieces. Playing something darker like Shostakovich? A whole different set of pitches may be appropriate.
For show bands that are more interested in a consistent "thump" than an ideal pitch, the selection process should be much easier.
Dynasty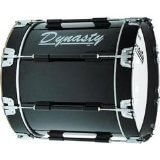 A key player in the bass market since 1999, Dynasty Marching Basses are crafted with hearty maple shells and aluminum endurite casings.
Because of Dynasty's elegantly engineered reverse threaded fittings and rugged claw hooks, a percussionist can adjust the head of the drum to higher tensioning without concern that the claw will underperform or fail.
While generally manufactured in black or white, Dynasty's offerings can be customized when the manufacturer is given adequate lead time.
Quickly amassing a large portion of the market share, Dynasty will be a major player in the bass market for years to come.
Tama
A lesser known player in the bass drum market, Tama is developing a strong reputation based on its innovative design work.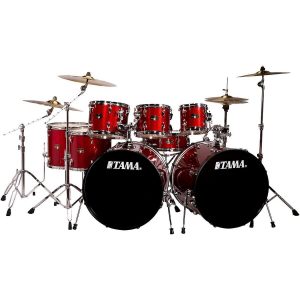 Click Here for Pricing, Pictures and Reviews on Amazon.com
The Tama shell is made of an exotic coupling of bubinga and birch to create a lightweight instrument with powerful sound and deft articulation.
The "Tama Noiseless Carrier" features a joint locking system that eliminates space between the bass drum and the drum carrier.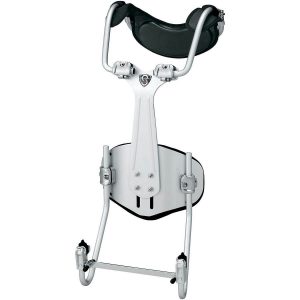 This configuration allows the bass drum to ride snuggly against the percussionist's body offering superior stability and playability.
Tama's feature light weight tension lugs and claw hooks that tend to be terrific performers even when it is important to place a lot of tension on the drum head.
Yamaha Field Corps
Crafted with high-caliber marching ensembles in mind, Yamaha's Field-Corps bass drums create a rich, buttery tone, along with the Yamaha-renowned terse attack.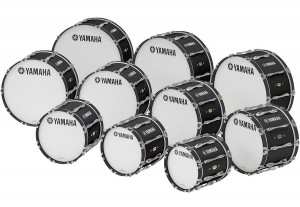 Click Here for Pricing, Pictures and Reviews on Amazon.com
Field Corps drums are crafted in maple with air hole sizing and placement optimally matched for each drum size.
Although the maple construction provides sublime durability, the drums barrels are designed to be thinner than the norm to reduce weight. In outdoor settings, especially, the Field Corps models create notable volume and projection.
Pearl Competitor
Pearl's lower-end Competitor Series bass drums still outperforms heavier, more expensive competitors. Fashioned in 8 ply mahogany, the shells of the competitors feature six strategically placed air vents that help maintain volume and projection on the low end of the score.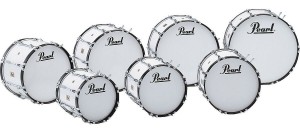 Click Here for Pricing, Pictures and Reviews on Amazon.com
Available in 8 sizes and enhanced by zinc-casted hardware, the Competitors are durable models that have become mainstays in many outdoor ensembles.
Pearl Championship
Pearl's Championship series is the longtime gold standard-bearer in the marching bass market.
Designed to project robust, buttery sound even at the lowest registers, these Pearls keep volumes of air moving with Pearl's trademark seismic air chambers.
Built with 6-ply maple shells, the Championships maintain durability while offering maximum resonance and monstrous sub-frequency projection. Accenting and enhancing the maple shells are 2 inch wide maple hoops fastened by extra wide claws.
Click Here for Pricing, Pictures and Reviews on Amazon.com
Promoting an evenly dispersed grip throughout the circumference of the hoops, the claws foster consistent tuning. Lightweight, high-strength aluminum casings and case hardened tension bolts, offer incredible strength at a weight level that will not overly fatigue the performer.
The Pearl Championship Bases are available in numerous finishes and colors. The Pearl Championship basses can be stunningly customized to match the palate of the outdoor ensemble.
Final Thoughts
With lots of sizes, finishes and construction woods to choose from, bass drum selection requires both patience and research,especially for ensembles moving toward split parts. Bass drum selection must include a thorough understanding of the sounds desired throughout the fullness of the ensemble as the repertoire is played.
The best options in bass drums should always rest on a conversation between director, performer, music arranger, and provider. Do your homework when selecting a bass drum or a series of bass drums. Consider the stature of your musicians.
Look at the color palate of the full ensemble. And do not be afraid to ask questions of others in the field who have special expertise with marching percussion.
Do not wait to the week of band camp to order basses. You will not see them before the competition season is well underway.
Read also:
Top Legendary Drummers You Should Know About.
We hope you love our reviews! For your information, we do earn money from commission in the link in the content! For more information click here!