Updated on April 3rd, 2022
You might have just purchased a solid drum kit with fine-sounding cymbals and a resonant snare. But, after a short while of jamming, you have come to realize the sound of the drums isn't the same as when you bought it. This is the right time to pick up the best drum tuner that you can rely on any time your drums sound flat.
If you don't tune your drum chances are that your set will sound clunky and unprofessional. While many drumming artists tune their set by ear, it is faster and more accurate with the help of a tuner. Tuning helps you adjust the frequency to get your drum tones in sync. Regardless of the quality of your set, you will be able to reap a professional sound from your drum set.
A drum tuner is a necessary piece of hardware whether you are a seasoned professional or a beginner. These devices are built to speed up your tuning process. They are easy to use, portable, and help make your drum sound flawless.
Below we have listed the 5 best drum tuners for you to choose from if they fit your needs and requirements. 
Our Best Drum Tuners – Reviews and Comparisons

1. DrumDial Digital Drum Tuner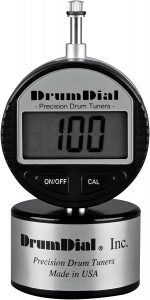 Overview of Features
The DrumDial Digital tuner is the modified version of the DrumDial Tuner. This digital drum tuner comes with great features that cater to both new and old drummers. The DrumDial Digital Drum Tuner package includes a foam-lined case with a hard-protective shell, an edge gage, a drum key, and a tuning chart. 
The DrumDial Digital Drum Tuner is a great choice for beginner drummers. The digital face on the tuner allows you to easily read the tuning settings and get the exact measurement for your desired sound. 
What We Like About Drum Dial Digital Drum Tuner
The digital drum set gives a precision reading and the tuning chart helps you get used to the machine easier.
What We Don't Like About Drum Dial Digital Drum Tuner
The tuner is made of a Lithium-ion battery and doesn't last long. So make sure you carry the battery if you have a long gigging session. 
        Pros
        Cons
One-touch calibration
Precise tuning
Short battery life
Overview of Features
Tune-Bot is a tuning device company that is popular among professional drummers. It specializes in digital tuning and provides some of the most advanced features on all of its devices. If you are looking for a product that is advanced compared to other tuning devices on the market, then Tune-Bot is definitely the place to start.
The Tune Bot Studio TBS-001 is perfect for studio technicians and professional drummers who own multiple drum sets. It is a small, portable drum tuning device featuring a four-color display, easy to use keypad, and a portable plastic case.
What We Like About Tune Bot Studio TBS-001
The device is extremely handy as it can save pitch settings for 10 drums on up to five drum sets. This means that it can save a total of 50 individual drum settings. 
What We Don't Like About Tune Bot Studio TBS-001
It is expensive compared to other drum tuners in the market.
        Pros
        Cons
Small and portable
Easy to read display
Expensive
3. Tama TW100 Tension Watch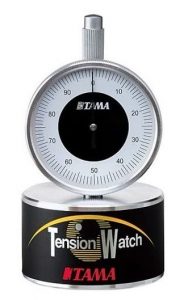 Overview of Features
The Tama Tension Watch is a sleek analog drum tuner. It functions like most other tuners that take after the acclaimed DrumDial drum tuner. The tension Watch gives accurate readings as long as you get the exact pressure when you are aligning it with the tension rods.
The Tama Tension Watch is a simple tuner for a drummer who likes to stick to the basics. It features a classic dial reading system and is simple, straight forward, and easy to use. The dial on the device is known to give the most accurate readings compared to other products. 
What We Like About Tune Bot Studio TBS-001
This drum tuner can perfect the tune of your drums. 
What We Don't Like About Tune Bot Studio TBS-001
It is a simple device with no digital features. 
        Pros
        Cons
Easy to us
Extremely accurate
No digital features
4. Cherub DT-20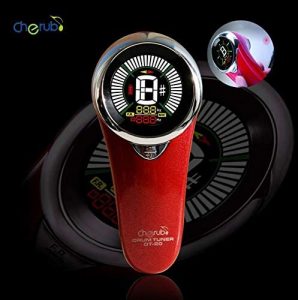 Overview of Features
The Cherub DT-20 is a small and portable device that is beginner-friendly. This tuner claims a range of 50-500 Hz. The DT-20 has two modes for detecting your drum notes. The first one is an infrared mode to detect vibrations instead of sound. The latter is the mic mode to ensure precise and fast frequency detection. 
What We Like About Cherub DT-20
This is easy to use and gives you accurate readings. 
What We Don't Like About Cherub DT-20
Frequencies above 400 Hz cannot be handled by the device as it starters to give inaccurate readings. 
        Pros
        Cons
Easy to us
Two modes for the detection of drum notes
Can't handle frequency ranges above  400 Hz
Overview of Features
DrumDial drum tuner is an analog tuner that had a huge fan base when it was launched. This is one of the cheapest tuners available. Therefore if you are short on money and yet want to pick up the best drum tuner, the DrumDial Tuner is the right device for you. 
This is one of the best and most precise analog drum tuners available in the market. The DrumDial tuner measures head tension instead of the torque of the tension rods. The accuracy of the device is mainly owed to this feature. 
What We Like About Drumdial Drum Tuner
The tuner measures the tympanic pressure on your drums to give you an accurate reading. 
What We Don't Like About Drumdial Drum Tuner
The DrumDial requires you to put some pressure on it to make sure that it is aligned with a lug and there is a 1-inch separation from the edge of the rim.
        Pros
        Cons
Extremely accurate
Silent tuning
Lower quality
Tuning range have to be set manually
Final Verdict
We would recommend the Tune Bot Studio TBS-001 as the best drum tuner. This device gives you accurate readings while being portable and durable. It can save pitch settings for 10 drums on up to five drum sets. The TBS-001 has the memory to store up to 50 individual drum settings. 
If you are a new owner of a drum kit know that a tuner can help you maintain your pitch consistency. Tuning helps your drums to stay in tune with each other. It puts equal tension on all the lugs in order to obtain a consistent sound. 
Buyer's Guide: 
Tuners can be classified into two - tension tuners and drum tuners. These measure the tension on the head at each lug. Therefore, these are great for getting a perfectly balanced tuning all-around drum. However, they don't help you tune directly to any specific note.
Drum tuners measure the overall note of a drum. This means that the tension on each lug might not be equal which could lead to slipping or detuning throughout the course of a session. However, these tuners are easy to use, quick and accurate, and can help get a specific note out of a specific drum.
The tuners that feature simple but solid construction mostly last longer. You should also make sure that the piece of gear has the ability to quickly re-calibrate even in the middle of a session. 
Since everything is digital these days, you might feel like picking up a digital tuner as well. However, remember that tuners have one important task to accomplish which is accurate readings. Analog tuners do this exceptionally well and are quick to do. They also preserve the original tone of the drum sets. 
On the other hand, digital tuners often take too long to calculate and match frequencies. If you are planning a tuning change in the middle of a performance, these tuners can prove to be a hassle. 
In case you are getting an analog tuner you needn't worry about these two factors. But if you are getting a digital device, battery life is very important. Engaging in long gig sessions with a tuner that lacks battery life can be worrisome. In case your tuner gives up in the middle of the session, you will need a spare tuner to help save the day. 
Make sure that the display on the tuner is bright enough and easy to read. During those long night gig sessions, an easy to read display can be a lot of help. 
Most of the drum tuners are budget-friendly, costing anywhere under $100. However, there are tuners that quote high prices as well.  A little extra money can mean some convenient features like an easier to read display and better memory capability. If you are a beginner or using the tuner for home gigs you wouldn't need it as basic ones would do. A professional would require convenient features with memory capability because she/he is likely to give frequent onstage performances. 
Hope our review on the best drum tuners helped you.
Read also:
5 Best Alesis Drum Set in 2021 that You Need to Check Out
Best Air Purifier in the U.S. for Better Respiratory Health 2021             Acekool Air Purifier
We hope you love our reviews! For your information, we do earn money from commission in the link in the content! For more information click here!