Updated on April 3rd, 2022
Are you seeking the most affordable and the best electronic drum set? An electronic drum kit might help you practise drums in peace or broaden your tone palette to incorporate new sounds. It's usually a significant investment that you won't want to regret later. It's always crucial to perform a thorough study before making a final decision, whether you're buying your first set, switching from an acoustic drum set, or simply adding a new kit to your collection.
This list of the best electronic drum set was created in an effort to show you the greatest options on the market that fall into various price ranges.
Best Electronic Drum Set – Our Reviews and Comparisons
1. Roland TD-50KV Electronic Drum Kit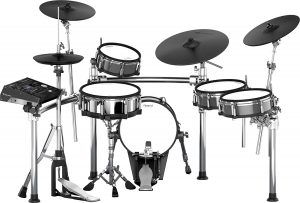 Product Highlights
The TD-50KV with the brand new KD-A22 bass drum option is up for review. The KD-A22 adapter is a brilliant idea, and when combined with the larger pad sizes elsewhere on the kit, it elevates the TD-50KV to the status of a "true drum kit," particularly for drummers who want to play it live.
Features
Designed to replace your existing 22-inch batter head "The Kick Drum Attachment (KD-A) is a bass drum attachment with a thick, dense pad immediately above the centre that sits over a triggered mesh head. The remaining surface has a solid cover, which gives it a robust appearance while also protecting the inside components. One CY-14C crash and one CY-15R crash ride cymbal pad (the latter was originally Roland's top ride trigger) round out the kit, as well as Roland's steel rack system, which has been modified slightly to accommodate a 22-inch cymbal "The KD-A22 is a bass outfitted with the KD-A22.
The brand new digital ride and snare pads, which now plug into the kit's module via USB, are probably the most notable part of the TD-50 introduction. Because of its size and weight, the 18" CY-18DR not only feels like a real ride cymbal but it's also meant to respond more authentically thanks to several sensors on its surface. The bell component now functions as a separate pad, allowing it to respond to a considerably larger variety of dynamic levels. By placing your hand on the cymbal's bow, you can change the sound. The 14" PD-140DS snare pad uses the same digital technology as previous models to perform considerably more realistically — combining traditional piezo-electronic sensors with modern electrostatic technology.
The module has 50 kit presets that use Roland's brand new Prismatic Sound Modelling engine, as well as space for another 50 bespoke user kits. The old TD-30 processor has been replaced with a more powerful, improved processor that allows the new kit to perform a variety of useful functions. Specifically, the TD-50 now allows you to use the in-built SD card slot to load your own samples.
What We Like About Roland TD-50KV Electronic Drum Kit
The snare drum shell is made of steel rather than plastic, giving it the feel of a real drum. It not only looks and feels more like a snare drum, but it also allows you to create a variety of sounds by varying the placement and velocity of each stick strike.
What We Don't Like About Roland TD-50KV Electronic Drum Kit
The kick attachment works well and responds in a realistic manner. The kick drum still makes a decent thud, so it's not ideal if you're using your TD-50 as a practise kit. However, solely using the TD-50 for practice would be a huge disservice to this kit's potential.
        Pros
        Cons
There are a plethora of customization choices available.
Extremely enjoyable to play
If your TD-50 is being used as a practise kit, the KD-A22 kick adapter generates a decent wallop from the kick drum that you may not like.
2. Alesis Drums Nitro Mesh Kit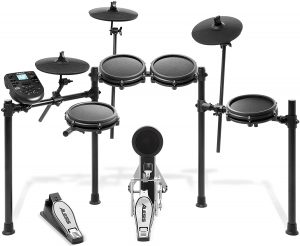 Product Highlights
Alesis, once scorned by the drumming community, has won the hearts of drummers to the point that they are now a totally viable option. What's more? They struck gold with this unexpectedly low-cost Alesis Nitro Mesh Kit. Simply said, this is the most popular electronic drum kit of all time.
Features
While the previous edition of this drumkit, the Alesis Nitro, didn't include mesh snares and toms, it was a major drop from the TD-1DMK. This newer model does include it but at a much lower cost. Aside from that, the Alesis Nitro Mesh Kit comes with superior hardware, such as a sturdy aluminium rack and a new kick pad.
A real pedal coupled to a pad, rather than an electronic pedal like the one used in the TD-1K, is excellent for more intricate kick drum work. The DM7X (aka Nitro) has an 8-inch dual-zone snare pad, three single tom pads, a dual-zone 10-inch crash cymbal pad, two extra single cymbal pads, a hi-hat controller, and a four-post drum rack. The Alesis DMPAD kick pad is also included, which has a robust steel shell, grounding spikes, and a single zone pad. You also get a set of drumsticks and an assembly key.
What We Like About Alesis Drums Nitro Mesh Kit
It may be the cheapest kit on the list, but it definitely doesn't seem like it (as you can see in the photo), which is one of the reasons it's so popular.
What We Don't Like About Alesis Drums Nitro Mesh Kit
The kick pedal that comes with the e-drum kit is included. It's badly constructed, therefore we recommend replacing it with something like the DW3000 Kick Pedal for a better experience.
        Pros
        Cons
Excellent value for money
Heads made of mesh
Exceptional brand name
Hi-hat on a stand
Sounds aren't the best
There are no custom samples available
3. Alesis Drums Turbo Mesh Kit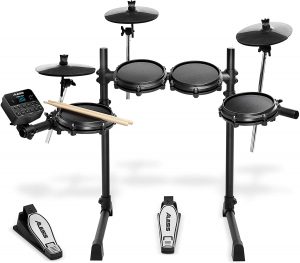 Product Highlights
The Alesis Turbo Mesh replaced the popular DM Lite as one of the greatest low-cost e-kits available.
Features
From the perspective of a novice electronic drum set, there's a lot to like about this kit: it's small, quiet, simple to set up, and most importantly, it feels wonderful to play. When you compare the Alesis Turbo Mesh to comparable kits in this pricing range, you can see how important playability and player experience are to Alesis. Right out of the box, the Turbo Mesh looks great. The black steel frame is more sturdy than we'd imagine at this price point, and it was quite simple to assemble - the directions are straightforward.
Four 8" mesh pads for snare and toms, three 10" cymbal pads, hi-hat and kick pedals, a pair of drumsticks, the aforementioned drum key, and the power supply are all included in the box; everything you need to get started playing right away. The all-mesh-head setup is the Turbo Mesh's major focus, and it is, in our opinion, the best aspect of the entire kit. Rubber pads on electronic drum sets, especially those that are less expensive, are notoriously difficult to play.
While the Turbo drum module is quite basic, it does provide some decent drum kit sounds as well as a variety of fun teaching settings to assist beginners in honing their skills. Although 10 preset drum kits may appear to be a bit sparse, they sound quite fine, and this method emphasises quality over number. The onboard kits' 120 sounds, according to Alesis, use 'Intelligent Dynamic Articulation' technology to sound more lifelike - and while they don't match the dynamic sounds of higher-end e-kits, they're not awful for most beginner drummers.
What We Like About Alesis Drums Turbo Mesh Kit
The mesh pads are sensitive, and the module has a variety of beginner-friendly features and tones that should entice newcomers to the instrument. Yes, there are more expensive kits that provide a more authentic bass drum experience, but if you have a limited budget and want to get started right away, the feature list for the money speaks for itself.
What We Don't Like About Alesis Drums Turbo Mesh Kit
While this is a great e-kit for the money, we do have one complaint: the lack of a 'real' bass drum pad and pedal. Playing the drums requires establishing actual touch with the instrument and receiving immediate aural and physical input, which is difficult to perform when your right foot is operating a sensor rather than a felt beater. At this price, it's rather common, although this type of setup can quickly become obsolete.
        Pros
        Cons
For less than $/£300, you can get an all-mesh system
Setup is simple
There are a lot of fantastic starter
There is no such thing as a 'proper' Pad or pedal for bass drums
Product Highlights
The TD-1 module is fairly basic in nature; yet, despite the lack of some bells and whistles, its simplicity makes it extremely user friendly and easy to manage, making it ideal for beginners or younger drummers.
Features
An 8" dual-zone mesh snare pad, three 6" single-zone mesh tom pads, three choke-able 10" dual-zone cymbal pads (hi-hat, ride, and crash), a hi-hat controller pedal, and a bass drum pad are all included in the TD-1DMK. The four-post rack is made up of a thin H-shaped middle part that connects to horizontal bars, which accommodate vertical outside legs. This innovative design incorporates a rubber bass drum trigger pad that is mounted to the H-right-hand frame's upright pole.
The pad has ample room for two bass drum beaters, which is great news for double pedal players. The adjustable steel mounting plate can be used to connect any bass drum pedal.
The little device attaches to the top of the far left leg and can be rotated back and forth for better access. The user interface of the module is divided into four menus (drums, tempo, coach, and song), each of which is toggled by a single select button.
The two-ply mesh heads respond effectively, and the module's dynamic range is impressive, ranging from a delicate, open bass note to a hard-hitting bass drum head slap, or from a calm grace note on the snare to a booming backbeat. Rim-shots are also possible with the dual-zone snare for more expression. The dual-zone cymbals help to expand sonic ranges and provide alternatives within this small arrangement. The ride bell is rung by accenting the bow; this requires some practice in terms of accuracy.
What We Like About Roland TD-1K
The TD-1 module, designed exclusively for beginners, is jam-packed with practice tools and includes some fantastic coaching elements, as well as backing tracks and an in-built metronome. The 15 backing loops come in a variety of styles and will keep you entertained at the kit regardless of your skill level.
What We Don't Like About Roland TD-1K
Roland TD-1K is basic in nature, so don't expect to be blown away by its performance.
|         Pros |         Cons |
| --- | --- |
| Great price | Average performance |
Product Highlights
Do you think Alesis sells a lot of electronic kits? This specific one has been around for a long time. This kit has been released in seven different variations. With this kit, you'll have a lot more drum alternatives.
Features
Expect a better drum module, an additional cymbal, and an additional floor tom if you choose the larger version of the DM10. With the Pro version, the snare drum is no longer attached to the rack.
Here are a few noteworthy features:
Drum pads made of mesh
A rack of chrome hardware
Similar to the Alesis Command drum module.
Drum kits with 54 preset (20 customizable user kits)
There are 671 instrument sounds available.
Pads with dual zones and a ride cymbal with three zones.
Auxiliary input 3.5mm for listening to your favorite music.
There are five drum pads and four cymbal pads in all.
Alesis does make a version of this kit with mylar drum heads, but we don't like the way they feel and they're quite loud when played. Because the DM10 does not come with a drum throne or a kick pedal, you will need to purchase those separately.
What We Like About Alesis DM10
Not only do you get the brand quality of Alesis with this set, but also incredible mesh heads.
What We Don't Like About Alesis DM10
The kick pad, like many electronic kits, tends to slide forward. This one is no exception. A drum rug is normally required for all drum systems, therefore we recommend getting one from your local big-box store to go underneath your drums.
If that doesn't work, you may have to devise your own remedy. The majority of companies that design items to address this problem only do so for acoustic bass drums.
        Pros
        Cons
Add your own drum sounds to the mix
Heads made of mesh
Exceptional brand name
Same module as Command Mesh
Rack-mounted snare
Final Verdict
Roland TD-50KV Electronic Drum Kit is the best electronic drum set according to us. Roland's latest digital technology is featured in this package. Digital inputs are used in both the ride and snare, and they respond significantly better than anything else on the market. Static charge in your hands is used by the snare to distinguish between rim clicks and cross sticks. The ride works in the same way, allowing you to silence the cymbal simply by laying your hand on the bow. When you try it out, it's pretty incredible technology.
Feel free to choose from the other amazing best electronic drum set options that we have mentioned.
More to read:
Best Drumsticks That Are Totally Worth Buying
We hope you love our reviews! For your information, we do earn money from commission in the link in the content! For more information click here!