Updated on October 1st, 2021
Irrespective of being a pro or amateur drummer, some aspects that you should always consider while buying a pair of drumsticks are durability, a good balance, and excellent grip to the sticks. Picking up a set of drumsticks is a subjective decision that you can simplify for yourself through understanding the sizing chart. 2s, 5s, 7s, 8s are sizes that help you figure out the heaviness or lightness of a drumstick that impacts your performance.
Besides, in drumming, the lower number signifies the heavier drumsticks while higher numbers signify the lighter sticks. For both a pro-drummer who has been practicing for many years and an amateur that has just entered the music craft, understanding the DNA of your tools is important.
You must also try to understand the materials used to distinguish between variations found in the sounds reproduced. For instance, nylon and wood sticks produce different types of sounds where nylon provides consistency while wood provides an imperfect but pleasant bounce.
Wondering which set of drumsticks to go for now? Don't worry! Here, we have you covered with the best drumsticks that will improve and enhance your level of playability. Moreover, we will provide you with our verdict on which is the best overall drumstick for pro drummers and amateurs, so that you make a purchase more swiftly.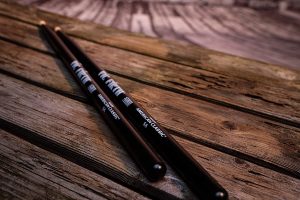 Product Highlight
The American Classic 5A has an impeccable black paint finish that makes it stand out from any usual light-colored drumsticks and combines premium USA Hickory artisanship giving you a better polish
Overview of Features
American Classic 5A turns out as a well-balanced pair of drumsticks that can produce rich cymbal sounds for your ears. That is through its teardrop. Weighing only 3.52 ounces, this pair of drumsticks is really lightweight and perfectly ideal for carrying for your shows and gigs. Plus, it can fit easily in your bag. Look wise, this drumstick set has an incredible black color finishing. Lastly, being featured in the top hundred musical instruments, this pair of drumsticks is just perfectly suitable for pro-drummers.
What We Like About Vic Firth American Classic 5A
The most notable aspect of the Classic 5A is its extra thump through its well-coated heads. It can produce rich cymbals and gives you a well-balanced stick that is not too heavy. Besides, its unique tip design also captures the attention of many professional drummers. That means, the tip side of the drumsticks has a ball, which has a sharper edge. This makes it less prone to cracking and breaking. Lastly, such an accentuated edge affirms clearer and crisper sounds.
What We Don't Like About Vic Firth American Classic 5A
Since the stakes are coated in black, you may face an issue of the paint coming off when using it after many months and years of continuous use. This can create an imbalance in the aesthetics and overall feel and use.
        Pros
        Cons

Extremely durable
Clearer and crisper sounds
Comes with a unique tip design
Can withstand long collaborative sessions

Paint used on sticks doesn't last long
Vater 5B Nylon Tip Hickory Drum Sticks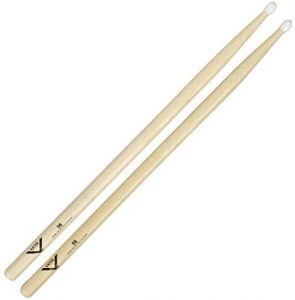 Product Highlight
Created by Vater, 5B Hickory drumsticks are responsive, balanced, and comfortable yet versatile drumming sticks with an acorn tip.
Overview of Features
Vater 5B comes with a nylon tip for extreme responsiveness and consistency on every reproduced beat through a well-balanced and versatile stick for all situations. Besides, you can pair the stick with any set of drums and enjoy your drumming session without worrying about changing to different sticks now and then. On top of all, you get to choose from some eye-catchy color choices- Eternal Black, Sugar Maple, and Nude Series. So, pick up the one you like and rock your drumming gigs with this pair of versatile Vater 5B.
What We Like About Vater 5B Nylon Tip Hickory Drum Sticks
Vater runs extremely strict quality checking measures through which each drumstick is created ensuring that you get the same product as another musician. In addition, it uses high-grade dowels that have a specific moisture content that provides you better straightness and superior structure.
What We Don't Like About Vater 5B Nylon Tip Hickory Drum Sticks
The pair of drumsticks give you an exposed grain on the shoulder that can be a little rough and sharp. And even disrupt your drumming experience.
        Pros
        Cons

Extremely balanced and versatile stick
Ensures consistent musical reproduction
Slim and oval nylon tip; minimizes the chances of breakage
Uses high-grade dowels

May feel an exposed grain over the shoulder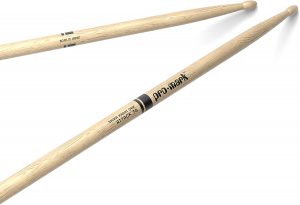 Product Highlight
Classic Attack 7A is an ideal pick for an amateur, as it utilizes Shira Kashi Oak underlining incredible durability, a sturdy feel, and a dense build perfect.
Overview of Features
Crafted by Promark, a renowned name in the drumming industry, Classic Attack 7A is perfect ideal for amateurs and pro drummers. Its strong and intense build is quite suitable for metal drumming that makes you want to play more beats on every session. It provides you with an oval wood tip through which superior bounce is provided on the drums. Further, its warm tone gives you scope for multiple applications on different drums. Lastly, with the purchase of Classic Attack 7A, the company provides you 200 points for registering the item, which can be used to avail yourself of exclusive opportunities.
What We Like About ProMark Classic Attack 7A
Often used by legendary drummers such as Neil Peart, Carla Azar, and Aquiles Priester, this pair of drumsticks gives you a pitch-perfect sound that averages 9Hz making your music sessions resonate. Even its kiln-dried wooden dowels are extremely well balanced resulting in good yielding sounds.
What We Don't Like About ProMark Classic Attack 7A
On the downside, this pair of drumsticks lacking consistency, as its nylon tips can't match up to the sounds produced by the properly designed nylon-tipped ones.
        Pros
        Cons

Extremely well-balanced hold
Tuned perfectly for pro drummers and amateurs and any set of drums
Lightweight and has a stern grip due to the Shira Kashi Oak
Produces a medium bounce amplifying and resonating the drumming

Lacks consistency as nylon tips are not utilized to provide a uniform experience

Product Highlight
Crafted by AHEAD, the Ulrich Drumsticks are one of the most advanced drumsticks in the world with a built-in vibration reduction system for interruption-free play sessions.
Overview of Features
Often regarded as a pair of drumsticks that are ahead of time, Ulrich Drumsticks are designed using ergonomically tuned handle diameters. Besides, it uses an alloy core which increases and providing you with elevated durability. The vibration reduction system is excellent and even helps to minimize unwanted drum movements. Lastly, the rock-solid replacement polyurethane covers help you protect the sticks.
What We Like About Ahead Lars Ulrich Drumsticks
The most outstanding aspect of this pair of drumsticks is that even with the alloy core they don't feel much heavier than wooden sticks. It even provides you with the chance to hit hard without breaking the sticks. Overall, the excellent weight balance draws in your hands and helps you produce the vibrant sounds of cymbals.
What We Don't Like About Ahead Lars Ulrich Drumsticks
The major shortcoming of this pair of drumsticks is that it is not ideal for different types of drumming. It is not ideal for slow-paced to drumming, which means it's only good for genres such as heavy metals.
        Pros
        Cons

Comes with an alloy core and incredible durability
Vibration reduction facilitates consistency
Designed with an ergonomic grip

Restrictive to playing only one genre
Meinl Stick & Brush Drumsticks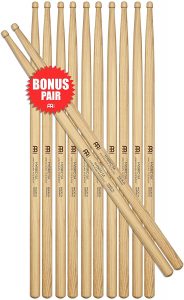 Product Highlight
Meinl Stick & Brush Drumsticks designed using wooden dowels are minimalistic and simple that uses an acorn tip for fluid sound creation without being too light or heavy.
Overview of Features
A combined American and German Hickory artisanship is what marks the design of Meinl Stick & Brush Drumsticks, giving you a distinguished build. It leaves no stone unturned to produce an extraordinary cymbal tone and feels. Further, its hybrid or acorn shape creates the perfect barrel size to accentuate the perfect articulation on cymbals. Its 0.565" diameter and 16.25" length assures its ability to drum in multiple genres. Above all, it caters to different types of drummers and helps you with pristine sound reproduction.
What We Like About Meinl Stick & Brush Drumsticks
The most extraordinary aspect of this pair of drumsticks is its wide variety of tip styles, including the ones such as hybrid, round, acorn, barrel, undersized acorn, and oversized one too. And not just tip styles but variations too. You get variations like short, medium, long, and extra-long tapers. These styles and variations impact the sounds leading to the desirable sound production. So, you need to choose the sticks accordingly. Lastly, through the utilization of raw high-quality materials such as hard maple and more, a rich tone for drums is created.
What We Don't Like About Meinl Stick & Brush Drumsticks
It must be noted that a metal core is absent such as aluminum, alloy, or others, which are mostly used to make the sticks for better durability.
        Pros
        Cons

Multiple drumstick sizes such as BA, 7A, 2B, and 5B available for different adaptations
Different tip styles and variations
German and American craftsmanship provides the perfect pitch

Lacks core metals and durability
Now that you know about the best drumsticks that are worth buying, we hope you can choose the one suited for you. However, if we have to suggest one then it would be Vic Firth American Classic 5A as the best drumsticks. It has an impeccable black paint finish highlighting premium USA Hickory artisanship. This well-balanced pair of drumsticks produces rich cymbal sounds and is perfectly suitable for pro-drummers.
Nevertheless, you can always pick other ones on the list if it matches your expectation.
More to read:
Our Pick Of The Best Drum Sticks
Tools of the Trade: Selecting the Right Drumsticks
We hope you love our reviews! For your information, we do earn money from commission in the link in the content! For more information click here!