Updated on April 3rd, 2022
Whatever you decide to do we recommend you to keep on reading and explore our top picks, we'll go over the specs of each stick and tell you it why it made it to  the top three. Before we get started on the best picks,  lets take a closer look at the manufacturing process of a pair of drum sticks.
How They're Made
Drum sticks are usually made of Hickory, which is sturdier and heavier than other woods. Hickory can also absorb a lot of shock which makes it easier on the drummers hands and wrists. Drum sticks made of Hickory have good balance and feel.
The drumsticks are usually mass produced in big factories, the first step is cutting a solid stick out of a piece of wood.
This is done by an automated three edged cutter on a  rail. The cutter, cuts the stick in the right shape. Then the stick gets sprayed with a protective coating.
Next up- the stubs get lobbed off and the stick gets sanded. The stick is ready after sanding and the only thing left to do is testing and labeling.
The sticks are tested by rolling them down a steel rail that have been specially aligned. If it rolls straight it means the stick is straight, but if it rolls off the rails the stick has a manufacturing error and can't be sold.
The sticks get branded and weighed, even if the sticks are exactly the same size the weight may vary.
After the sticks have been organized by weight they move on to sound testing, every stick gets tested and a computer matches sticks into pairs, even the slightest sound difference may result in a different outcome in this test.
A cardboard sleeve holds each match together and the sticks are ready for shipment. They get sent out in bulk to retailers around the world which in turn sell the sticks to individual customers.
This process is not the same for every kind of stick, the process described above is the process of manufacturing a classic all wooden stick with a wooden tip.
The manufacturing processes of other sticks may be different from this manufacturing process. Let's get to it and kick off our top 3 list with the first pair of sticks.
Ahead Lars Ulrich Drum Sticks
For all the heavy hitters out there who break sticks every time they practice, the Lars Ulrich Drum Sticks by Ahead are the perfect option for you!

These specially designed sticks are nearly unbreakable and a pair last a average of two years. These drumsticks have super-hard polyurethane replaceable covers that protect your drum sticks and your gear.
The covers aren't likely to break quickly, but even if they do you will be able to replace them with new covers. A pair of Ahead sticks comes with an extra pair of covers.
The tip of the stick is made out of nylon and is unbreakable, and even if you break them they're replaceable. The high precision alloy core of the stick offers consistent weight and balance.
Ahead claims that the drummer can experience up to 50% less shock when playing with this particular pair of sticks.
Moreover, the handles are ergonomically tuned and the stick is equipped with a built in Vibration Control System. For this review we took the 7A's, they're perfect for jazz and lighter playing.
However, the stick is available in many sizes so anyone can enjoy them, from rock to metal to jazz.  The length of this pair of 7A's is 15.69 inches, which is relatively short. With it's diameter of 0.54 inches the stick feels feather light, it weighs only 49 grams.
You'd probably expect the sound to be very different from a traditional wooden drum stick, you're wrong. The nylon tip produces provides a softer wood-like sound.
It isn't exactly the same but the sound these sticks create will satisfy even the most discerning listener. Not only do they sound good, they look awesome too.
And if you're a fan of Lars Ulrich it's your lucky day, each stick has his signature on it (not written by hand).
Pros and Cons
These sticks are extremely durable and advanced, they feel and sound amazing and last 6~10 times longer than classic drum sticks.
The overall appearance of the stick is amazing and every part of the stick is replaceable. This makes the stick practically unbreakable and if you're breaking sticks on a regular basis this pair of sticks might be worth a try.
The only downside we could think of is that a pair of sticks that isn't made out of wood will never sound exactly like a pair of sticks that is.
Ahead has done a phenomenal job because the sticks sound very similar to a wooden pair of sticks.
Zildjian Professional Wire Brushes Retractable
The Zildjian SDWBZB1 Professional Wire Brushes are a pair of  "speciality sticks" worth the try. If you have never played with brushes before or you're just not into playing jazz you might want to skip this part of the review.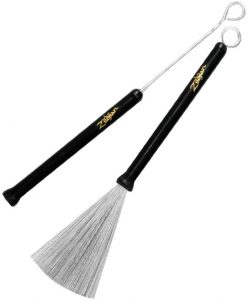 But for those who enjoy playing with brushes this will probably be the best pair of brushes you've laid hands on.
The amazing thing about this pair of sticks is that the brush is retractable this means that you can position the brushes and create the desired sound.
If you position the wires all the way in you will be able to create a quieter more traditional brush sound. If you pull them in you'll create more volume and articulation.
The brush wires can be easily expelled and retracted. Two more amazing aspects about this stick are the gauge and the balance and feel of the handle.
The gauge can be considered average and  used diversely. The handles have extremely nice feel and balance, they're then and light.
Pros and Cons
This stick has no real downsides, it's a amazing stick when it comes to feel and sound, however, there are more advanced brush sticks on the market.
But this pair of Zildjian SDWBZB1's will do the trick for most of us. They're adjustable, light-weight and they look amazing.
Vic Firth American Classic 5A Drum Sticks
The good ol' Vic Firth American Classic 5A drum sticks, probably the first pair of drumsticks of 80% of the drummers. They're cheap, and they are of good quality.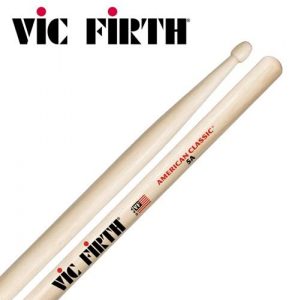 The way they're made is described in the first part of this article, that's the reason why they're so cheap.
Vic Firth is probably one of the most trustworthy drumstick manufacturers, they have been providing drummers with excellent classic drumsticks for decades and they're not likely to stop.
There's not much to say about a classic 5A drum stick other than it's the common standard in drumming, Vic Firth sticks are always perfect.
The quality of the sticks is high, The sticks of each pair are nearly identical and they are carefully manufactured. They're not unbreakable, they don't look amazing but it's the best option if you're going for a normal pair of sticks.
Pros and Cons
They can break, and they will break. Nevertheless, The Vic Firth American Classic 5A drum sticks are made of Hickory and produce superb sound.
These are all American classics and will always be remembered, if you are looking for a regular pair of sticks this is the pair you should get.
Conclusion
For every drummer there's a different pair of sticks, we've covered several options in this article. The unbreakable Lars Ulrich drum stick by Ahead are the best options for drummers who break their sticks every time they practice.
Are you more of a jazz drummer, then the Zildjian SDWBZB1 Professional with retractable wire brushes might be a better option.
If you're just a casual drummer and looking for a regular pair of sticks go with the good old Vic Firth American Classic 5A drum sticks, they're not only available in 5A but 5A's are the go to size for beginning drummers.
If you are looking for a change try different sizes and brands, every stick will produce a different sound and ultimately you might find your new favourite pair!
More to read:
Tools of the Trade: Selecting the Right Drumsticks
We hope you love our reviews! For your information, we do earn money from commission in the link in the content! For more information click here!