Updated on April 2nd, 2022
Conga drums are a single barrel-shaped drum wrapped in rawhide and initially composed of wood but now usually made of plexiglass (or some other material for drumheads). The conga was influenced by African drums, yet it developed independently in Cuba, giving it a truly Cuban instrument. Conga drums are closely tied to Cuban culture and traditional music,  although they are currently played all over the world. The conga drum, also known as the tumbadora, is a tall and thin single-headed drum from Cuba. There are three types of conga drum sets  Quinto (highest), tres dos or tres golpes (middle), and Tumba or Ssalidor (lowest) (lowest).
Let's take a look at the best conga drums that are highly popular among drummers.
Best Conga Drums – Our Reviews and Comparisons:
1. Meinl Headliner Series Congas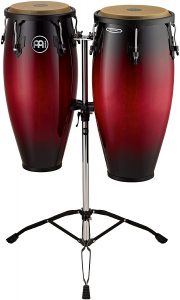 Product Highlights
Although these Headliners are a little more expensive than some other excellent drums, they are still extremely cheap. This is especially true given the steel and rubber basket stands that come with them.
Features
Rubberwood staves are used to make these 11" and 12" diameter drums. Rubberwood, often known as "Siam oak," is a medium-strength, medium-density wood. It originates from rubber plantations with aged trees that no longer generate latex. The long, thick pieces that are cemented together to form the tubular drum body are known as staves. They are then lathed to their final form. These two drums are 28" tall for superb tone, with the 12" drum producing extremely bassy overtones. Buffalo-skin heads provide a terrific classic feel and just the proper amount of tension for excellent rimshots. The supports attach the drums from the bottom and are adjustable across an 8-inch range, allowing you to find the perfect playing height. We thought these drums had pretty much everything a decent conga should have. Bass tones are rich and deep. These drums have a nice open tone when played close to the rims, and they can explode when slapping off rimshots.
What We Like About Meinl Headliner Series Congas
The drums' black powder-coated hardware and chrome tuning lugs are both durable and stylish.
What We Don't Like About Meinl Headliner Series Congas
Our only criticism is that the rims are a little high, which restricts mobility when playing.
        Pros
        Cons
Stylish
Durable
Rims are high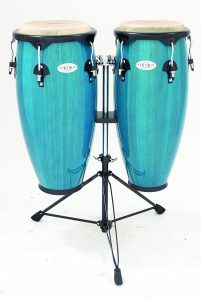 Product Highlights
Toca conga drums are committed to environmental sensitivity. Toca's conga drum sets are manufactured from wood collected from a Thai plantation, then lathed and constructed by local musicians. This resource is significantly less damaging to the environment than wood collected from primary forests since it is tightly managed.
Features
Toca Synergy Conga drums feature 2-ply Chinese maple shells, black powder-coated hardware, and natural rawhide heads. For standing activity, a sturdy double stand is supplied, which lifts the drums off the ground and amplifies their resonance and sound. They are 28′′ tall with 10′′ and 11′′ heads.
The Synergy Bongo set includes high-quality 2-ply pick wood shells, black powder-coated hardware, and natural rawhide heads. The following are some of the features of conga drum sets:
The hue is rich, warm tobacco.
Rawhide heads in their natural state 28′′ 2-ply wood shell construction in 10′′ and 11′′ sizes
The hardware is black  powder-coated.
Two braces and two congas that go together make up a conga stand.
What We Like About Toca 2300BB Conga Drum
The smooth tones and refined design of these bongos may help you get into the Latin drumming rhythm.
What We Don't Like About PToca 2300BB Conga Drum
These drums are somewhat more expensive, but they are meant for professional use.
        Pros
        Cons
Professionally crafted
Impressive sound
Expensive
3. Latin Percussion LP646NY-DW 10-Inch and 11-Inch City Series Conga Set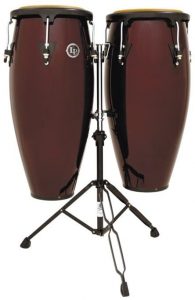 Product Highlights
The City Wood congas have a rounder form than the Headliners, fattening out more and tapering in more towards the bottoms. This form produces a complex, brighter sound rather than the booming sound of a tube.
Features
The congas in this set are likewise made of rubberwood staves and are 28" tall. They, too, feature chrome tuning lugs and black powder-coated hardware. Rubber bottom rings are also included for extra protection. They also have natural buffalo hide heads, much like the Headliners.
They also come with a height-adjustable double conga stand and side mounting brackets.
To attach the drums on this "suspension stand," two bolts are used. It's a tight fit, and unlike the individual basket stands, the distance between the drums is fixed.
What We Like About Latin Percussion LP646NY-DW 10-Inch and 11-Inch City Series Conga Set 
These congas produce a full-bodied, louder, and more dynamic sound.
What We Don't Like About Latin Percussion LP646NY-DW 10-Inch and 11-Inch City Series Conga Set 
Unfortunately, the top rims on the Meinl Headliners are much higher. We thought this made the drums less playable,  although they sounded fantastic.
        Pros
        Cons
Bright sounds and average lows.

Built to last
Higher rims adversely affect playability.
4. lotmusic Djembe African Drum Bongo Congo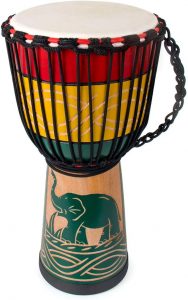 Product Highlights
A djembe, also known as a jembe, is a West African skin-covered goblet drum that is rope-tuned and played with the hands. According to the Bambara people of Mali, the djembe takes its name from the phrase "Anke djé, anke bé," which means "all join together in peace" and defines the drum's meaning.  Thanks to the usage of a goatskin drumhead, this Djembe has a wide tonal range, ranging from a piercing slap tone to deep booming bass.
Features
This magnificent conga drum is compact in size. The ABS plastic used in the body of our bongo conga drum is 1/3 lighter than traditional wooden drums. This size Djembe is a wonderful starting drum for elementary school students, measuring 8.3′′x11.2′′ and weighs 860g. Precision and consistency in sound — it zutilizes four-button lock rope sound to maintain the djembe drum's classic sounds with a warm tone. These high-quality ropes ensure that the drum's pitch is maintained for a long period before it has to be adjusted.
Besides, the cotton linen on this conga drum set is patterned. The vivid color cotton linen design on the djembes encourages performance, while beautiful geometric color blocks provide the sense of a one-of-a-kind traditional element. The djembe is a versatile drum that can produce a variety of sounds.
What We Like About lotmusic Djembe African Drum Bongo Congo
The drum is exceptionally loud, allowing it to be heard clearly as a single instrument over a large percussion group.
What We Don't Like About Slotmusic Djembe African Drum Bongo Congo
This drum is difficult to tune.
        Pros
        Cons
Unconventional origins
Impressively loud
Complicated tuning
5. Latin Percussion Mini Puerto Rican Tunable Conga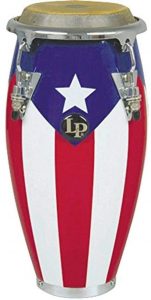 Product Highlights
The stave shell is made of rubberwood (also known as Siam oak) and is hand-painted with a Puerto Rican flag pattern. The red, white, and blue hues stand out well. The all-chrome hardware complements the paint job wonderfully, resulting in a stunning small instrument.
Features
This shrunk-down replica is less than half the size of a conventional conga drum, measuring 4 12" in diameter and 11" tall. This drum, on the other hand, has a relatively loud voice and a strong personality for its size. But, of course, it's much, much louder than a regular conga. Because it's constructed like a conga, this little drum can play a variety of sounds when slapped, or when hit open at the rim. It doesn't have much in the way of bass, but the tone range is adequate. The upper end, of course, really stands out.
The long and short of it is that this drum has a distinct sound. It's not quite large enough to be called a conga, but it sounds and plays significantly differently from a bongo.
What We Like About ZiLatin Percussion Mini Puerto Rican Tunable Conga
This would be a fantastic complement to acoustic Latin music in a small environment or as a jamming instrument.
What We Don't Like About Latin Percussion Mini Puerto Rican Tunable Conga
Its small size may be problematic to some drummers.
        Pros
        Cons
Budget-friendly, aesthetic, and well-built.
Tones are bright and upbeat. 
Too small to be called a conga. 
Final Verdict
Toca 2300BB Conga Drum is the best conga drum according to us. Not only is it beautifully built but is ideal in bringing that Latin rhythm to life when played by a professional.
However, the other options mentioned on our list also deserve your attention.
More to read:
Best Hand Drums 2021 – Our Reviews and Comparisons
We hope you love our reviews! For your information, we do earn money from commission in the link in the content! For more information click here!