Updated on September 27th, 2021
Playing a musical instrument not only allows you to express yourself but also produces beautiful, soothing sounds. But it isn't as easy as it sounds. You need to get the pitch right or understand the beats, and only then, does it sound musical. Be it a guitar, ukulele, or keyboards, playing these instruments right is most essential. However, it is not the case with hand drums, as there is no right or wrong way to play them. You get your hands on it, start making beats, and eventually, it becomes music. You don't need any special music-theoretical knowledge on drums to learn and play hand drums. 
Hand drums are different from bass drums or cymbal drums. These drums are musical instruments that look like a shell from the outside with a membrane kind of surface on the top covering it. On hitting the surface, beautiful sounds are produced. Besides, it's different from the bass or cymbal or snare drums because hand drums are typically played using hands or fingers rather than sticks or hammers, or mallets. 
Besides, these hand drums come with different pitch zones and the center head is responsible for producing the lowest pitch. On the other hand, you get a high pitch on hitting in and around the rim of the head, as it is here that the tension is most elevated. 
Moreover, these hand drums are the easiest instruments to play. Besides, it leaves enough room for newbies like you to learn, create and experiment with music. Besides, there isn't one type of hand drums; it varies according to different cultures across the world and each type is known to have a unique style and pitch. However, you can always take up any type and learn it quite easily, as it offers a lot of scope for improvement and development. 
So, if you have developed an inclination for hand drums and you are eager to learn them, then you need a quality one to include in your drum set. And since the market has plenty of options, choosing one can be quite confusing. But nothing to stress, as we have got you covered with our compilation of the 5 best hand drums that available on the market today. Narrowing down to these 5 best hand drums after a lot of trial and testing, we have also laid down the features and specifications of each in detail. So, let's delve further to know more.
Best Hand Drums – Our Reviews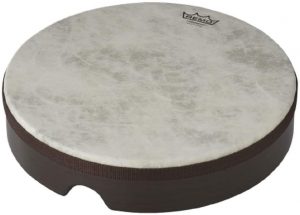 Product Highlight
Fiberskyn Frame Drum by Remo comes integrated with its pre-tuned technology that is known to provide warmth and projection when it is played with hand or mallet. And this is marked as one of the greatest hand drums ever. 
Overview of Features 
Invented by the pioneer percussionist Remo D Belli, this frame drum was constructed by drawing inspiration from the American native cultures. It is also a great introductory drum ideal for both professionals as well as beginners. Available in different sizes from 8 to 22 inches, Fiberskyn Frame Drum is also lightweight, durable, and weather-resistant. Plus, it is easy to play. 
What We Like About Remo HD-8512-00
The standout aspect of this frame drum is its synthetic skin, which looks appealing and quite similar to animal skin drums. Besides, it also has an excellent projection and enhanced low-pitched fundamentals, which means that its constant taut head produces a beautiful resonant tonal quality. And just like traditional wood shell drums, Remo Fiberskyn Frame Drum's pitch sounds excellent irrespective of what weather conditions are outside. 
What We Like Don't Like About Remo HD-8512-00
 The only shortcoming of this frame drum is that it cannot be tuned, which can impact your music if you're trying to create new beats. 
        Pros
        Cons
Durable, Comfortable to hold,easy to use
Ideal for professionals and beginners
Excellent projection
Affordable
Not tunable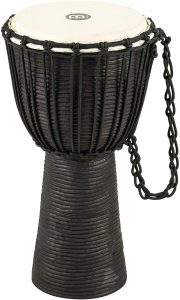 Product Highlight
With outstanding acoustic properties, Meinl Percussion Djembe produces deep and resonant bass notes along with high-pitched slaps. 
Overview of Features 
Producing a range of warm tones, Meinl Percussion Djembe is a 10-inch handcrafted hand drum. Ideal for amateurs and kids, it is quite easy to play and is also perfect for outdoor as well as indoor performances. Besides, its drumhead is made from natural goatskin, which is chosen with a lot of care and is secured using superior quality nylon ropes. These ropes are tied to the drumhead in the traditional Mali-weave system. 
What We Like About Meinl Percussion Djembe
Known for delivering classic djembe sounds, this drum has an impeccable tonal quality. Besides, its traditional Mali-weave system is very impressive. The nylon ropes used in the drumhead come pre-stretched, which allows you to use it immediately after it's out of the box. Another notable aspect of this drumhead is its center, which produces deep resonant bass sounds whereas the edges produce sharp popping accents of high-pitched sounds. 
What We Like Don't Like About Meinl Percussion Djembe
While this drum/djembe is a bit small for adult players, it also comes pre-tuned but lacks accessories for required adjustments. The adjustments are mainly due to temperature and weather conditions. 
        Pros
        Cons
10 inch handcrafted hand drum
Uses traditional Mali-weave system
Produces deep resonant bass sounds
Solid acoustics
Kind of small for adults
Might need adjustment due to weather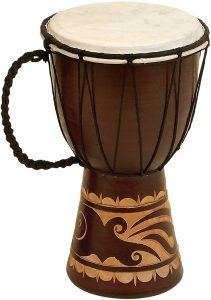 Product Highlight
A perfect combination of portable, affordable, and quality hand drums on the market today is the Deco 79 Wood & Leather Djembe Drum. 
Overview of Features 
Considered highly portable, lightweight with reasonable pricing, Deco 79 Wood & Leather Djembe Drum has impressed many professional musicians and percussionists with its impeccable tonal quality and uncompromised sounds including treble tones. And all of this is due to its premium quality leather and the strong, durable wooden shell. Not just a hand drum, the Deco 79 Wood & Leather Djembe Drum is also like a decorative piece and has a diameter of 7'' and a height of 12''. 
What We Like About Deco 79 Djembe Drum
Ideal for children, this djembe/hand drum can be played indoors as well as outdoors. And, despite its small size, it is capable of producing solid tonal variations to get good rhythms. Besides, we were also impressed by its pre-stretched tuning ropes, which allow you to start playing it immediately after taking it out of the box. Overall, it's a great piece for all types of music lovers. 
What We Like Don't Like About Deco 79 Djembe Drum
On the downside, the leather used in this djembe tends to become loose and warp after some time of usage. Also, the strings aren't tunable. 
        Pros
        Cons
Portable, lightweight & reasonable priced
Uses premium quality leather & durable wooden shell
Solid tonal variations
Leather turns loose and warp
Strings aren't tunable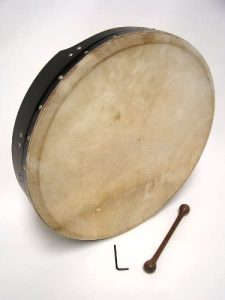 Product Highlight
With the primary rhythmic accompaniment for Celtic and Irish music, Roosebeck BTN8BT is a lightweight frame drum that can sit on the hands of the players quite comfortably. 
Overview of Features
Made of goatskin head and fine mulberry wooden frame, the Roosebeck BTN8BT hand drum comes in 18" X 3.5" shell size producing a deep, rich sound. Perfectly suitable for playing Irish tunes, this hand drum is constructed in Ireland. Moreover, apart from the goatskin head and mulberry wood frame, it also has a removable T-bar, which gives hand and wrist support to players. Also, its cutout at the back makes it comfortable for hands and the player can apply pressure on the head even from inside of the frame to produce appealing tunes.  
What We Like About Roosebeck BTN8BT
The highlight of this frame drum is the tuning wrench and a tight tipper, which allows one to adjust whenever required. Besides, the Roosebeck BTN8BT hand drum is a great drum to start with. It is strongly built and is capable of producing decent tunes. These aspects allow a player to produce tunes from this drum as per his/her choice. Lastly, this drum enables one to loosen its head when it's not in use through its internal tuning system. This also helps in protecting the strings from loosening. 
What We Like Don't Like About Roosebeck BTN8BT
One of the major setbacks of this hand drum is its goatskin head, which is too rough due to the uneven application of black varnish. This gives it an unappealing look and it can be enhanced by applying natural oils. Plus, it's slightly expensive as well. 
        Pros
        Cons
Ideal for Celtic and Irish music
Uses goatskin head and fine mulberry wooden frame
Includes tuning wrench and a tight tipper
Goatskin looks rough
Expensive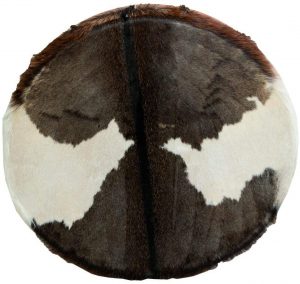 Product Highlight
Designed and made according to the Native American style, Shaman Goat Hair 18", Frame Drum is a round hand drum suitable for any expert as well as novice drummer or percussionist. 
Overview of Features 
A sturdy, reasonably priced, and easy to use hand drum, the Shaman Goat Hair Frame Drum is handcrafted and comes with a goatskin head, which has hair as well. The materials used to make this hand drum are completely authentic that are responsible for fine tunes. It also has a mulberry frame and the package includes a tuning tool and a leather beater. All these features and accessories contribute to its amazing and solid tonal quality. 
What We Like About Shaman Goat Hair Frame Drum
We are impressed by its DOBANI frame, which makes this frame drum respond and resonate faster and more easily with earthy harmonics. Also, the goatskin head of Shaman Goat Hair Frame Drum brings out deep and beautifully intricate sounds, which is loud enough to accompany Celtic tunes. Hence, you can easily play in any drum circle, which includes bongos, djembes, tambourines, and many other such instruments. 
What We Like Don't Like About Shaman Goat Hair Frame Drum
The only limitation you'll come across playing this hand drum is the lack of a thumb notch. Besides, there are no tuning instructions included here so the players might get confused about how to tune the drum.  
        Pros
        Cons
Follows Native American style
Sturdy, reasonably priced, and easy to use
Includes a tuning tool and a leather beater
Lacks a thumb notch
No tuning instructions included
Conclusion
After reviewing these hand drums, we would say the Fiberskyn Frame Drum by Remo is the best hand drum available today according to us. Integrated with pre-tuned technology, this hand drum offers warmth and projection alongside produces a beautiful resonant tonal quality. It is truly the best you can get on the market considering its durability, weather resistance aspect, and affordability.
More to read:
Best Tongue Drums That You Must Check Out Now 2021
We hope you love our reviews! For your information, we do earn money from commission in the link in the content! For more information click here!