Updated on April 3rd, 2022
With the advent of drumming software, drummers have shifted from traditional drum kits to beat-making software to create music.  Today's sophisticated virtual drum technology has made it easier to create realistic drum performances in your Digital Audio Workstation (DAW). You can create and record your tracks using just your computer and achieve professional-sounding drum tracks.  One of the popular drum software that artists love to use is Addictive Drums.
Addictive Drums
Addictive Drums was rolled out in 2006 by XLN Audio. It quickly became a bestseller due to its cost, sound quality, expandability, and ease of use. The software allowed drummers to get excellent results with the minimum fuss. The company is constantly expanding its library and it has many kits from the 1960s extending to the present day. These drum kits can be tailored as much as you like using well-designed effects with the help of a user-friendly interface. The company mindful of the constant demand for newer and better features has made changes to the software every once in a while to reflect on the changes that the drummers most desire. 
Addictive Drums as the company claims is primarily a "Complete Drum Production Studio". It includes 3 complete kits, stacks of extra drums, and cymbals. The samples of tracks feature the softest to the hardest hits from a variety of music genres. There are many stroke variations with alternating samples. A multi-channel mic setup is used to record all sampled drum/cymbal sounds, similar to recording on a traditional drum kit.
Here are the kits that are included as a part of the software.

Sonor Designer (Kick, Snare, 5 toms)

DW Collector's Series (Kick, Snare, 5 toms)

Tama Starclassic (Kick, Snare, 3 toms)

Extras: Pearl Signature Ferrrone snare, Pearl Masterworks Piccolo snare, Pearl Masterworks kick

Cymbals (Sabian & Paiste): 3 Hihats, 9 Crashes, 3 Splashes, and 2 Chinas
If you are a beginner, then shaping basic sounds are easy as you can employ the Addictive Drums' sampler section. There are controls for volume and pitch with envelopes; levels featuring adjust the balance of Close, Overhead, and Room levels of each Kit piece. Also included is the filter, for instances like cutting the low end on hi-hats. This means you can do Addictive Drums is capable of minor tweaks as well as reshaping the entire track to fit your musical style. 
Sampler; For each Kit piece:
Solo/Mute

Main Level

Overhead Level + Pan/Width

Room Level + Pan/Width

"Single Sample" mode

Main Pitch + OH/Room Pitch Offset

Pitch Envelope (w velocity mod)

Amp Envelope

HiPass/LoPass Filter
The drum software also sports 12 mixer channels, 52 insert effects and 2 reverbs. Everything is quickly accessible owing to the user-friendly interface. The software is furnished with presets which make it easier to experiment with different styles for a track. It will let you save and re-use complete drum productions in new songs. There are options to create your own folders along with your own presets and you can retrieve your folders by browsing the Preset menu.
There are over 100 presets that can be accessed from Addictive Drums, ranging from pure Acoustic pop to Metal, Funk, and EDM (Electronic Dance Music). Some of the preset categories include Clean, Distorted, Electronica, LoFi, PopRock (Big), PopRock (Medium), PopRock (Dry), Retro, Rock, Soft, Xperimental.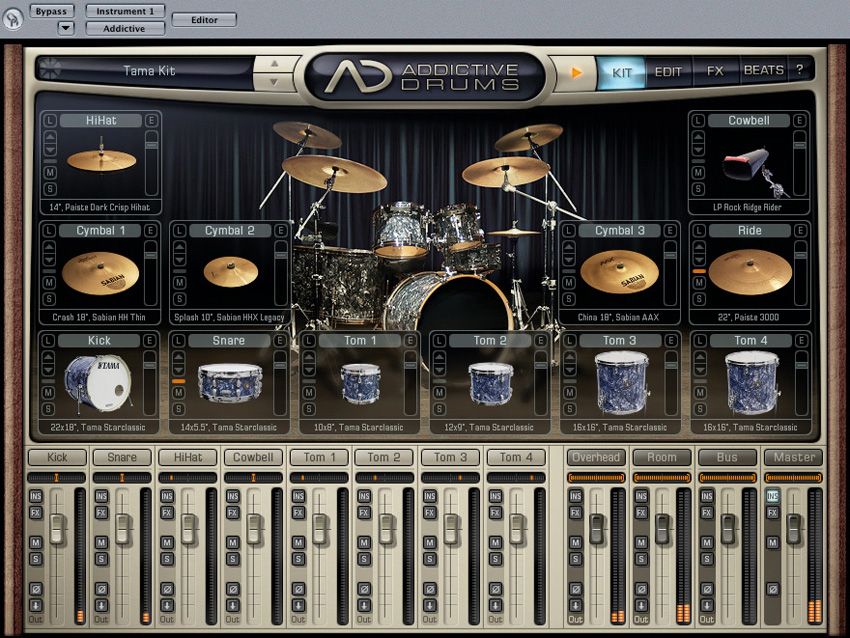 Effects; For each channel:
Compressor

Dist (4 algos, selectable bandwidth)

EQ (3 bands)

Saturating Limiter
Master and Bus channels also include:
Tape Saturation

HiPass/LoPass Filter
Reverbs:
4 algorithms (Ambience, Room, Hall, Plate).

Decay Time, Pre-delay, Damping

2 band EQ

Pan/Width control
MIDI library of the software contains more than 3000 beats and fills in various styles such as Pop/Rock, Metal, Funk, Jazz, etc. There is a host of basic Kick+Snare beats with variations on each like "8th Hihat", "w Ghostnotes", "4th Ride" etc. There are also tracks that feature 4 bar Verse/Bridge/Chorus/Middle8 variations. 
The first version of Addictive Drums one is not supported by XLN Studio now as they have released Addictive Drums 2. According to the company, "AD1 is still available to install for registered users, but it is not actively maintained by us. As time moves on the risk increases that more things will break. External forces such as New OS, DAW, and development tool versions make it hard or sometimes impossible to maintain legacy products. This means that it is very likely that this issue will not be fixed."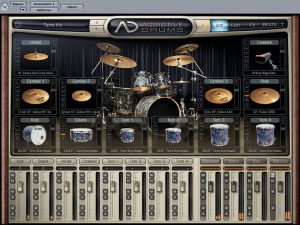 Addictive Drums 2
The second version of Addictive Drums has all the samples, effects, channels, etc. as mentioned above. Since this is an upgraded version the company has made improvements and additions across the board. 
If you want to install the upgraded software, the company requires you to use their proprietary online installer, first introduced with Addictive Keys. Once the online installer application is running on your computer you have to log into your account. After you log in the existing AD libraries that you have already downloaded will be scanned and checked for available updates. Other Addictive Drums 2 products you have purchased will show up as 'update available' or 'install' as appropriate. You can choose to download and install items one at a time, or everything together.
How to Use Addictive Drums 2 
Creating drum tracks is easy using Addictive Drums 2. Select the kit you want from the sample list and click one of the presets. Once you click one of the presets it will start a drum beat. The effects to the value of that preset can be modified according to your requirement. Jumping between these presets will show you the different sound options you can obtain from one kit. 
Do note that each different kit is known as an 'ADpak'. You can choose to invest in the 'Complete Collection', which includes all the ADpaks, or buy a cheaper package if you only need a small amount of ADpaks. As mentioned above, there are kits for most genres including rock, pop, indie, electronic, R&B, metal, jazz, funk, and more.
Once you zero in on a kit, you can head to the Beats section to select from a vast range of different types of drum beats. Addictive Drums also give you a choice to transform how those beats are played. You can play beats either through MIDI directly in your DAW using your keyboard, MIDI Keyboard, or Electronic Drum Set. If you are using this software as a plugin in your DAW, press the 'sync tempo' button to play your drum beats in sync with your music project.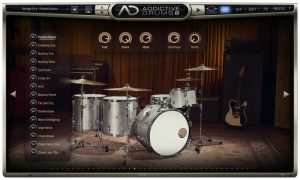 Every version of AD2 features a heap of MIDI files already included in the AD2 Core Library. There is also a stack of different MIDIpaks that are included as expansions to the files in the core library. The MIDIpaks each contain a collection of great beats from a wide range of genres and playing styles. You can rock your tunes with 'American Rock', 'Gangsta rap', and 'Hip-Hop'. It will be easier if you filter the list of beats down to the genre and time signature that you plan to use to create your music. 
If you want to edit your music, Addictive Drums has an answer for that as well. You can edit your music with the help of the edit tab. If you are a professional with experience in music mixing, production, or audio engineering then it will be easier for you to understand what most of these panels do and you can get used to the software much faster compared to newbies.
If you are a beginner who is trying out his/her Addictive drum software to create and edit music, then you will require some time to get accustomed to the program. Initially try experimenting with the 'Tape & Shape' section of the Edit tab, and the Delerb of the FX tab. These are fun and easy to use, and will get accustomed to the software. 
Addictive 2 was rolled out with additional kit piece slots, kit piece linking, the new insert effects (especially the Transient Shaper) and compatibility with older Addictive Drum presets. This improved their fan following to a great extent, not to mention the software's massively improved Beats page. The company's pricing scheme for the software has a good value of money, allowing beginners to add kits at a reasonable price, rather than paying for a huge core library that they might not fully utilize. 
More to read:
We hope you love our reviews! For your information, we do earn money from commission in the link in the content! For more information click here!