Updated on April 2nd, 2022
Many a time, drummers receive a hard time from other members of the band, because drums are 'straight-forward' compared to other instruments. Most think that you just hit them and they make a noise. But, drums are much more difficult to tune than a guitar or violin as they have a whole bunch of different things to consider.
There are 5, 6, 8, 10, or 12 tuning lugs on the drumhead, which all individually affect the sound produced. This is doubled by the second drumhead located on the bottom, which also has 5, 6, 8, 10, or 12 tuning lugs. There are many drums in the kit, each of different sizes and depths and a multitude of drumhead styles. This is coupled with the fact that each song or music genre requires a different drum sound. This concludes that drum tuning can be tough compared to even a 12 string guitar.
Why is the tuning of your drums important? Tuning helps get the best sound out of your drums and drum kit. It is important to find the perfect sound for your drum kit that is best for the song you are playing, the music genre, and also affects your style of music. If you listen to jazz drummers, you will often notice that they tune their drums tight and high so that musical notes ring out. This allows them to play excellent musical phrases around the kit. Rock drummers tend to tune quite low and powerful to bring a strong deep tone which adds style to their rock tracks during their performance.
Click Tracks to the Rescue
 Some old-school drummers still feel using a metronome gives the right feel and natural groove. While this is understandable, old-school drummers need to understand that technology has come a long way. Live performances are experiencing significant improvements and studio recordings are sounding tighter than ever. To become a professional drum artist or continue being the best at what you do, you need to change your old ways and embrace the changes.
Whether you are learning drums, studying music production, a lyricist, or a beatmaker, you will hear references of click tracks. A click track refers to a tool that keeps the drummer and band in time. You can call it a metronome that is run through a computer or an app and set at a predetermined tempo (or speed). It is heard by the drummer and other musicians through headphones or in-ear monitors. Click tracks are typically used in the recording studio or live performances.
Click tracks come in a few variations, and as a drummer, you will most likely either play to one in your studio session or play along to one via a mobile app during your practice sessions. As a modern drummer it is important to not only practice to a click track with in-ear monitors but also perform in both a studio and live setting to one as well. You may think you are an excellent professional drummer, but once you start drumming to a click track you might be surprised how much you can scale up your drumming skills.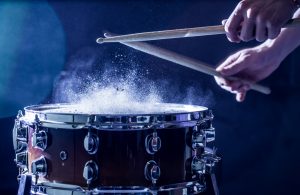 Advantages of a Click Track for New Age Drummers
Here are few advantages of using a click track for your recording session or your live performance.
● Click tracks were introduced to keep both recorded and live performances in perfect time. This way all musicians sound in tune with each other throughout an entire track.
● This is now commonly used in the music industry to enable both precision and efficiency. Similar to how a conductor functions in an orchestra, click tracks help keep time during a live performance.
● If all members of the band, from drummers to vocalists, record/play to the same click track, songs can quickly sync up and produce the best possible harmony.
● As a drummer, the band members rely on you to keep all tracks in tune. Introducing a click track for drums into band practice sessions will be a game-changer for your band. If you can play accurately to a click, your band will be able to keep its timing in check and you will sound much tighter.
● If you are used to practicing to a click track, you can easily tell which bands do and don't play to a click at a live performance. Playing to a click track makes your band sound much more professional to both the trained and untrained ear.
● Modern music, these days, demands more detailed live performances. While backing tracks are played from workstations such as Ableton, the drummer keeps the band in time to the pre-recorded music via a click track. This has become a very important aspect of contemporary live music performances in pop, R&B, metal, hip hop, and many more music genres.
 Now that you know the many merits of playing to click track, you should also know that modern sound engineers demand this talent from every drummer for recording sessions. How a DAW is a must for DJs these days, playing to a click track is a must-have skill for any drummer to record/perform modern music.
Playing to a click track is harder than it sounds if you have never done it. You are going to instantly find out what parts of songs you have been rushing and dragging. If you up for a recording session in a studio start practicing with a click track today and get as much practice as you can. This will help you keep your music in check as well as that of the whole band.
While playing to a click track, note that subdivision should be your prime focus. Whether you are using a physical metronome or an app on your phone, set the beat to be subdivided according to the meter that you are playing. Especially with slower songs, having an eighth note in between beats will help you stay on track. If you have got any songs in 3/4 or 6/8, finding a triplet subdivision will be of tremendous help.
Make sure you don't just play your songs, but also groove to various tempos. Try low BPMs as well, they are much harder and will help improve your timing. In addition to practice, listen to a click whenever you can so you can get used to a click track.
More to read:
Is Addictive Drums the Right Software For Your Music Needs?
Best Toaster in the U.S. That Are Worth Buying 2021 
We hope you love our reviews! For your information, we do earn money from commission in the link in the content! For more information click here!