Updated on April 3rd, 2022
An uncompromising style of music, jazz, marks the undertones of freedom. And we guess, it's the apt reason for musicians, especially drummers evolving the style and constantly improvising the music. If you're a true jazz music lover, you'll know that it's the kind of music that will help you broaden your musical horizons, enabling you to enjoy every bit. 
Over the years, greatest of all time jazz drummers have taken the liberty to give the music world some exceptional composition. But what most drumming fans love are the solos by the best jazz drummers across the globe. Besides, if you're a novice, then always keep in mind the drummers are one of the important parts of jazz, as the drumming artist brings out rhythm and beats that enhance the music. 
All budding and pro drummers continue your learning and don't forget to listen to drumming solos of the top jazz artists. And if you're confused about whom to listen to, here are a few recommendations of the best jazz drummers of all time, who rocked every performance. 
So, let's dig in to know more about each of these jazz drummers.
1 .Best Jazz Drummer-Buddy Rich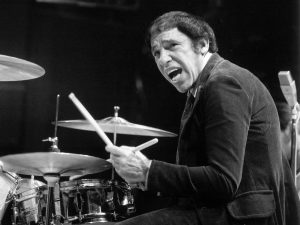 Unarguably, Bernard Rich, also popularly known as Buddy Rich is one of the best jazz drummers of all time. This legendary New York-born, jazz drummer was not only a talented drummer but also Rich influenced several budding drumming artists and led a band for years. His fans and mentees consider him iconic. 
His flamboyant style was reflected in his drumming, for he was known for speed, power as well as a primal sense of swing. His solo performances highlighted his prodigious technique, which was the precursor of something similar found in rock music. A career spanning almost seven decades, Rich was gifted with incredible speed and dexterity even without any formal training. He was truly a genius in every way! 
Rich's successful long career was marked with a plethora of awards and honors. Rich had performed with some other legends like Gene Krupa, Louis Armstrong, Dizzy Gillespie, and Charlie Ventura as a jazz drummer. He was even regularly featured in Jazz at the Philharmonic in the 40s.  His genius as a drummer inspires many budding drumming artists across the globe. Check out his best performance at the "concert of the Americas" and we're sure you'll enjoy it to the core. But don't forget to check out his other rocking solo performances.
2.Best Jazz Drummer-Max Roach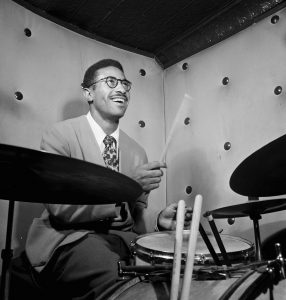 Remembering Max Roach, musician Quincy Jones, once, said that he is one of the pioneers and original members of the A-Team of bebop. And that's how Roach's peers looked up to him. Mark Roach, the hottest drummer of New York, was a jazz giant in every way. Other than being a drummer, Roach was also a composer, teacher, activist, and bandleader. 
He could make his drums sing, redefining what it means to be a drummer. Even today's talented drummers look up to as an inspiration. In the 1940s and 50s came the bebop era and Max became the leading bebop drummer post his work with Dizzy Gillespie and Charlie Parker. During this time, he was at the peak of a new drumming style wherein the ride cymbals were the primary focus. Besides, his fast ride patterns gave rise to a new standard in drumming. 
Further, Roach also started his jazz percussion ensemble as an extension to his drum solos. His talent and musical genius knew no boundaries. Towards the 1980s, he even performed several duets with avant-garde improvisers Anthony Braxton and Cecil Taylor. He also played with Thelonius Monk, Miles Davis, and Duke Ellington. This true jazz drumming genius will inspire the percussionist inside you. So, go ahead and listen to one of the best solos "The Third Eye".
3.Best Jazz Drummer- Gene Krupa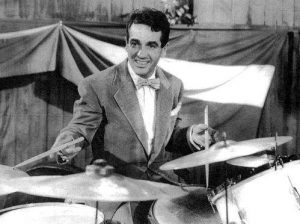 The superstar drummer, Gene Krupa was the one to start drum solos. Before him, drum solos weren't a thing, as drums were considered just merely supporting instruments. But with Krupa, the whole dynamics of drumming changed. You can also hold his energetic charisma as one of the reasons. He was often considered an unmusical drummer, however, Krupa managed to prove this wrong by making a historical first record. He was one of the first musicians to use the full drum set for a recording. 
Besides, his impeccable talent as a drummer, Krupa was often mentioned with Benny Goodman's band. He was the band's most special drummer, as transformed the drums into a solo instrument with his excellent display of skill. What makes him relatable to any modern drummer was his performance at the concert in Carnegie Hall in 1938 with Goodman Band. His dramatic driving beat behind the song "Sing Sing Sing" totally stole the show. 
Well, he was also highly praised for his reprised version of "Sing Sing Sing" that appeared in the movie Hollywood Hotel. This pioneer who brought drums to the center of the stage was also highly respected by other two legendary drummers Buddy Rich and Max Roach. Krupa is worth listening to if you're a novice percussionist. Check out the best drum solo, also known as Angry Drumming 1948, and enjoy some crazy and energetic beats.  
4.Best Jazz Drummer-Tony Williams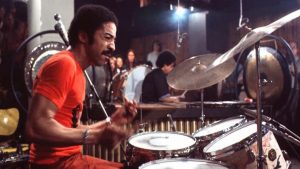 Pioneer of jazz fusion, Tony Williams was one of the most influential drummers in the 1960s. His first fame to success was with the band of trumpeter Miles Davis. Born in Chicago, Williams' introduction to drumming was at an early age. And so does his professional career, at the age of 13, Williams started playing with Sam Rivers. 
Throughout his long career, he remained a vital element in his band and the drumming world. His inventive playing skills redefined the jazz section using polyrhythms and metric modulation. His drumming skills were truly outstanding. Even in his early performances, William proved that he mastered not just the playing skills but also the drumming vocabulary. Taking drumming to the next level, William delivered some masterpieces compositions.
One of his characteristic styles was freeing up the hi-hat from its conventional role of maintaining beats 2 and 4. His style also included a more pulse-oriented approach to ride the cymbal and this foreshadows the use of eight rock rhythms in jazz. And this is a percussionist call, William's jazz fusion. Even though Williams played rock and funk music more often towards the late years of this career but his jazz playing was way more than just beats or imitation. If you're interested in which drum solo of William you should listen to, then here's our suggestion- check out his performance with Herbie Hancock in Switzerland in 1992.
5.Best Jazz Drummer-Paul Motian
Little known outside his jazz circle, Paul Motian was an exemplary jazz drummer with a fifty-year-long career. His contribution to jazz drumming is mostly remembered by his deep internal sense of swing and the beautiful music he created from frequent spare accents. Even today, Motian is a respectful name in the drumming community. 
His collaborations with Keith Jarrett, Bill Evans, and Paul Bley were quite memorable and these were accounted as some of his best works. Today, if you hear his drumming, we're sure you'll be transported to 1950s bebop or 60s avant-garde with a little influence of rock. However, most of the drumming was based on 50s bebop wherein he displayed great speed with a driving quarter-note pulse and at times a strong hi-hat on 2 and 4. Here he also kept his regular cymbal rhythm accented on 2 and 4. And that's how skillfully he played!
Besides, he also used heavy ride cymbal with larger drums tuned moderately low, which he would hit and play for a full tone. He also played rim shots on the snare drums and the toms. Above all, what made Paul Motian stand out among his peers was his ability to go deep into music alongside provoking and bringing a sense of peace and comfort irrespective of his style of playing. So, learning drums can be more fun and insightful if you listen to Motian's solo. Check out his performance on "what is this thing called love" and enjoy some fascinating tunes. 
Now that you know about the best jazz drummers, we're sure listening to them will be a great learning experience. These 5 jazz drummers were phenomenal in their ways and they have reshaped drumming over all these years. So, what are waiting for? Listen to these legends today and rock your drumming sessions with insightful tips from their skills.
More to read:
Top Legendary Drummers You Should Know About
We hope you love our reviews! For your information, we do earn money from commission in the link in the content! For more information click here!