Updated on April 4th, 2022
Long ago, primitive men invented the Marimba in its most basic form. It was one of man's first melodic instruments, and sources indicate that it was widely used in Asia and Africa. Even though several countries claim it originated in their country, there is no evidence to back up this claim. Depending on the nation or area from where it originates, the instrument is called by numerous names and has varied physical features. To properly comprehend its evolution over time, we must consider the people and civilizations that have made it a part of their culture.
The marimba's origins are unknown; some say it originated in Southeast Asia in the 14th century, while others claim it came from Africa. African slaves or pre-Columbian African contact brought the instrument to South America in the early 16th century. 
Ancient Marimbas
Early marimbas were constructed of wooden bars or keys hanging below a resonating gourd. Each gourd was tuned to the main pitch of the key it corresponded to. The interior of the gourd was equipped with a mirliton or natural membrane (trip de Puerco), which produced the buzzing or rebounding sound that is associated with the marimba.
Modern Marimbas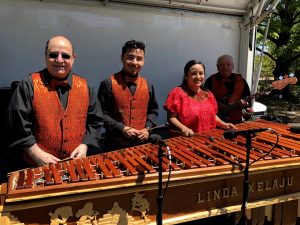 The keys of the modern symphonic marimba are generally made of rosewood, while the resonators are made of brass or aluminum, in contrast to marimbas manufactured in other cultures. The length of the resonators (pipes) is graded (as are the keys) and one end is closed (the end facing the floor). The marimba features a two-level keyboard, comparable to a piano's black and white keys, which allows it to play the whole chromatic range. Four octaves are the most frequent orchestral marimba, while the solo marimba ranges from four and a third to five octaves. Larger instruments, up to six and a half octaves, may be found in Guatemalan and Mexican communities, where they can be played by two or three people at once, each using two to four mallets. The contemporary orchestral marimba is played from a standing posture, placed on a standing frame.
Playing the Modern Marimba
Depending on its size and the music required, the contemporary marimba can be played by one, two, or more persons, each of whom can use two or four mallets in their hand to play the instrument. The mallets are generally constructed of birch or rattan, with rubber, plastic, or wood heads and yarn or string wrapped around them. Longer contact or compression with the bar using a heavier mallet or one composed of softer material results in a louder sound that is rapidly muted. A light mallet or one made of hard material bounces back rapidly, resulting in a quieter, but richer, longer tone.
Best Marimba Solos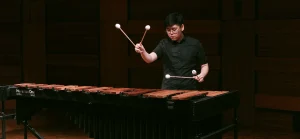 Here's our categorization of the best marimba solos by the difficulty level of their performance:
Tier S (for the professionals)
These works are highly regarded, historically significant, and frequently appear in the top tier of competition and audition lists throughout the world. Professional marimba soloists will always have some (or all) of these compositions in their repertoire, and they may practice on them over and over again to improve their renditions.
Some composers include:
Marimba d'amore (sim. Variations on Japanese Children Songs)
Six Sonatas and Partitas for Violin*
Six Suites for Cello* (sim. Lute Suites and Inventions)
White Knuckle Stroll
Northern Lights
Marimba Spiritual
Tier A (for advanced players)
These works are excellent for progressing beyond the intermediate level if a good technical basis has been built, and would be extremely striking in a competition, examination, or concert setting.
Some composers include:
Gordon's Bicycle 
Etude in E minor (sim. Pius' Etudes and Nocturnes)
Two Characters
Variations on Lost Love
Time for Marimba (from Modern Japanese Marimba Pieces 1)
Tier B (Intermediate to advanced players)
These are the most typical marimba solos that you will encounter in both university-level exams and public performances. They demonstrate a wide variety of abilities and can be used as etudes for improving personal technique and musicality on occasion.
Some composers include:
Frogs
Michi (sim. Ancient Vase, Dream of the Cherry Blossoms, Memories of the Seashore, Prism)
From My Little Island
Over The Rainbow (arr. Oetomo) (sim. Oetomo Fantasy No. 1/No.5, Pining for the Spring Breeze)
Caritas
Tier C (Intermediate players)
After having mastered the basics from Tier D works, the player is given his/her first real piece. These are used for leisure in public performances or as assessment works in high schools or universities. 
Some composers include:
Furioso and Valse in D Minor
Wind (sim. April Sky)
Parody
Land
Etude in C Major, Op. 6 No. 10 (sim. other Musser Etudes)
Tier D (Beginner players)
These pieces are geared at the beginning marimba player, providing a welcoming introduction into the realm of concert marimba. These compositions have a greater emphasis on technical exercise-style writing than on fascinating musicality, reducing the number of new methods necessary to effectively play the piece. Such works are frequently utilized for school evaluations and personal growth but would be unsuitable for higher-level tests and performances in the vast majority of situations.
Some composers include:
Mbira Song
Gomez, Alice (and Rife, Marilyn)
Rain Dance (sim. Gitano, Marimba Flamenca)
Ghost Garden
Sea Refractions
Yellow After the Rain (sim. Galactica, Teardrops, Waves)

The marimba appears to have traveled a long way throughout the world, which has aided in its growth. The instrument's popularity has also been aided by the musical styles and genres that have been employed to perform it. Because it has grown ingrained in both eastern and western cultures, the marimba will continue to be popular. This will ensure its survival for future generations throughout the planet.
More to read:
Best Drum Solo Performances That Made History
We hope you love our reviews! For your information, we do earn money from commission in the link in the content! For more information click here!