Updated on April 3rd, 2022
If 'We Will Rock You' was performed without drums, do you think the song would be still legendary? We think, no! Just like how this gig had its audience captivated every time it was performed live, several such concerts are still remembered today. However, not just the complete gig, there have been several instrumental segments that also made their mark in the history of music. Among these shows-topping moments are drum solos, especially when they were performed live. With sheer timing, flamboyant, and bombastic skills of hitting the right notes and beats, the drummers performing solo held the audiences' attention throughout. 
Whether it was a rock or jazz performance, drum solos swept the audience off their feet through their exhilarating beats. Over the years several drum solos were performed live and even in studios by famous drumming legends of all time, which left many in awe and even inspired aspiring drummers. 
To honor these legends, we have curated a list of the best drum solos performance that has made history. Read further to know more about the most riveting and jaw-dropping drum solos of all times! 
Below are the best drum solo performances
1. The 'Moby Dick' Concert- Drum Solo by John Bonham 
In the history of drumming solos, one iconic performance that made the audience go tap-tap was the Moby Dick Concert by the band Led Zeppelin. Drummer John Bonham, the star of the band, led the stage with his power-packed solo drumming. 
No doubt, the band Led Zeppelin rocked several performances but this 1970s gig at the Royal Albert Hall created history after John Bonham's drum solo. This 12-minutes long performance includes one of the best rock drum solos ever. Showcasing breakneck speed, Bonham shaped this whole solo taking drumming to the next level. 
After watching and re-watching this drum solo's video, we sensed the impeccable ability that Bonham exhibited while drumming. His mastery was quite inevitable to ignore when he skillfully used the tension and released it to pump up the crowd's excitement all through his solo drumming. 
Well, he started with a boom only to take down the beats followed by honoring the jazz legend Max Roach with a waltz segment. Soon after this, he puts his drumsticks aside and continued with Latin music using his hands; possibly a throwback to the exceptionally great Papa Jo Jones's off-beat style. And in the last few minutes, he was back to the wild and dizzying beats before the band began with the vocals again. 
Bonham, popularly known as Bonzo, hooked the audience's attention, especially the fans of Led Zeppelin, and mesmerized everyone through this killer drum solo gig. 
If you are an aspiring drummer and passionate musician, you must check Bonham's iconic rock drum solo to experience out of world drumming. 
2. Concert For The Americas Solo- Buddy Rich's Drum Gig 
If you've loved the legendary drum solo of John Bonham, then you must also listen to Buddy Rich's 1982 performance at Concert for the Americas Solo. Not only was he a great drummer but also he was a great inspiration to famous percussionists like Bonham, Neil Peart, Steve Smith, Tommy Igoe, and many others. His energy outshines in every solo gig of his.
While his studio recordings were no less than an enthralling experience in itself, Rich's 1982 Concert for the Americas Solo was an exceptional one. Performed at the Altos de Chavón Amphitheater in the Dominican Republic, Buddy Rich rocked his life's best drum solo. Moreover, what makes this particular drum solo performance enthralling is the innovative style of Buddy Rich. 
We love his hi-hat work during his gig in the 1982 Concert for the Americas Solo. Within the first 2 minutes of his performance, Rich reached out to his left hand for the hi-hat technique, while his thumb was on the top cymbal. His remaining four fingers rolled the left stick underneath the hi-hat, and by this time, he brought back his left hand to mute the cymbal. Towards the end, Buddy Rich slowed down, which was more like a dramatic relief to the fast beats, only to gradually speed up the beats again. This clearly shows his extraordinary power and speed. Not to mention, this fascinated most drummers and even kept his audience rocking to those beats. 
If you want to learn something new about drumming, then you should watch this performance video online. We are sure that all you aspiring percussionists/drummers will take back a lot after watching Rich's solo gig. 
Check out the video here, or else grab the DVD of "Frank Sinatra: Concert For The Americas With Buddy Rich" and watch the drumming legend play.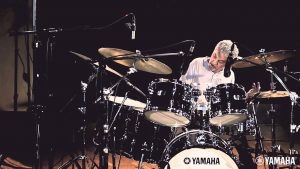 3. Steve Gadd's 1989 Drum Solo
Among legendary drummers, another name that we must mention is Steve Gadd. Known for his outstanding live drum solos, Gadd gave one of his career's best performances in 1989 in Switzerland. A performance worth watching over and over again! 
Well, being an influential drummer, Gadd revolutionized the contemporary style of playing drums. His new tricks and techniques grabbed the attention of the audiences as well as amateur drummers. Even the best drummers were inspired by Steve Gadd's way of playing and his fan following continues across the world. He even has recorded several famous drum tracks such as "Fifty Ways to Leave Your Lover", "Nite Sprite" and many others. Needless to say, Steve's feel, imagination, and skills are just like the monograms of his feature sound. 
In a 1989 performance, Gadd nailed the gig in many ways. The first was the way he swayed to the beats, feeling, and enjoying it. Catching up to the tunes of the pianist within the first few seconds, Gadd continued with his solo gig for the next 2 minutes. The ease he displayed in this gig is the biggest takeaway for upcoming drummers. Further, he showcased the linear drumming technique, wherein the drum, the cymbal, and the surface aren't hit simultaneously. This legend's drumming skills had no boundaries, as he could keep time while playing the twisted fills perfectly. Watching his precision and technique will surely make your jaws drop! 
In case you haven't heard Steve Gadd's drumming yet, then we suggest you watch his 1989 drum solo video to catch the best performance of this legendary drummer.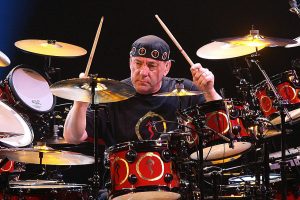 4. "O Baterista" Drum Performance by Neil Peart
Since the 1970s and 80s, most drummers were fascinated by the acclaimed percussionist Neil Peart. Known for his virtuosic technical ability and precision, Neil Peart is regarded as one of the best drummers of all times across the globe. His most memorable drum solo performance was "O Baterista" in 2003 at the Rio concert for his band Rush. 
Not just a drummer, Neil was also a composer and performer, as he was excellent at solos gigs. From recording tracks like 'Closer', 'Tom Sawyer' and 'O Baterista', Neil Peart rose to build a massive fandom including aspiring as well as renowned drummers/percussionists. His discipline and musically punctuated grooves showcased his drum skills quite well.  
Coming to the drum solo in 2003, Peart displayed effortless transitions; including a small section of waltz followed by an electrifying section on Latin Influence using his electric kit and auxiliary percussion. His solo section ended with upbeat jazz, to honor his inspiration and idol Buddy Rich and Gene Krupa. 
Peart's qualities were endurance, speed, and precision while he managed to play on varying tempos and that too without missing a beat. That's how Peart rocked this 2003 drum solo performance! This jaw-dropping solo that cheered the audience defined the drumming power and ability of Neil Peart. 
Not just this, another amazing segment, which we recall is the independence between his hands and feet. In this segment, Peart played different time signatures - 2 with his feet and 4 with his hands. He produced a wide spectrum of sounds and textures that perfectly fit in the composition without sounding too sloppy or monotonous. 
Looking back at Peart's initial drumming solos, it's observable that his gigs were too metronomic. But over the years, his style of drumming underwent a drastic transformation and this is perfectly evident in his 2003 "O Baterista" performance. 
You can see this performance online, or else you can even stream it live through Amazon Music.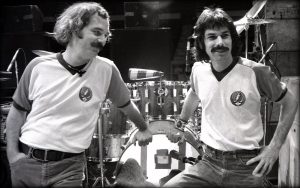 5. Duo Bill Kreutzmann and Mickey Hart Drumming "Grateful Dead" 
'Grateful Dead", a band known for its 30-year history, gave a musical edge to two legendary drummer duo - Bill Kreutzmann and Mickey Hart. Giving new definitions to rock and roll, this drummer duo took drumming to a new level through their excellent skills and precision. While Bill Kreutzmann founded the band 'Grateful Dead', Mickey Hart was the star drummer and the reason for the band's successful existence for many years. The duo rocked every concert and recording engrossing the audience through their techniques that combined to become one of the best drum solos ever. 
In the history of drumming, Bill Kreutzmann and Mickey Hart were the first-ever drummer duo of a quintessential rock band. While the band was at its peak of success, this duo delivered another stellar and breathtaking drum solo performance at Alpine Valley Music Theatre near East Troy, Wisconsin, in the year 1989 on the song 'Drums'. 
This 8-minute duet drum solo was a unique performance in this history of drumming. And it's because both Mickey and Bill took turns as a lead while the other was supporting the beats. We were impressed by the call and response technique that they used alongside developing the beats. 
If you're to re-watch their performance, you will observe that neither of them has set a time, as both of them are riffling off one another. Despite that, the duo sounded synchronized, as they hit the right tempo. Well, this aspect gives Mickey and Bill an edge over other drummers, as their sounds blended into one cacophony of beats. Such a performance is a rare sight and definitely worth watching a million times. 
In case you want to enjoy this gig featuring star drummer duos Bill and Mickey, you can go online to experience the jaw-dropping performance. 
Each drummer and drum solo that we mentioned has arched out a name in the history of drumming through the impeccable skills of the players and most importantly their breathtaking performance. However, our favorite drum solo was John Bonham's Moby Dick gig. His 12-minutes performance kept the audience hooked and is still regarded by many renowned drummers as the best rock drum solo ever. 
Tell us which gig has been your favorite of all time. 
More to read:
The 10 Evergreen Standing Pillars of Rock Drumming
Best Stand Mixers in the U.S. That Are Selling Like Hot Cakes 2021       
We hope you love our reviews! For your information, we do earn money from commission in the link in the content! For more information click here!