Updated on April 4th, 2022
The greatest rock drummers of all time have displayed the perfect mix of technical talent and popularity. Over the period of their careers, they have proved themselves essential to the music their bands played. 
While we have our own tastes and preferences when it comes to music and the musicians who made them, there are some outstanding artists whose fondness among fans has withstood the test of time. 
Take a look at the top 10 best drummers who left an indelible mark in the genre of rock:
1. John Bonham- Led Zeppelin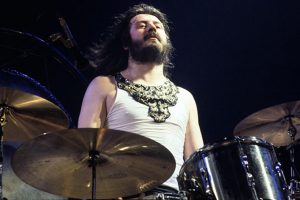 John Bonham of Led Zeppelin was generally considered the greatest drummer of all time, known for his instinct and sense of groove, which shone through his love of pace, quick kick drumming, and hard-hitting strength. At 15 years of age, he got his first drum kit and was mostly self-taught, emulating greats such as Max Roach and Buddy Rich.
The talent of Bonham was so fierce that modern drummers such as Dave Grohl, Dave Lombardo, and Chad Smith all regard him as their greatest influence. He later started incorporating funk and Latin styles into his work, while he excelled at dynamic rock drumming. What set John Bonhan apart from all the other drummers was his ability to ensure his drumming followed the movement of the song instead of merely maintaining a beat. 
2. Ginger Baker- Cream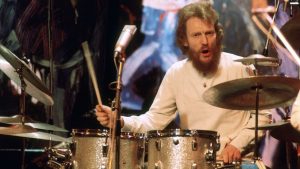 Cream's Blues and psychedelic rock would have been very different without Baker's flashy, jazz-inspired drums. While in the group, the superstar drummer broke new grounds by using bass drums and laying lengthy solos. After the breakups of Cream and Blind Faith, Baker continued finding success with his world music and African inspired sounds. 
It was his booming 60s style that set the stage for today's heavy metal players. Alongside Eric Clapton, Ginger Baker is best known as the superstar drummer for Cream and Blind Faith. He was one of the first drummers to record long drum solos and to use two kick drums. His use of matched grip, syncopation, African rhythms, and cymbals made him more than a rock drummer. He was equally recognized as a bebop and jazz drummer.
Baker's prowess is remembered by all the greats, with Neil Peart claiming Baker set the bar for what rock drumming might be. As primal, extroverted, and imaginative, his showmanship and playing are defined. He's also considered a heavy metal drumming pioneer, although he didn't play and hated the genre.
3. Neil Peart- Rush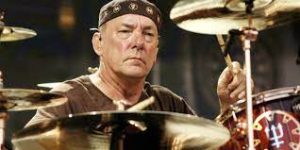 Neil Peart, who was selected after an audition because he resembled Keith Moon from The Who, became the drummer for Rush. In addition to his hard-hitting style, Moon was nothing like him at the end of the day. With his timing, Moon was really loose, but Peart is arguably the most meticulous and technical player of all time.
No one other than Peart is said to be able to play the intricate music of Rush's prog-rock giants. What's perhaps most remarkable about Peart, while technically sound and extremely inventive, is that he makes it look simple. He's a great showman, not to mention, who's always been modest about his talent. He's a perfectionist who has always been and is, eager to learn. Clearly, many Rush songs exemplify the genius of Peart, but an ideal introduction is "YYZ" and "La Villa Strangiato."
4. Dave Grohl- Nirvana/Queens of the Stone Age/Them Crooked Vultures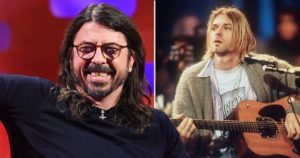 Best known as 'The Foo Fighter' main man, this multi-instrumentalist first gathered attention in DC's hardcore scene by hitting hard and fast in several bands. It was his intense and fierce bashing in Nirvana that cemented Grohl's place in grunge. He further flaunted his passion for drums by lending his talent to 'Queens of the Stone Age', 'Them Crooked Vultures', and many more. 
5. Stewart Copeland- The Police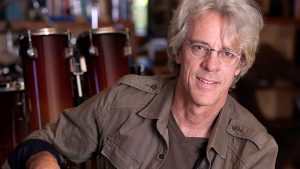 Copeland helped craft 'The Police's' new wave mix of punk, reggae, and jazz by incorporating those styles with his rock and middle eastern influences. Known for using single beats and splash cymbals, he had a highly defined, innovative technique and a knack for enhancing songs with grooves. Even after the band's demise, Copeland showed off his lively playing in other projects.
6. Keith Moon - The Who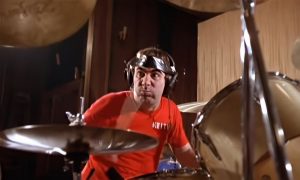 The drummer for 'The Who', known for his early use of double bass drums in his drum kit, was Keith Moon. In the craziest positions in the songs, he would fit into drum fills, stressing tom-toms and cymbals, behaving more like an orchestrator than a drummer. 
He was known to emulate other greats, but with a much more wavering pacing, such as Gene Krupa and Hal Blaine. He despised drum solos and refused to perform them even when forced to do so. Following almost every performance, he would ruin his drum kit on stage. He would also ruin whole hotel rooms and the plumbing of the houses. His destructive acts led to his early death, but even so, he was able to leave his mark as one of the great drummers.
7. Mitch Mitchell- The Jimi Hendrix Experience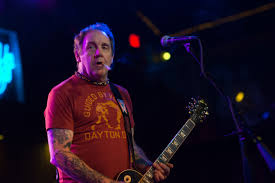 Mitchell's session drumming including his time with 'The Who' landed him a permanent spot in the Jimi Hendrix's Experience lineup over other talented drummers. By fusing his jazz influences with rock, he developed a rhythmic and melodic playing style that perfectly complemented the music. Mitchell's heavy beats, snare drum stroke patterns, rolls and fills were also a source of creativity for Hendrix in the studio and on stage. 
8. Nick Mason- Pink Floyd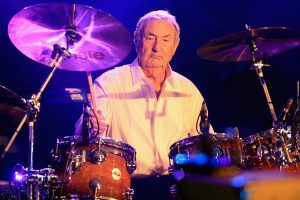 Pink Floyd would not have been the same without Mason who was the only unchanging band member on all their records. Whether playing acoustic or electronic drums, or even percussion, he knew how to bring everything together to complete the band's psychedelic and progressive rock sound. The proficient studio musician also knew how to show off on stage as demonstrated by the band's extravagant live performances. 
9. Ringo Starr - The Beatles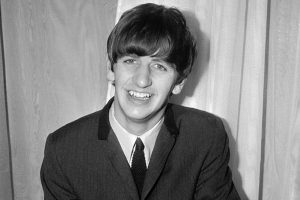 He may not have been high on technical perfection but his offbeat and creative style helped build the Beatles sound we love. Despite being a leftie, Starr used a right-handed kit to keep the beat and ensured the tempo of each song was right. His crucial contributions showed that drummers can be just as important to songwriting as other band members and influenced countless people from then on.

10. Phil Collins - Genesis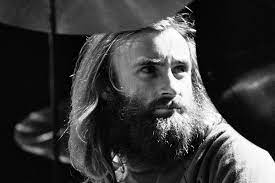 As 'Genesis' evolved from progressive to pop-rock, Collins showcased a strong musicality and versatility on the drums. Audiences were also impressed by his rare talent for singing and drumming simultaneously. Though he played Jazz fusion and blues with other artists, it was as a solo artist that Collins found further success. With the gated reverb of "in the air, tonight" shaping much of the 80s sound. 
While our list is purely subjective, we have tried our best to mention and do justice to the greatest names in the rock hall of fame. 
Read also:
Top Legendary Drummers You Should Know About.
We hope you love our reviews! For your information, we do earn money from commission in the link in the content! For more information click here!