Updated on April 4th, 2022
To be a pro-drummer, there are a lot of things you as an amateur player need to learn. Be it understanding the beats or reading the notation sheet, your journey of becoming a percussionist remains incomplete without acing these aspects. And among these, the ability to read and write a drum sheet is quite a critical one to breeze through.
Just like other musical instruments, drum music covers notes, keys, crotchets, quavers, bars, percussion clefs, and so on. The simplest way to understand and play these is through the ability to read a drum notation sheet.  Not only will you be able to play the beats and notes perfectly but you will also be able to perform songs even without practicing them beforehand. So, to rock any drumming performance like a pro, you need to unlock your ability to read a drum music sheet. 
But in case you're wondering how to read a drum music sheet, don't stress out, as we've jotted down all details about reading a drum sheet for you. So, let's delve further to understand and read a drum notation sheet successfully. 
How To Read A Drum Music Sheet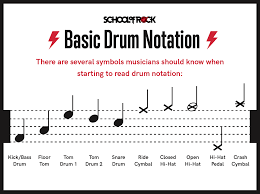 If you're trying to crack the skill, then it's important to grasps every part of the process including reading drum sheets. It's just a skill that will assist you when you're taking baby steps in drumming classes. By understanding how drumming patterns, notes and beats work, you'll have a better grasp of the instrument, especially when you play it. 
Until a decade ago, reading any music notation sheet required you to take proper music classes with bulky books on music theory. However, with technology stepping into the picture, there has been a lot of development, as now you can learn the instrument through software. And in the case of reading drum sheets, software for Drum Music Notation is quite helpful. 
Using the software, you can read, write, and listen to the notes you make and in turn, it points out your mistakes. This helps a lot in boosting up your learning graph by creating a link between the music you make on paper and the one you play on drums. 
One such Drum Music Notation that we would suggest to you is Guitar Pro, a super easy and quick resort to help you learn to read and create drum notes. 

Another essential thing you must pick up when learning to read a drum music sheet is placing the drumming ideas on the five lines known as the Staff. These five lines and the space between them is where you place the drumming notes. Not to mention, it is this staff or five lines that help you read the music sheet easily while playing the song. 
While the Staff helps you to read through the notes easily, there's still fallout with reading the drum music sheet. This means, how will you identify whether it is a guitar or a drum sheet? So, to resolve this confusion, a symbol known as Drum Clef was introduced, which signifies that the music sheet is specifically for drummers. It's also referred to as Percussion Clef. 
Besides Staff and Clef, you must also know about Drum Key, so that you can read the correct note. A Drum Key is a line or space on the sheet that indicates a drum or cymbal. Different keys come with mostly similar notes but with a little variation. 
We hope now you are well aware of the basics symbols that will help you understand notes while reading a drum sheet. Also, other important aspects that you need to know when reading a drum sheet are:
To put it in simple words, the note length means how long a note lasts in the tune. For instance, in a Blues track, the note length/value is long whereas, in heavy metal, it's smaller. 
Crotchet and Creative Crotcheting 
A Crotchet represents one beat in the music. It's the long stick pointing downwards is the crotchet. This forms a pattern, which you hear in the music. Further, creative crotcheting means in what variations you place the crotchet in the Staff. For instance, you take four crotchets and place a bass drum then a snare one followed by another bass and snare respectively. This makes the simplest note of all. However, if you place the bass and snare drum in variations, it makes the music more intricate and awesome. 

Usually, musicians put the music in fours, which means a note comes four times in variations, and then the note changes. This 4/4 thing is called the 'Time Signature', which breaks the music into variations to make it sound better in a flow. In 4/4, the top value indicates how many beat in a measure and the bottom number represents the note value. 
The Bar is the small chunk on the Staff, in case you observe a drum sheet and it is used to navigate the music. It makes the music readable and when a group of bars is placed together it's known as a section.  Further, in a drum sheet, quavers are also one of the basics. Quaver means ½ beat, and it's represented on the sheet by adding a little flick on the other end of the crotchet, also two quavers in a beat mean the crotchets are joined by a little bridge.
So, while reading the drum sheet, keep in mind the difference between crotchets and quavers, as it will help you understand how music flows. Now that you know how to read a drum music sheet with all these terminologies at your disposal, we hope you have a great learning experience. 
More to read:
The 10 Evergreen Standing Pillars of Rock Drumming
We hope you love our reviews! For your information, we do earn money from commission in the link in the content! For more information click here!