Updated on April 3rd, 2022
If you work in this music field, try not to sell yourself under or above. Be fair with venues and promoters in your deals while trying not to compromise the right of the bands to be paid for their time and hard work.
It's mostly fixed fee work with particular agreements in effect when it comes to functions, corporate shows, and other private performances. This means it is easier to decide what is traditional to charge.
How Much Should You Pay?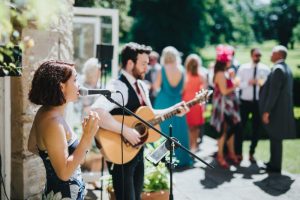 Take the average cover band found performing local ACDC tunes on a Friday. With around £500, they're probably walking down. But there's probably an explanation why they're so cheap compared to a luxury wedding band for hire. They prefer to be semi-pro players or amateurs. Their gear appears to be older, a little bit rusty, and lower in quality. And they're used to dealing with a pub's noise level, so it all ends up being very, very, very noisy.
The minimum amount is about £1000 to pay for a high quality, professional feature band. You ensure that your band is composed of top-quality, talented musicians at that figure. You know that they are going to deliver a stage production at the concert level, with pro audio and lighting output. Finally, and most importantly, it's the peace of mind of knowing that the band you have booked is extremely well versed in supplying your evening with the highest quality of entertainment.
Why Choose Bands?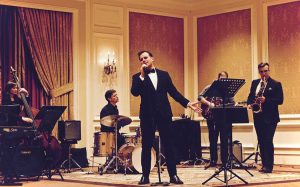 One of the more common choices is Bands and Ensembles. As a singer, rather than playing solo, there are some advantageous variables to being part of a band. Gig booking is much simpler because of the opportunity for mutual accountability, and it may well be argued that it is much easier to keep a dance floor filled with a full band's sound. That said, added equipment and extra charges can cause consumers some difficulties on a smaller budget. 
Acoustic Bands (£140 - £2350)
Acoustic bands can also show versatility in their pricing due to the versatile nature of their setup. Try searching for midweek gigs by reducing the price marginally and approaching pubs and restaurants if you perform in an acoustic band.
Disco/Funk Bands (£140 - £2350)
Disco/Funk Bands tend to be larger than other groups (often having a brass section or percussionists) and so they may charge more for the additional costs of additional musicians. The additional transportation of significant quantities of gear and/or lighting should also be taken into consideration. 
Jazz Bands (£350 - £4000)
Jazz bands and musicians are also very highly educated due to the nature of the genre. In determining how much you charge, a formal analysis should not always be taken into account, but it has a bearing on relative experience and its effects on musicianship should not be overlooked. 
Country Bands (£160 - £2950)
Country Bands can differ in the line-up and also have many multi-instrumentalists, which can influence pricing. As country music is more of a niche here than in the states, usual market dynamics would come into play concerning supply and demand (and it's not an easy style of music to reproduce faithfully). That said, fans appear to be really enthusiastic and are always willing to pay more to see a very good country band, although the scene might be smaller.
Solo Acts (£50 - £650)
You might think of a solo act or duo to perform at your afternoon drinks reception if that seems like just too much, but you're still desperate for some live music at your wedding. With the added bonus of not breaking the bank, this can be a sophisticated way to bring a little vitality to your afternoon.
Playing solo can be helpful from the perspective of a singer. Daily work can mean a versatile and simple set up at a reasonably low cost to the customer. For many factors, however, performing alone may be a task.
The mental drain of spending so much time alone on the events of other people should not be underestimated, and there is so much rivalry that it can prove difficult to develop yourself. 
Type of Event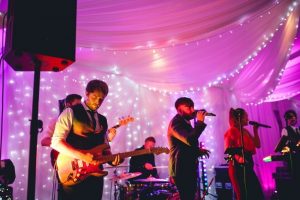 Usually, for weddings, performers will still charge a premium. This is because they typically take place at "peak" times of the year (over the summer, and other busy times), require very long hours of work, and can also be very high pressure (never forget the words for a first dance!) with you usually being the only evening entertainment.
This is offset by the fact that they will normally have a bigger budget in place, and consumers typically understand that it will not be inexpensive for a professional wedding act or band. Corporate events such as workplace Christmas parties or post-conference celebrations also often carry a premium, as it would typically be a company, rather than a person who picks up the entertainment costs.
Indeed, for certain businesses, the expense of the presence and enjoyment of suppliers and associates is a secondary concern. In general, restaurants, bars, and clubs will pay less, as they are trying to increase profit and cash flow.
Read also:
The 10 Evergreen Standing Pillars of Rock Drumming
We hope you love our reviews! For your information, we do earn money from commission in the link in the content! For more information click here!