Updated on April 3rd, 2022
The Cajon has a wide range of applications in music. For hundreds of years, boxes have been used to replace other drums everywhere from Peru's mountains to the Caribbean's islands. The most interesting aspect of this instrument is how flexible it is to most common settings. The Cajon is a box drum that is played with the hands and other objects. The bass tone, high tone, slap, and touch are all basic strokes. Although methods differ from player to player, the objective is to generate the greatest high and low notes while filling out the groove with softer strokes.
Without restricting oneself to these few, it's critical to build a technique that creates nice basic sounds. You may adjust the pitch by moving your heel across the face of the Cajon, for example. Brushes and other objects can also be used to strike the Cajon.
Cajon is a versatile instrument that is not just enjoyable to play. It can be played in both traditional and popular musical contexts.
Do you have any doubts about your ability to play this unfamiliar instrument? Don't be concerned. All you need are a few different strokes and sounds, rhythmic knowledge of a suitable drum set pattern for every particular music, and a little imagination.
We will share you our recommandation below:
So let's tell you how to play the Cajon.
You could come across a Cajon with a wonderfully painted, carved, or adorned face while looking for one. Without a question, there are some really gorgeous Cajons out there. Is this, however, an implication that it plays or sounds better than a less showy Cajon?
You should always try out a Cajon before buying it. Don't be misled by a product's name or look. These elements have no bearing on quality. The type of wood used to make the Cajon is an essential consideration.
The type of wood used may make two Cajons that look to be identical sound very different. One could have a rich, deep tone that resonates nicely, while the other might have a dull tone, buzzing, and poor projection.
For a well-made Cajon, birch, oak, and pine are usually suitable choices. That isn't to suggest that a great instrument can't be made out of less expensive wood; nothing should be ruled out. Before making a decision, the most important thing is to test it out for yourself. It's also a good idea to play it with a friend so you can hear how it sounds from the other side. Don't forget to get a case when you buy a Cajon. Cajons, like any other instrument, are susceptible to wear and tear when travelling. You'll want to safeguard your Cajon to ensure that it lasts as long as possible.
How to Sit on the Cajon
You want to make sure that you're playing the Cajon in a way that is both comfortable and safe.
The most popular technique to play the Cajon is to sit on top of it and smash the face with your hand over the front. Some percussionists like to sit in a chair behind the Cajon and straddle it with their upper body while performing. Others will play with it tilted inward. One of the wonderful things about the Cajon is that it can be played in a variety of genres.
It's critical to figure out which method works best for you. Stretching before and during a performance is crucial for health and safety reasons. You should also pay attention to your posture. Maintain a straight back rather than hunching over, but don't get overly tight.
You'll be able to reach all of the sections of the Cajon face that you need to while maintaining your back relatively straight (including the lower bass tones).
Playing the Cajon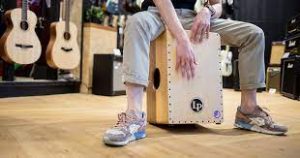 When the Cajon is great for making unexpectedly loud and sharp percussion, spend some time learning about the many tones that may be used while playing. Even if you don't have a bass drum, snare drum, or high hat, you aren't entirely restricted. There are two main tones you may make:
The bass tone is produced by striking the Cajon's face (front part) approximately a half-foot down. The lowest portion of the Cajon will reverberate, producing a deep, robust bass tone. Learning to strike the bottom portion of the Cajon to get those bass tones might be a little hard at first, as you'll have to reach down while maintaining a steady rhythmic pattern. You may produce a high tone by tapping the Cajon's upper corners. The vibration will be less, and the pitch will be higher than if you strike the centre or bottom of the Cajon. The sound is similar to that of a snare drum.
You may experiment with palm orientation and finger placement to produce varied dynamics and rhythms that are more staccato or muted. By familiarising yourself with the instrument, you may learn and explore all of these stylistic choices.
Slap Stroke
There's also a slap stroke. When the middle of your hand makes contact with the drum and your relaxed fingers continue forward, the slap is made. Be patient as you work on developing your right-hand placement and finger relaxation. Try practising this technique on a table's edge. Because the palm has already stopped, focus on the fingers hitting as a result of being relaxed enough to continue. This one is extremely similar to playing congas and mastering the slap on that instrument. Just keep in mind that a Cajon can't handle the same amount of power that a conga can.
These delicate strokes, sometimes known as grace notes or ghost notes, are felt rather than heard. They're timekeeping strokes that thicken your Cajon groove and make it easier for the other tones to fall into place.
Professional Cajon players use slightly different approaches when playing touch strokes. Some players appear to approach the instrument using finger methods similar to those seen in Asian hand drumming, while others take a more Afro-Cuban or Peruvian approach. The aim of the touch stroke stays the same regardless of technique. Fingers are used to make contact. It's a light stroke that may stand alone or be blended into other stroke styles.
The Cajon's rhythmic potential is virtually limitless, yet it has just touched the surface. Spend some time experimenting with these strokes to create your own grooves and fills (with and without pitch bends) and help shape the future of this intriguing instrument!
We hope this gave you a brief idea of how to play the Cajon!
More to read:
Everything You Need to Know About These 5 Best Conga Drums
We hope you love our reviews! For your information, we do earn money from commission in the link in the content! For more information click here!