Updated on April 2nd, 2022
In-ear monitors are becoming commonplace during live gigs today. This is a monitoring solution that professional drummers use to make the best decisions for dynamics and sound choices while playing live. The best in-ear monitors for drummers help you make better sound decisions and eliminate exposure to harmful volume levels on stage.
Before in-ear monitors musicians depended on stage monitors to hear what they were playing during a show. These wedge-shaped speakers face the band so the audience won't be able to hear these speakers over the loudspeakers. The problem with wedge speakers is that they clutter the stage since they reproduce sound picked up by different microphones on the stage. The singer's microphone is capturing the cymbals, the guitar amps, another mic would be handling the big band brass section, another one drum overheads, and so on. This creates a crowd of beats which can be a problem for musicians.
The stage monitors had a complicated setup as well. There was a side fill mix which was PA systems on the side of the stage, full-range speakers called the drum fills placed behind the speaker, and several different mixes fed to wedges located near each band member. Not only did the musicians have trouble monitoring their music,  but FOH and monitor engineers will also have a hard time mixing the show.
In-ear monitors or IEMs saved the day for musicians. A simple in-ear monitor setup features a mixer to which signals of all your mics and instruments are sent. In-ear monitors are connected to this mixer and output is assigned to each one so that the parts can be listened to individually. The best in-ear monitors provide performers ample ear protection while solving different technical issues and providing an excellent uncluttered monitoring solution.  They also reduce feedback because there are fewer speakers on stage. Here are some of the best in-ear monitors for drummers to help them get through their live shows.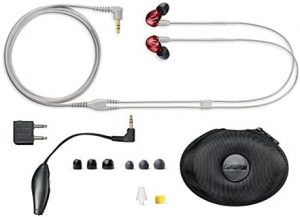 Product Highlights
The SE535s are sound-isolating earphones from Shure. They come with a range of ear tips to ensure the comfort of its user. These are lightweight earphones that include three tiny speakers on each side, one tweeter, and two woofers. Shure's cable is detachable, Kevlar-reinforced, and extra thick and therefore it resists tangling.
Features
The SE535 highlights three balanced armature drivers in each earbud. Two are coupled for resonating lower frequencies, and one is dedicated to high frequencies. With a maximum frequency response of 19.5kHz, the dynamic reach of the device is wide and it can play loud music without any distortion.
What We Like About Shure SE535
Shure's design is lighter and is, therefore, easier to wear for longer periods.
What We Don't Like About Shure SE535
These earphones have no in-line microphone or remote on the default cable.
Pros
Cons
impressive sound isolation
Broad soundstage
Expensive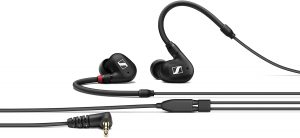 Product Highlights
If you want bassy sound and emphasized vocals then Sennheiser IE 40 pro is the best choice. Fitted with a dynamic 10mm broadband transducer for warm, high-resolution sound, the IE 40 Pros are worn with the cable trailing over your ears. The top part holding its shape using an internal cable duct gives an over-ear fit. This accessory is designed for on-stage musicians and helps reduce cable noise when exercising.
Features
This earphone is a single dynamic driver (DD) monitor earphone that is warm and cohesive sounding. It has a natural tonal quality with prominence on the low-end. Every note is enhanced to make it more detailed which makes it the best in-ear monitor for drummers. The well-balanced sound and clean audio make it a popular pick among musicians.
What We Like About Sennheiser IE 40 PRO
It is an excellent in-ear monitoring solution.
What We Don't Like About Sennheiser IE 40 PRO
The soundstage is average.
Pros
Cons
Comfortable fit
Balanced sound
Average soundstage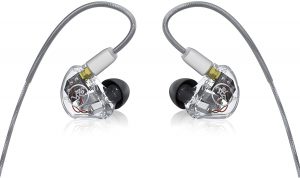 Product Highlights
The Mackie MP-360 in-ear monitors feature a triple-balanced armature design. These monitors provide crisp and clear sound and are suitable for anyone looking for accurate sound for everyday listening. These earphones house a wide range of frequencies, allowing you to hear any style of music expressively.
Features
These in-ear monitors accompany a hard case, cables, earpieces of varying sizes, cleaning tools, and a 1/4 inch adapter. The hard case makes it great for traveling and gigging with. The triple balanced armature drivers contribute to a frequency response of 20Hz to 20kHz and a 36-ohm impedance, while the earpieces are designed with passive noise isolation. They block up to 40dB of sound, allowing drummers to hear everything clearly over the drums in front of them. The sound isolation is what makes them great practice earphones.
What We Like About Mackie MP-360
They feature a comfortable fit that will work for most environments.
What We Don't Like About Mackie MP-360
The sound signature is not apt for those seeking bass-forward audio.
Pros
Cons
Accurate and detailed sound signature
Inline remote included
Expensive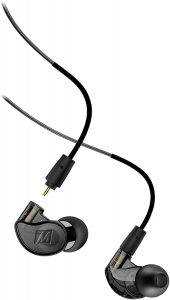 Product Highlights
Featuring IEM design and included accessories, the Mee Audio has positioned the M6 Pro as a professional monitor earphone for musicians. These are one of the best in-ear monitoring headphones that are budget-friendly and lightweight built for user comfort. The earphones boast great sound spanning and a wide range of frequencies.
Features
The MEE Audio M6 PRO highlights a transparent casing revealing simple circuitry. The device features sweat resistance making it a durable headset when it comes to water resistance. It accompanies detachable earbuds allowing you to disconnect from all wires and ties while still protecting your ears. This is particularly useful for drummers.
What We Like About MEE Audio M6 PRO
The soundstage is accurate and smooth.
What We Don't Like About MEE Audio M6 PRO
The build quality could be improved.
Pros
Cons
V-shaped sound signature
Punchy bass
Flat background detailing/strong>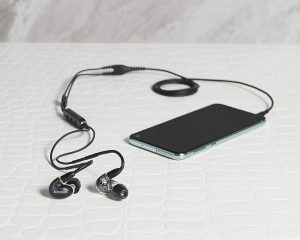 Product Highlights
Highlighting three high-definition balanced armature drivers, two dedicated woofers, and a separate tweeter, these in-ear monitors can deliver enhanced highs and warm mid-range with clean and natural low-end. It has a customizable frequency response to let you tailor your audio experience. You can choose between balanced, warm, and bright audio through removable nozzles for three unique sound signatures.
Features
One of the most noteworthy features of the AONIC 5 is the wide soundstage and the left/right stereo accuracy. The spatial imaging is flawless featuring great accuracy when it comes to positioning instruments and vocals in the relatively wide soundstage. The Bass response and lows are full-bodied and controlled. This device showcases well-balanced sound with no signs of distortion even at high volumes.
What We Like About Shure AONIC 5
It offers a balanced and accurate sound signature suited for audiophiles and sound engineers.
What We Don't Like About Shure AONIC 5
If you want a more textured and dynamic sonic signature these are not the monitors for you.
Pros
Cons
Excellent sound isolation
Low profile design
Poor sound separation
Final Verdict
The best in-ear monitor for drummers, according to our review, is the Shure SE535. These are sound-isolating earphones from Shure that are lightweight and provides necessary features for in-ear monitoring. A well-balanced soundstage coupled with clear and crisp audio makes it a great choice for all drummers.
There are certain things to consider when you buy an in-ear monitor. Try to get IEMs that have detachable cables. Since the cables are under stress as they bend around the ear lobe your sweat can start eating away at the cable plastic.  The cable should be reinforced for a few centimeters for added durability. Make sure that you can easily buy replacement parts - earpieces, cables, drivers, etc. for the earphones you choose. Two drivers are recommended for increased headroom and clarity, as well as increased bass response. Also, keep in mind that the model you pick allows you to try a variety of different earbud sleeves depending on the level of your comfort.
Buyer's Guide
Here are some of the features that you have to look at while buying an in-ear monitor.
Sensitivity: Usually specified in dB SPL/mW, it means how much sound pressure your in-ear monitor can produce for each milliwatt of power fed into the earbud. The higher the value, the louder the IEM will be.
Impedance: Usually higher impedance headphones tend to have a better bass response but will need a more powerful headphone amplifier to drive them. Most IEMs have low impedance.
Frequency Range: This is usually specified in a range of Hz followed by a variance/tolerance specified in dB. When the tolerance is much smaller the earphones will have superior sound fidelity.
We hope this review on the best in ear monitors helped you.
More to read:
Best Hi-Hat for All Drumming Enthusiasts Out There 2021
We hope you love our reviews! For your information, we do earn money from commission in the link in the content! For more information click here!