Updated on April 4th, 2022
If your kid is interested in learning the drums and is often fascinated by the instrument, we suggest you go ahead and encourage him/her. But the first that thing that you should do is get a good kids drum set. 
Well, learning the basics of playing drums can surely make a huge difference in their future playability. But you can't expect a kid of 8 or 10 years to learn on huge drum sets, right? They need a kid or a junior drum set. You need not be worried about how your kid will catch up with his/her drumming sessions as the right drum set and proper guidance will lead him/her to understand and play the instrument well. Not to mention, rock their gigs in the future. 
Since the market has a plethora of options for kids/junior drum set, picking one can be a little complicated. This is because there are different sizes of drums available with a wide variety of drumheads, sticks, beaters, cymbals, thrones, hardware, and pedals. Basically, kids drum sets have everything that is typically present in any adult drum kit.
 So, to pick out the right drum kit for your child, we've conducted extensive research on some top-notch models. This research helped us to compile the 5 best kids drum sets that available on the market today. Check out this compilation and select one that suits your kids' needs best. 
1. Gammon 5-Piece Junior Starter Drum Kit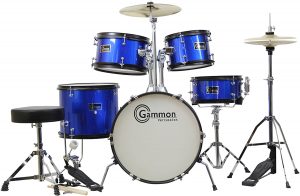 Overview of Features 
If you want a complete drum set for your kid, but a small-size, then there's no other company better than Gammon. The Full-line drum company, Gammon, is known for its excellent quality drum sets and superior customer service. 
This 5-piece junior starter drum kit is constructed using real wood drum shells, which allows the young drummers to get a perfect start. In other words, this set includes 2 tom drums, snare drum, hi-hat stand, cymbals, mounted cymbals, stool, key, and even sticks. 
So, if you are buying this drum set, you don't need to buy anything else, as all parts of a drum come with this kit. Further, its impeccable quality makes Gammon 5-piece junior drum kit a perfect gift for your kid providing him/her endless hours of learning and enjoyment. 
What We Like About Gammon 5-Piece Junior Starter Drum Kit
Gammon 5-Piece Junior Starter Drum Kit is a surprisingly incredible product, as you get an exceptional quality set at a cost-effective price. Another notable aspect of this kit is its high durability. Since it is a junior drum set, durability is essential because even if your kid bangs it hard, the kit can withstand it.
 Moreover, the assembling of this kit is easy and its strong hardware makes it perfect for everyday learning and practice as well. Not to mention, this Gammon junior drum kit is an amazing choice for those who want to make a one-time investment. 
What We Like Don't Like About Gammon 5-Piece Junior Starter Drum Kit
On the downside, this drum kit's foot pedal and mount tightening require adjustment for better sound output. 
        Pros
        Cons
Durable
Affordable
Strong hardware uses real wood drum shells
Includes all parts of a drum
Foot pedal and mount tightening needs adjustment
2. Mendini by Cecilio Kids/Junior Drum Set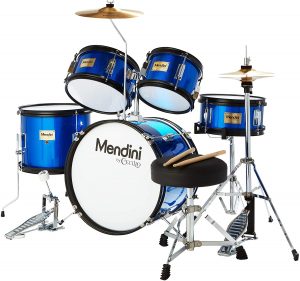 Overview of Features 
Mendini by Cecilio 5-Piece Junior Drum Set with Cymbals is a perfectly functioning 'all-in-one' drum set designed especially for entry-level drummers.  This package has everything you need to set up and play in no time. Besides, it's a great present for a young drummer who needs the most authentic experience but might be too short for a full-size drum kit.
Featuring 16" x 11" Bass drum, 12" x 10" Floor Tom, 10" x 6" Matching Snare Drum, 10" x 5" and 8" x 6" Tom Toms alongside 8" Hi-Hat coupled with a stand, this junior drum kit is the perfect combination of decent quality and reasonable price. Moreover, kids under 5 feet height can totally enjoy playing this set. 
Besides, the drum kit has a 10" Crash Cymbal with Bass Drum Mounted Stand, adjustable drum throne, bass drum pedal, and a pair of wooden sticks. On the whole, this drum kit is an excellent piece for your kids. 
What We Like About Mendini by Cecilio Kids/Junior Drum Set
The most impressive feature of this drum set is its configuration. Every part of the drum is organized and configured in such a way that it makes it quite easy for your kid to catch up and learn to play well. Moreover, the sound is decent enough but what makes it stand out from other drum kits is its realistic experience of learning an adult drum. It comes with 4 lugs, which is enough for a junior drum set, as it helps in tuning and produces great sounds. 
What We Like Don't Like About Mendini by Cecilio Kids/Junior Drum Set
Mendini by Cecilio kids drum set has a couple of setbacks. Even though it's affordable yet the cymbals need improvements, as it is of low quality. Moreover, the number of lugs could have been more for much better sound. 
        Pros
        Cons
Suitable for new learners/kids
Complete 5 pieces included
Durable
Affordable
Decent sound quality
Low-quality cymbals
Only 4 lugs
3. GP Percussion GP50BL Complete Junior Drum Set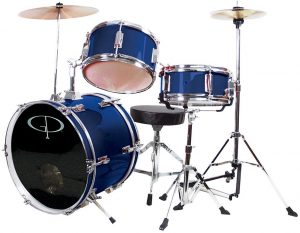 Overview of Features 
GP Percussion GP50BL drum set is perfect for children, who are interested in playing drums, but they're not sure if it's going to turn into a long-term passion or just a passing dream. It has everything your child wants to learn about, the ins and outs of drumming. It's a decent quality product and doesn't cost a lot of money either.
In addition to this, this drum set is crafted to accommodate kids up to 7 years old but any child more than 7 years might face difficulty while playing it. Besides, it comes with a 10'' cymbal, hi-hat, and bass pedal, which all together increases the drumming options of your kid. Above all, this drum kit will definitely make a good choice for kids, as it includes every part that is essential for proper drumming. 
What We Like About GP Percussion GP50BL
The most notable aspect of GP Percussion GP50BL is its functionality. Considering a 3-piece drum set, the functions and features it offers are quite impressive. In other words, there are 3 pieces of the drum, which are separated across a freestanding hi-hat, a bass drum section, and a freestanding snare with the attached cymbal and tom. This approach of 3 separated pieces across the cymbal and tom results in providing multiple functionalities, all at the same time. Despite these multiple functionalities, setting up and controlling this drum set is quite easy.
 Also, it delivers quite well enough sound quality, which ensures that your kid enjoys while drumming. Lastly, for any aspiring percussionist, this drum set is just a perfect way to start their drumming journey. 
What We Like Don't Like About GP Percussion GP50BL
GP Percussion GP50BL isn't a professional quality instrument and is also expensive compared to other similar drum kits. So, in case you get it and your child continues to pursue drumming further, then you might need to upgrade to a better quality kit. 
        Pros
        Cons
10'cymbal, hi-hat, and bass pedal
Provides multiple functionalities
Easy setup
Suitable for up to 7 years
Not a professional quality kit
Expensive
4. Ludwig LC178X025 Questlove Pocket Kit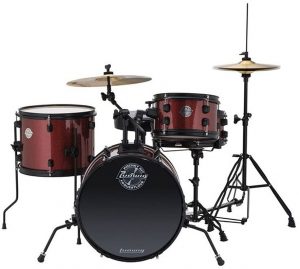 Overview of Features 
If you're looking for a drum kit that is easy to assemble, can be easily tuned, and can be used by your kid, then you really need to check out this kit. With the Ludwig Pocket Kit, you can guarantee the future of your child with an exciting drum experience that fits their talent.
Ideally suited for beginners, this drum set is a complete package that is capable of producing amazing sounds and is also highly durable. Moreover, it includes everything that a drummer needs, from a bass drum to a cymbal arm to a hi-hat stand with a pedal. Plus, you also get access to video tutorials on racking and tuning the drum set as well as video lessons on rudiments and stick techniques. So, as a parent, you can definitely invest in this kit if your child is an aspiring drummer. 
What We Like About Ludwig LC178X025 Questlove Pocket Kit
From conventional mounting techniques to delicate fine-tuning, Ludwig LC178X025 is an incredible drum set that produces amazing sounds. One notable aspect of this drum set is that it can deliver quite outstanding high-quality wrap finishes. In other words, the set is perfect for playing regular acoustic drums, as the original drumheads are quite impressive. 
Apart from these, the construction of the kit is durable, as mentioned above, and it is due to the hardwood body and steel used to craft it. Even the rods and screws used, reflects a long-lasting aluminum finish. This drum kit even allows you to adjust the ride cymbal away from your bass when playing, you can balance the weight of the set perfectly on the surface, and this way you don't have to spend extra dollars on single-way stands. 
What We Like Don't Like About Ludwig LC178X025 Questlove Pocket Kit
Considering the price, the cymbals used are not of great quality and need a serious upgrade. Moreover, the feet could have been more stable and carry a creative look as well. 
        Pros
        Cons
Suitable for beginners
Delivers high-quality wrap finishes
Durable and sturdy hardware
Lightweight
Provides access to video lessons and tutorial
Lacks good quality cymbals
Need a stable and creative feet
5. Alesis DM6 Compact Beginner Electronic Drum Set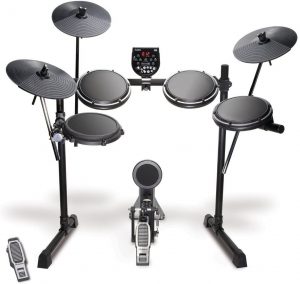 Overview of Features 
Alesis DM6 has been on the market for years now and has emerged as one of the best-selling budget electronic drum sets. It's still competitive in certain areas of electronic drumming if you're hunting for an entry-level kit, especially for kids. 
The DM6 drum set includes 8 drum pads. There are three 8" single-zone tom drums, three 12" cymbal pads, one kick pad, and one dual-zone snare. The latter facilitates the rim hits and standard sounds. This set also contains a bass drum pedal, a hi-hat pedal, and a pair of low-budget sticks. 
Apart from these, the drum set comes with an AC adapter and a rack for the drum pads. While the rack is aluminum made, it has become quite an advantage for performers, as it can be easily carried for gigs. A decent electronic drum kit, the Alesis DM6 is a good value for money. 
What We Like About Alesis DM6 Compact Beginner Electronic Drum Set
When it comes to performance, Alesis DM6 stands out among many other drum kits. Besides, the surfaces of the cymbals and pads supplied by Alesis are real, play-friendly pieces that ensure a good drum sound. It is due to the realistic vibrations that you feel when you play this set, through which you can achieve strong natural dynamics. Moreover, the set comes with a USB connection that can be used to transfer MIDI data. Lastly, this drum kit can even be extended to simulate the double bass pedals. 
What We Like Don't Like About Alesis DM6 Compact Beginner Electronic Drum Set
Even though the drum kit implies it's good for new learners, especially kids, yet it lacks a learning mode. This can make it difficult for kids to play drums. Plus, it lacks options for mesh heads. 
        Pros
        Cons
Entry-level beginner electronic drum kit
Quantum 4K processor
Includes 8 drum pads
Cymbals and pads surface real and play-friendly
Comes with an AC adapter and a rack
Lacks learning mode
Lacks options for mesh heads
Conclusion
If we have to suggest one, then we would say the Gammon 5-Piece Junior Starter Drum Kit is the best kids drum set. You can surely go for this one, as it's an excellent quality drum set, and the brand Gammon provides superior customer service. Moreover, owing to its incredible quality, this drum kit makes a perfect gift for your kid providing him/her endless hours of learning and enjoyment. 
Nevertheless, you can also check out the other products on the list if it suits your requirements and budget.  
Read also:
Best Drum Machines for Beginners and Pro-Drummers 2021.
We hope you love our reviews! For your information, we do earn money from commission in the link in the content! For more information click here!