Updated on October 6th, 2021
It is said that cocktails were inspired by the British. They were big bowls of spirits mixed with fruit juice, spices, and other flavors, consumed in punch houses in the 18th century. Increasing the popularity of the drink is the world's cocktail day which is celebrated on May 13. These drinks have become a necessity at any party. Bartenders expertly mixing drinks at the counter rimming the glass with salt, adding a tiny umbrella, and a twist of orange peel is a very common sight. Since households have started to get hold of a hand blender at home, making cocktails at the comfort of your home has become easy. Both young and old alike love cocktails and as a result, the number of cocktail recipes is constantly being added to the already existing cocktail recipes. There are scores of recipes available online and you might even have a customized recipe. 
Here are a few easy cocktail recipes with a blender that you can make at home for your party or just for a relaxing day at home. These can be prepped up with just a simple hand blender that you have at home.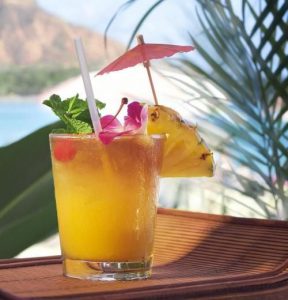 1.The Pineapple Express
If you have seen the movie you might want to try out the drink as well. Here is how to make it. 
Ingredients:
50ml Jamaica Cove pineapple rum

25ml lime juice

40ml pineapple juice

10ml simple syrup
Method:
Add all ingredients with 250g crushed ice into a blending bowl. Blend the ingredients well. Pour it into a coupe glass and, garnish with pineapple leaf and pineapple wedge.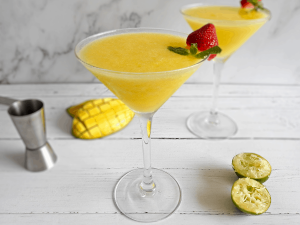 2. Mango Daiquiri
You might all be familiar with fruity daiquiris. Strawberry daiquiri has become quite a favorite among the crowd. If you are a mango lover then it is time to try a mango daiquiri.
Ingredients:
2 cups mango chunks (fresh or frozen)

2 ounces rum

Juice of 1 lime

1-ounce simple syrup

1 cup ice

Mint sprig for garnish
Method:
Put together the chunks of mango, rum, lime juice, simple syrup, and ice into a bowl. Cover the bowl and mix the ingredients slowly and thoroughly with your hand blender. Pour the concoction into a stemmed glass and garnish with a sprig of mint. 
If you want a budget-friendly and good quality blender, try out the Acekool Blender BH1 which's a 5-in-1 immersion stick blender. Moreover, it comes with a wide range of 12-speed settings and a 304 stainless steel four-leaf sharp blade. Such easy cocktail recipes with a blender taste delicious and of course refreshing.

3.Irish Coffee Shake
If you are a fan of drinking milkshakes then chances are that you might enjoy an alcoholic milkshake. The Irish coffee shake is tasty and creamy and has delicious flavors of Irish cream and coffee.
Ingredients:
2 scoops of vanilla ice cream

2 ounces Irish cream liqueur

1 teaspoon espresso powder

2 ounces Kahlúa

1 cup milk

Whipped cream and roasted espresso beans for garnish
Method:
Add ice cream, Irish cream, espresso powder, Kahlúa, and milk. Using a hand blender, blend the mixture until smooth. Pour it into a highball glass and garnish it with the whipped cream.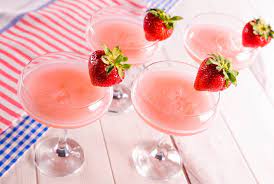 4. Frosé 
Frozen rosé wine slushies are made with frozen fruit and your favorite wine. These cold and refreshing summer cocktails will only take a few minutes to prepare. 
Ingredients:
Wine 60 ml

Fruit 6 cups

Sugar [If you are using a sweeter wine or a sweet fruit sugar is avoidable]
Method:
This recipe generally uses rosé wine, but, you can use the wine you prefer, it could be sauvignon blanc, pinot grigio, or moscato. Make sure you chose something light and fruity that is best served chilled so that it goes with the drink.
This recipe is fairly simple. Put all the ingredients into a bowl. Mix all the ingredients with your hand blender.  Pour it into a snifter glass and enjoy.
Frosé is best when all the fruit and wine that you have mixed is cold. It is better to keep the fruits in the freezer before making the drink to add to the chillness of the drink. You can try these fruit combinations to make a frosé strawberry and watermelon, strawberry and raspberry, raspberry and peach, strawberry and peach, and mango and peach.

5. Boozy Frozen Lemonade 
Lemonade is a favorite summer drink. What if some alcohol was added to it to make it more interesting? This is a great drink for all those summer hangout sessions you host for your friends at home. 
Ingredients:
2 ounces lemon sorbet

2 ounces lemonade 

30 ml vodka 

Ice
Method:
Place sorbet, vodka, and lemonade in a blender jar. Add some ice and blend until smooth and serve immediately because it is best served cold. 

6.Spicy Cucumber Mint Margarita
In case you want a veggie drink that is both minty and spicy, then the spicy cucumber margarita is a drink to try. 
Ingredients:
1/2 cup cucumber (peeled, seeded, and chopped)

2 tablespoons sugar

2 ounces key lime juice

6 mint leaves (chopped)

2 1/2 ounces reposado tequila

1/2 ounce orange liqueur

2 dashes of hot sauce (Tabasco)

6 ice cubes
Method:
Place cucumber, sugar, key lime juice, mint, tequila, orange liqueur, and hot sauce in a blender jar. Using a hand blender, blend all the ingredients for a minute. Rim a margarita glass with salt; use a lime wedge or cucumber slice to wet the rims. Pour in the concoction and garnish with a cucumber slice.

7.Frozen Bramble 
This is a drink for whiskey lovers. There is nothing like drinking some whiskey with ice from a lowball glass after a long hard day. In case you want to make your drink more interesting try out the frozen bramble. With a dash of honey, this drink can let you stomach your whiskey in one straight shot. 
Ingredients:
40ml Glasshouse Whisky

10ml Bramble Liqueur 

5ml honey

10ml lemon juice

100ml ginger beer
Method:
Add all the ingredients into a blender jar with 4 ice cubes. Put two cubes of ice in a lowball glass and pour the blend. 
There are numerous easy cocktail recipes with a blender as these that you can make. Try one of these refreshing cocktail recipes this summer and get your party started.
More to read:
Best Hand Blender in the U.S. That You Must Check Out 2021 
Best Stand Mixers in the U.S. That Are Selling Like Hot Cakes 2021       
We hope you love our reviews! For your information, we do earn money from commission in the link in the content! For more information click here!