Updated on April 3rd, 2022
If you have planned to meet a friend for a cup of coffee in the evening or have wanted to go out to grab a bite or two, you wouldn't want to be all dressed up, right? Something casual and comfortable works just fine for you. Jeans and a t-shirt would be your go-to but why not opt for something even more relaxing and comfortable. We are talking about hoodie dress for women. Stylish yet comfortable, these hoodie dresses don't require a lot of effort to wear. All you need to do is slip it on, and team it up with comfy shoes or sneakers and you are good to go.
We have listed some of the trendiest hoodie dresses for women below that you must check out today.
1. GloryStar Women's Hoodie Dress Pullover Tunic Sweatshirt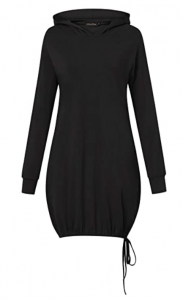 Pullover hoodie dresses like the GloryStar Women's Pullover Hoody Dress are available in several styles and colors. This is only one of many examples of a women's pullover hoodie dress. It's a really simple style and is liked because it's fitted and has a comfortable feel. This hoodie dress is ideal for all times, whether you're going for a jog, traveling, or just running errands. It is made of high-quality cotton and is stretchable. The dress falls right above your knee and comes with kangaroo pockets. You can either wash this dress in a washing machine or with your hands.
If a black hoodie isn't your style, but you like the cut, don't worry; it comes in a variety of colors. This particular style would be a good addition to any woman's wardrobe.
2. GloryStar Women's Hoodie Dress Pullover Fitted Knee Length Dress
For those who love stripes, check out the GloryStar Women's Hoodie Dress. The dress comes in a bright red color to suit your vibrant personality and is ideal for brunches or a day out in the city.
3. GloryStar Sweatshirt Casual Maxi Dress
If knee-length is not your style, then GloryStar Sweatshirt Casual Maxi Dress may be just what you are looking for. It combines elegance and a funky, casual look, all in one dress. Made of 60% polyester, 35% rayon, and 5% spandex, this dress is created from breathable knitted fabric. It's the ideal attire for shopping in the summers. The dress is ankle length with kangaroo pockets and a slim waist to accentuate your body.
4. GloryStar Long Sleeve Pullover Hoodie Maxi Dress
Another type of hoodie dress that you should explore if you love long sleeves is GloryStar Long Sleeve Pullover Hoodie Dress. It comes in a variety of colors and is highly stretchable. The dress has a hoodie with drawstrings to add that extra dash of style. With kangaroo pockets and a diverse range of patterns, you just cannot go wrong with this dress.
5. SweatyRocks Sweatshirt Dress Hoodie Pockets Grey Dress
There are hoodie dresses for women made especially for physical activities like running. SweatyRocks Sweatshirt Dress Hoodie Pockets Grey Dress is ideal for remaining fashionable when working out. It's made up of 95% polyester and 5% spandex.
It's available in black, green, blue, red, and black, among other colors. The dress has pockets and it's not as bulky as some hoodies.
6. Simplee Women's Knit Long Sleeve Sweater Dress
The knit fabric and the simple color scheme appeal to us. Although some people prefer tailored clothes, the loose style of Simplee Women's Knit Long Sleeve Sweater Dress works well for a laid-back look. The price is also unbeatable.
If you don't like this color scheme, there are also brown and green choices. A knit hoodie dress is a perfect addition to every wardrobe in general. It's special, like a combination between a Baja hoodie and a traditional athletic hoodie.
7. Mexican Baja Hoodie Pullover Sweater
Baja hoodies originated in Mexico about 50 years ago and were mostly made of extremely soft materials. They used to be shaped like simple pullovers and ponchos, but now they're also available in hoodie types.
In reality, many Baja hoodies are sleeveless, which gives the wearer a more desirable appearance. Wear a Baja hoodie with shades, a messy bun, and loose-fitting cotton traveling pants if you love the hippie lifestyle.
If you wish to wear this Mexican Baja Hoodie Pullover Sweater as a dress, then just buy one or two sizes larger than what you normally wear and you'll be good to go. Of course, the Baja hoodie is a great option for jackets even if you're not aiming for a particular look.
The vivid stripes of black, gold, green, and red, among other colors, are one of the most recognizable features of a Baja hoodie. They come in a variety of colors and patterns, including turquoise and black, purple and grey, and purple and black, and their unique and bold designs make them a popular choice among hoodie wearers.
These are some of the popular hoodie dresses for women that are currently in trend. You can always pick a style that suits your personality and you're are sure to make heads turn.
Read also:
4 Chic and Comfortable Pair of Sweatpants For Women of Today 2021.
Best Stand Mixers in the U.S. That Are Selling Like Hot Cakes 2021        Acekool Stand Mixer
We hope you love our reviews! For your information, we do earn money from commission in the link in the content! For more information click here!