Updated on September 23rd, 2021
Since last year, the global pandemic has had us locked away indoors. Offices, schools, colleges, everything has been happening online and continues to. One thing that has happened well is you didn't have to spend on jeans and other formal clothes, right? Most of you worked in sweatpants and nothing could have been more comfortable. Sweatpants for women have been in high demand, they are comfortable, and you can just wear them and work all day, exercise, and do anything for that matter without any discomfort. 
If you are looking for Sweatpants for women that are stylish and affordable, you should try out the GlorySunshine sweatpants that are chic, look great, and feel amazing at the same time. 
So, dump all your tight jeans and dresses aside and check out some of GlorySunshine's amazing sweatpants collections. We have listed 5 variations for you to choose from. 
1. GlorySunshine Sweatpants in Black

Whether it is yoga, regular jogging, casual outdoors, or intensive workout, GlorySunshine Women's High Waisted Sweatpants in black will be just the perfect partner for you. Made of fabrics that are comfortable on your skin, these sweatpants are lightweight, and also breathable. 
With double drawstrings, pocket, and elastic waistband, these sweatpants for women look extremely durable. These classic black sweatpants can be styled with any regular graphic tees or a black hoodie and you can get your casual day/night look without much fuss. 
2. GlorySunshine Sweatpants in Camouflage Print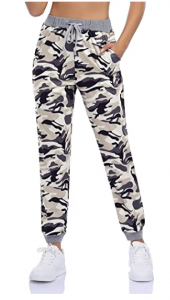 Are your jeans and skirts making it uncomfortable for you to sit in the office for long hours? But wearing regular sweatpants to the office doesn't feel right? Well, then you must try these Camouflage Print sweatpants from GlorySunshine. 
Pair it with a black tank or Spaghetti top along with any canvas shoes and you will surely look amazing. Its Loose Straight Leg Design is perfect to wear on any occasion- sports, gym, yoga, lounge in, and even when just working at home. These sweatpants for women are just what all of you need!

3. GlorySunshine Sweatpants in Blue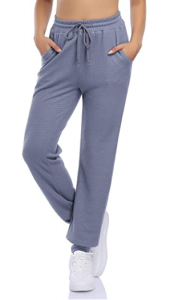 Have your friends planned a sleepover? Exciting, right? But won't you need something comfy to wear? Don't you worry; you can try out the GlorySunshine Sweatpants in blue. Made of waffle material, which is a soft and skin-friendly fabric, these sweatpants for women are super cute and chic. 
Team these sweatpants with any boyfriend shirt for total comfort and enjoy the cozy feel throughout your sleepover with your girl-friends. Not to mention, GlorySunshine Sweatpants in Blue is extremely trendy and can match up to your style quotient really well. 
4. GlorySunshine Sweatpants in White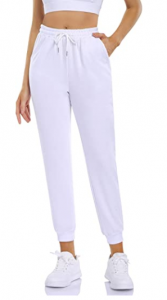 Have plans for a casual day out and still have not decided what to wear? Well, the GlorySunshine Sweatpants in white can never go wrong.  Pair it with a white or floral crop top or any colorful t-shirt, slip on your white canvas shoes and you're sure to look quite trendy and stylish. 
You can even try this look while traveling; it will make for a cool airport look. Plus, you can recreate one of those celebrities' favorite looks with this pair of sweatpants. 
With these sweatpants for women, you can be all comfortable at home and even when heading out. If you can want to go all out there and make heads turn, then you can even wear it with a pair of high heels. Yes, you heard that right. If you think you can rock it, then go for it.
Without a doubt, the GlorySunshine Women's High Waisted Sweatpants is the best one in the market today that offers great quality at a pocket-friendly price. Made of super comfortable fabric, offering stretchable waistband and side pockets, this pair of sweatpants is just the perfect wear for the active women of today! 
So, what are you waiting for, ladies? Go grab your pair of sweatpants today!
Read also:
Discover a Hoodie Dress That is Perfect for You 2021
Best Air Purifier in the U.S. for Better Respiratory Health 2021             Acekool Air Purifier
We hope you love our reviews! For your information, we do earn money from commission in the link in the content! For more information click here!