Updated on September 23rd, 2021
There are plenty of workwear for men in the fashion market. Workwear, just like other clothes keep changing to match up with the trend. However, comfort never goes out of style.  Most men like you often prefer to wear shirts that are comfy and feel soft on your body. Especially during summers, work shirts that can keep you cool and prevent you from sweating too much at their workplace are preferred. 
There are numerous work shirts for men on the market that are made of high-end fabrics and that protect from wind, soot, and grease. Today, we will have a look at the Kuulee work shirts for men that are not just about comfort but also about style. 
We have listed down some of the best Kuulee work shirt collections that are in vogue. 

1. KUULEE Men's Tactical Cargo Work Shirt Military Green
The Kuulee men's tactical cargo work shirt is a fully cotton workwear featuring durability and comfort. Available in multiple colors including green, purple, sky blue, and black, this shirt is designed to give an elegant but simple look to its wearer. Both full sleeve and half sleeve versions of this shirt are available for those with sleeve length preferences. 
The shirt is made of high-quality cotton fabric and therefore won't shrink after being washed or ironed. Moreover, this is a slim-fit shirt that can be a perfect match for casual occasions as well. 
2. KUULEE Men's Work Shirt Half Sleeve White
If you want to wear a shirt that is fashionable and trendy to work, then try the KUULEE Men's half sleeve work shirt. This button-down work shirt is designed with a classic, relaxed fit ideal for all working men. It is a half-sleeved buttoned shirt fully made of cotton that can survive a long day at work. 
Besides, the half sleeves keep you comfy and prevent excess sweating. White shirts can be paired with most colors. Team it with navy blue, black, or dark brown pants for a professional look. 
3. KUULEE Men's Tactical Cargo Work Shirt Purple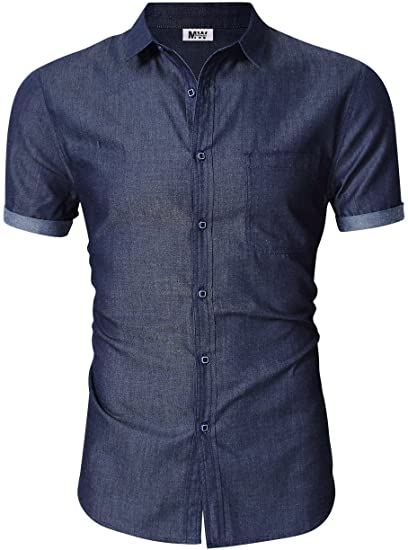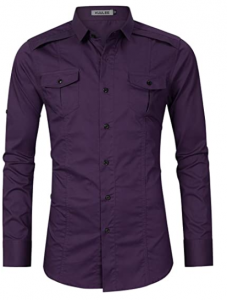 Made of pure cotton, the purple work shirt for men from Kuulee is a great choice if you are heading to an office party straight after work. Complete with roll-up long sleeves with two-button adjustable cuffs, this is a stylish as well as a formal shirt. Besides, this work shirt can be machine washed and can be taken care of easily, adding to the durability factor. 
4. KUULEE Work Shirt Full Sleeve White 
This work shirt for men has two button flap pockets where you can store a pen in case you need to jot down something quickly. It can give you a trendy as well as professional look. Pair it with black or brown formal pant along with a matching blazer and you're ready for your meeting. 
Workwear is supposed to keep you comfortable all day long. The fit should be neither too tight nor too loose. Cotton fabric is better when it comes to choosing a work shirt. Moreover, it makes for a great fit and also can keep you cool during summers and relaxed at work. 
These work shirts for men are pretty trendy, so make sure you grab yours today. 
More to read:
4 Chic and Comfortable Pair of Sweatpants For Women of Today 2021
We hope you love our reviews! For your information, we do earn money from commission in the link in the content! For more information click here!