Updated on April 1st, 2022
In 2022, Samsung has unveiled its top tablet, the Samsung Galaxy Tab S8 Ultra. The Samsung Galaxy Tab S8 series, which comprises a basic Tab S8, a bigger Tab S8 Plus, and the massive Tab S8 Ultra, has gone on sale this week in Korea and the United States, and next week in Hong Kong. The Ultra variant is also the most powerful since many electronics firms seem to assume that larger is better. After a week of intensive usage, we believe the Galaxy Tab S8 Ultra is the most flexible tablet yet, capable of handling both work and play.
Let's take a look at Complete Samsung Galaxy Tab S8 Ultra Review.
Check out the Samsung Galaxy Tab S8+ Android Tablet, 12.4" Large AMOLED Screen
Overview
The Galaxy Tab S8 Ultra boasts a 14.6-inch OLED display with a resolution of 1800 x 3200 pixels and a refresh rate of 120Hz. The Snapdragon 888 SoC lies at the heart of the Galaxy Tab S8 Ultra. The processor is combined with an Adreno 660 GPU that provides excellent graphics performance. The tablet has an internal memory of 8GB and a storage capacity of 128GB. There's also a high-end variant with 12GB of RAM and 512GB of storage.
The smartphone comes with a dual-camera configuration that has a 13MP primary main sensor and a 5MP secondary camera for imaging. A dual 8MP + 5MP camera combination is included on the tablet for selfies and video calls. A 12000mAh battery powers everything, and it supports 45W rapid charging. The Galaxy Tab S8 Ultra has 4G, 5G, Wi-Fi 802.11 b/g/n/ac, Bluetooth v5.2, GPS, a 3.5mm audio jack, and a USB Type-C connection for connectivity. The Galaxy Tab S7 FE and Galaxy A7 Lite are two additional popular Samsung tablets.
Specifications
Display: 14.6 inch (2960 x 1848) Super AMOLED, 120Hz
Processor: Snapdragon 8 Gen 1
Storage: 128GB/256GB/512GB
Memory: 8GB/12GB/16GB
Cameras Rear: 13MP & 6MP (Ultra Wide). Front 12MP & 12MP (Ultra Wide)
Connectivity: WiFi 6E (2.4/5/6GHz), Bluetooth v5.2
Battery: 11,200mAh Li-Ion
Size: 12.85 x 8.21 x 0.22 inches
Weight: 1.4 pounds
Design
The Galaxy Tab S8 Ultra is made of graphite metal and measures 12.85 x 8.21 x 0.22 inches. In-person, the profile is noticeably slim, yet the huge display makes it difficult to carry with one hand. Surprisingly, the Tab S8 Ultra is both lighter and thinner than the iPad Pro 12.9-inch.
The Galaxy Tab S8 sports a notch in the top center of the screen, similar to the new MacBook Pro 14 inch and MacBook Pro 16 inches. Fortunately, the notch is unobtrusive and does not attract too much notice.
Display
The Galaxy Tab S8 Ultra has Samsung's "Super AMOLED" display, which is widely regarded as the greatest display technology in the industry—it generates vivid colors with deep blacks and rich reds that explode off the screen, and its 120Hz refresh rate delivers ultra-smooth animations. The Tab S8 Ultra has the biggest 14.6-inch display of any mainstream tablet, making it bigger than any other tablet. The tablet stands 8.2 inches tall and is well than 12 inches broad, making it almost as big as a 15-inch MacBook.
Weight
The good news is that Samsung managed to make the gadget very small at 0.22-inches (5.5mm). Even still, at 1.4 pounds, it's a little awkward to carry. This tablet works best when it can be propped up on or against anything, such as a stand, a tabletop, or a thigh. After 10 minutes of holding it alone with your hands, they will become fatigued.
Processor
The Snapdragon 8 Gen 1 processor, a brand new Qualcomm chip with higher computational capability than most computer CPUs, is housed within the gadget. There's a choice of 12 or 16GB of RAM, as well as up to 512GB of storage, both of which are up-to-date memory requirements.
Check out the HP 24-inch All-in-One Desktop Computer, AMD Athlon Silver 3050U Processor, 8 GB RAM, 256 GB SSD, Windows 10 Home
Battery and Connectivity
Galaxy Tab S8 Ultra does not boast a long battery life. The screen, like the battery, is enormous. This tablet has a maximum battery life of 10 to 11 hours. The tablet is available in four different connectivity options: 4G, 5G, and Wi-Fi. Bluetooth v.5.2, GPS, a 3.5mm headphone connector, and a USB Type-C port are all included.
Storage and Camera 
8GB/12GB RAM and 128GB/512GB internal storage are included in this tablet. It also features a microSD card slot for up to 1TB of storage expansion. On the software front, it comes pre-installed with Android 11 and the OneUI 3.1 overlay. In terms of optics, the Galaxy Tab S8 Ultra has 13MP + 5MP cameras on the back. The tablet has an 8MP + 5MP camera system on the front for taking selfies and filming movies.
More Than Just a Tablet
It's a waste of battery and screen to use the Tab S8 Ultra as a tablet. Samsung sees this tablet as a productivity tool as well and has created a magnetically attached keyboard shell for it.
Although the case is technically a separate purchase, Samsung is adding it as a free gift with pre-orders. To obtain your money's worth, the keyboard case is nearly a necessity. The keyboard, along with a clever software trick, transforms the Tab S8 Ultra into a near-full-fledged PC.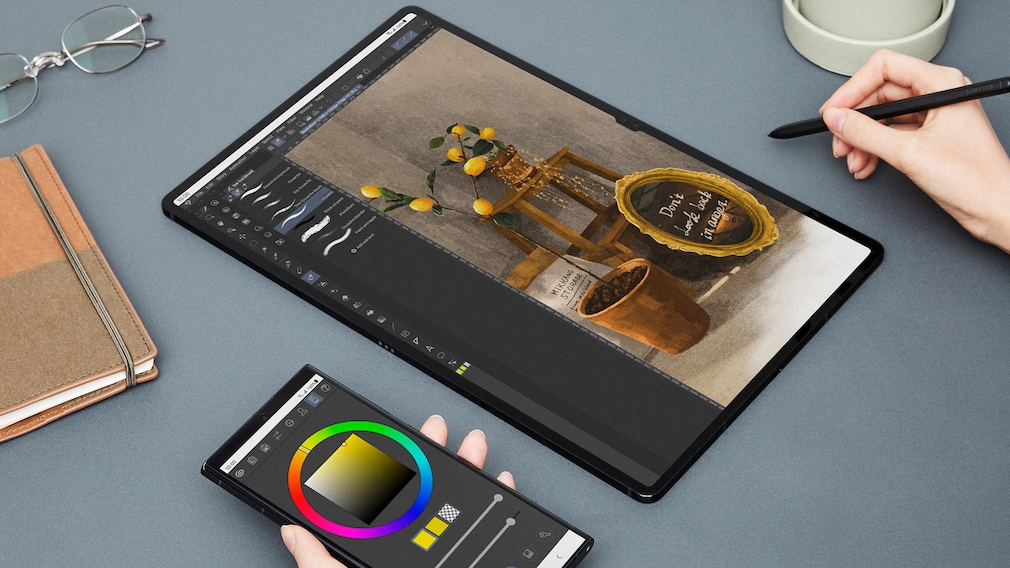 Stylus
The Samsung S-Pen is compatible with the Tab S8 Ultra and is supplied in the box. The stylus is magnetically attached to the tablet's back, where it also charges. Only the most discerning expert digital artists will be disappointed by the 2.8-millisecond delay of the stylus input. It seems as natural as writing with a pen on paper to someone who uses the stylus to jot down notes and make photo adjustments.
Our Verdict
The Samsung Galaxy Tab S8 Ultra is a premium tablet with a 14.6-inch AMOLED display from Samsung. The display boasts a refresh rate of up to 120Hz and Corning Gorilla Glass 5 protection. The Tab S8 Ultra delivers exceptional performance thanks to its Snapdragon 8 Gen 1 SoC and 12GB of RAM. The tablet supports 5G and has a 45W quick-charging capability. If you want a 120Hz AMOLED display tablet with top-of-the-line technology, the Galaxy Tab S8 Ultra is the tablet for you.
We hope you love our reviews! For your information, we do earn money from commission in the link in the content! For more information click here!