Updated on April 2nd, 2022
Skating is much loved by kids and adults alike these days. It isn't very easy but practices over time can turn you into a pro. But to ace your skating game, you need a good skating board and the market is filled with many for you to choose from. Today, even electric skateboards are on high demand and the ones that come with remote controls make it much easier for you.So, if you are looking for an electric skateboard with remote control, then you must own Wpond's electric skateboard.
A Review of Wpond's Electric Skateboard with Remote Control:
Overview of Features: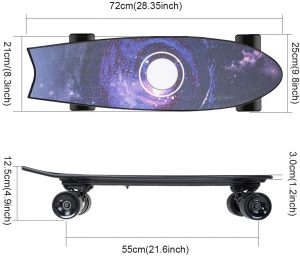 Wpond's Starry Standard Electric Skateboard with remote control is a perfect example of innovation and quality. Launched in the U.S recently, this electric skateboard ensures that you have everything under control with its incredible remote. Designed to give you a starry feel, this amazingly equipped skateboard uses polypropylene for the hoverboard and polyurethane for its wheel. Besides, it weighs not more than 6 kgs, which makes it quite lightweight to carry along for outings, picnics, etc.
This electric skateboard with remote control is built to support maximum load up to 180 lbs. So be it, kids or adults, Wpond Electric Skateboard is perfect for all. Coming to its specifications, it is a fully equipped technology-driven product that you'll totally enjoy. Stylish with a built-in battery and smart LED breathing lamp, this skateboard is even safe to ride at night.
Besides, with a 2.4G wireless remote control, you can operate the skateboard easily. You just need to be careful when you step on the hoverboard. It's best and safe to press the brake button when you mount on the hover board to keep your balance and prevent the skate from sliding away. Plus, it has 3 modes of speed for you to choose the pace at which you want to ride it. Once you connect the remote to the board manually, you don't need to do it all over again.
What We Like About Wpond's Electric Skateboard with Remote Control: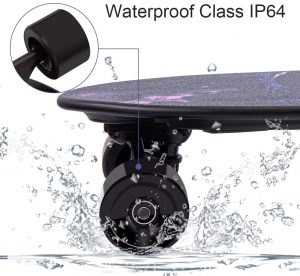 Another impressive feature of this skateboard is its superior waterproof performance; all credit goes to its IP64 Professional Waterproof wheels. The whole weight balances on the wheels of this skateboard, which is crafted incredibly to suit every type of road and even weather.
By adopting highly elastic PU wheels, Wpond Electric Skateboard with Remote Control offers great elasticity and wear-tear resistance along with a special textured design. So, now you can get this uber-cool stylish skateboard to enjoy your leisure time riding, even on a rainy day.
Point to Note:
Wpond Electric Skateboard is great for kids above 10; however, you must ensure full safety with kids. Be sure to give kids helmets, safety gear before they start riding. The same goes for adults too!
So, do check out the Wpond Electric Skateboard now, and don't forget to read through the user manual before you start skating on it. Not to mention, you can choose the LED light color to ensure your skateboard looks trendy.
What are you waiting for; own it with remote control today and ace up your skating skills flawlessly!
Read also:
7 Easy Cocktail Recipes with a Blender for Your House Party 2021.
Best Hand Blender in the U.S. That You Must Check Out 2021 
Best Air Purifier in the U.S. for Better Respiratory Health 2021 
We hope you love our reviews! For your information, we do earn money from commission in the link in the content! For more information click here!