Updated on April 3rd, 2022
Whether you are outfitting the pit section of your marching percussion section or preparing your indoor ensemble for a bevy of sound opportunities, there are some important auxiliary instruments that should become mainstays in bands of all shapes and sizes.
Typically, auxiliary percussives are grouped as tuned or un-tuned instruments. Within these two families, the varieties abound including offerings from Latin America, the Caribbean, and Persian influences. Read-on to discover great auxiliary offerings including a few notable "bests in class."
Timpani
Within the tuned auxiliary family, timpani, also known as kettle drums, are a mainstay. Consisting of a thin head stretched over a large bowl traditionally made of copper, the "timps" are played by striking the drum head with a particular drum stick called a timpani mallet.
Around since the 18th Century, timpani evolved from military drums to become a staple of concert bands, marching bands, and occasionally rock ensembles. Usually grouped as 2 to 4 instruments, timpani provide strong, resonate pitched sounds from the percussion section.
The timp head is fixed to a fleshhoop which is held onto the bowl of the drum by a counterhoop. Affixed to the counterhoop are a number of tuning screws (known as tension rods) that are placed regularly around the circumference of the instrument.
When the head's tension is adjusted by loosening or tightening the rods the pitch of the drum is altered. A timpani with a hemispheric bowl tends to create brighter sounds than timpani with a parabolic bowl.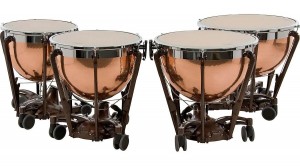 The Adams Professional GEN2 is the best offering from the world's leading timpani maker. Adams' "Balanced Action Pedal" provides extended pitch range, pitch accuracy and stable pitching through its action mechanism.
The GEN2 sports a chrome-plated steel suspension ring and counter hoop mechanism that consistently promotes superior pitch focus and sustainability by creating terrific resonance from the bowl.
Usually grouped in fives, Professional GEN2 drums each come with an integrated locking 3rd wheel assembly on the player's side. With broad arched legs and sturdy double-wheeled swivel casters, the GEN2 is a stable instrument that rolls effortlessly for a variety of stage and field placements.
Marimba
Overtime, the marimba has become another pillar within the tuned percussion family. Consisting of a set of wooden bars struck with mallets to produce musical tones. Resonators attached to the bars of the instrument amplify their sound.
The bars of the instrument, arranged like those of a piano, feature accidentals that are raised above the natural bars which help the percussionist work through a passage of score with relative ease. Developed in Chiapas, Mexico, the modern marimba is derived from an instrument called a balafon that African slaves built and used in Central America.
While at home in woodwind and brass ensembles, marimbas are versatile instruments used for concertos, jazz ensembles, solos, front ensembles, drum and bugle corps  and orchestral compositions. Modern composers continue to incorporate the unique sounds of the marimba into their latest compositions.
Widely acclaimed for its durability and deft craftsmanship, the YM-6100 is a gem of an instrument. Designed with ample input from marimba virtuoso Keiko Abe, the YM-6100 is 5-octave, height-adjustable rosewood marimba that produces beautiful resonate sound.
The YM-6100 is the result of of a 40-year research and development process, the YM-6100 is the flagship for all Yamaha marimbas and the industry benchmark.
With a height-adjustable frame, forward-facing tunable resonators and an extremely strong adjustment cord, the 6100 is full of wonderful "bells and whistles."
Woodblock
In the expansive "untuned" side of the auxiliary family, the woodblock is a key figure. A woodblock is generally described as a small, two-toned slit drum made from a single piece of wood that had been cut and finished.
Generally found in Western orchestras , the woodblock is related to the ban time-beaters used by the Han Chinese, which is why some insist on calling the woodblock the "Chinese woodblock." Jazz and ragtime ensembles often call the woodblock the clog box and tap box.
Western orchestral woodblocks are generally made from teak, walnut, rosewood, or another hardwood. While the dimensions of the woodblock tend to vary, it is typically either a rectangular or cylindrical block of wood with one or more longitudinal cavities. When struck by a mallet or a snare stick, the woodblock creates a sharp crack.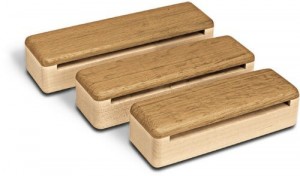 Crafted of solid hardwood and arranged in a harmonious tone sequence with a loud percussive sound character, Schlagwerk's WB 813 Woodblocks – grouped in sets of 3 – are wonderfully bocks at a lovely price.
Vibraslap
A benchmark instrument for folk ensembles and rock bands, the vibraslap is a strange but important little instrument. The vibraslap consists of a piece of stiff wire (bent into a U-shape) connecting a wood ball to a hollow box of wood with metal "teeth" inside.
When the percussionist is ready to play the vibraslap, he or she holds the metal wire in one hand and strikes the ball against the exposed palm of their other hand). A modern version of the jawbone, the vibraslap's box acts as a resonating body for a metal mechanism placed inside with a number of loosely fastened pins or rivets that vibrate and rattle against the box.
Marketed under a variety of names like the Donkey Call", "Vibraphone", "Bloodsnake", "Donkey Rattle" or "Rattleslap" the vibraslap is constructed from a variety of materials and can be found in a variety of shapes and sizes.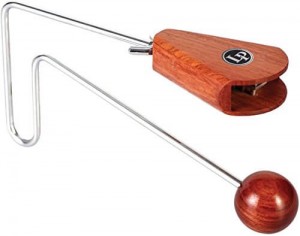 Latin Percussion's LP208 Standard Vibraslap continues to be the industry standard. Crafted of hardwoods and metals but weighing less than 1 pound, the LP208 has a full, loud sound with substantial rattle.
Finding life outside of traditional rock ensembles, this Vibraslap has become a favorite of music therapists and music appreciation instructors.
Final Thoughts
While overlooked and underappreciated, auxiliary percussion instruments bring colorful flare to every ensemble. Typically easier to learn than the battery-type instruments in an ensemble, auxiliaries often provide wonderful "entry point" opportunities to the budding percussionist.
While on the expensive side for ensembles with limited budgets, auxiliaries tend to  be well-crafted and can take the beating of constant use. Look these jewels over and determine which auxiliaries are best for your performing group. As always, happy playing.
More to read:
Electronic Traps for Beginners Review 2021.
Best Stand Mixers in the U.S. That Are Selling Like Hot Cakes 2021        Acekool Stand Mixer
Best Hand Blender in the U.S. That You Must Check Out 2021               Acekool Hand Blender
We hope you love our reviews! For your information, we do earn money from commission in the link in the content! For more information click here!