Updated on April 2nd, 2022
Every artist wants to use the best equipment when they record an instrumental or vocal. An inexpensive and low-quality microphone, while easy on the wallet, will inevitably create unenviable sound. Take time, spend some money and select a quality microphone.
Condenser or Dynamic?
Condenser microphones, typically used for acoustic guitars, vocals or any acoustic instrument that need accurate sound production, are recognized for wide frequency response.
An expensive and high-quality mic, the condensers seem best suited for recording. Relatively sensitive and fragile, condensers often come with rugged storage cases. Condensers are extremely important fixtures in the Recording Studio.
Dynamic microphones are best used for amplifying instruments. Cheaper, moisture resistant, and more rugged than there condenser brethren, dynamics tend to be used for outside, live-stage vocal performances. That said, dynamics have some detracting qualities.
Because of a narrow frequency response, dynamics are not well suited for soft vocal and acoustic instruments. Notorious for attracting interference, dynamics are usually not featured as computer mics or USB recording mics.
Neumann Microphones
Around since 1928, Neumann is well regarded manufacturer of professional recording microphones. Once based in Germany, Neumann survived World War II and Soviet influence to continue to bring high quality products to an adoring constituency.
The great crooners of United States musical lore like Bing Crosby and Elvis Pressley, who once insisted on and utilized the ultra-smooth, rolled-off tone of RCA ribbon microphones in the pop recordings in the 1950s, switched to Neumann's which were clearer, much more "present" and more "hi-fi" - sounding because of elevated upper-mid-range response.
The U47, a microphone which was distributed worldwide under the Telefunken brand name, was also used for some early classical orchestral recordings in stereo.
U87
Neumann's U87 is widely considered one of the best options on the market. Some have gone as far to say that this microphone is THE modern vocal mic.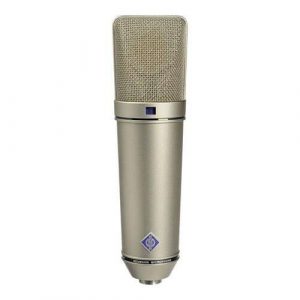 Click Here for Pricing, Pictures and Reviews on Amazon.com
A solid cross-section of studio producers and sound engineers view the U87 as the default microphone – the best choice - for voice over and vocals because it delivers a bright, punchy and modern sound. But vocals are not all this microphone can do.
The U87 can be paired with other acoustic sources like the upright bass, acoustic guitar or used as a room microphone. Its switchable polar patterns (cardioid, figure of eight and omni) serve to enhance the mic's versatility. Recognized for high output voltage, it is important to pad the U87 when it is coupled with loud sound sources.
U47
The U47 is a redesigned and rebuilt vintage microphone system that comes in two types: a tube circuit design and the more modern FET design. Both versions are excellent microphones and attractive pieces in the modern studio.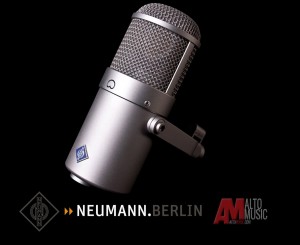 Click Here for Pricing, Pictures and Reviews on Amazon.com 
The great thing about the U47 is that it sounds good on almost anything. Its sound is commonly described as warm, full, and round. A favorite among percussionists, the U 47 is well regarded among recording engineers as a terrific bass drum microphone.
When used on the outside of the bass drum or bass drum head, the 47 deftly amplifies the bass sound without compromising the warm tone. The U47 has also garnered great popularity among double-bass players in the jazz world. A favorite of crooners, too, the U47 was considered the preferred microphone of Frank Sinatra.
Like many Neumann offerings, the U47 and its contemporaries shared some manufacturing and distribution resources with Telefunken. Later Us, the 48 and 49 for example, utilize all Neumann engineering and development. As you will note later, Telefunken makes its own specialized remake of the 47.
BCM 104
Neumann released the BCM 104 hoping to attract a wide swath of broadcast professionals. Surprisingly, recording artists from across the market swarmed to out the 104 into their studio to insure that terrific Neumann sound.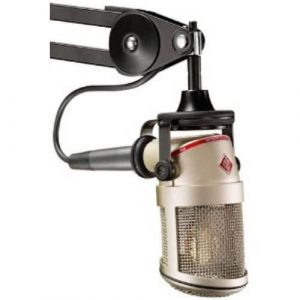 Click Here for Pricing, Pictures and Reviews on Amazon.com 
The BCM 104's head grill houses a K 04 large-diaphragm capsule, featuring a flat frequency response up to 3kHz. At higher frequencies, there is an increased presence of 2dB maximum. The 104 features excellent transient response and transmits all temporary phenomena in music and speech without any coloration.
Another neat feature of the 104 is the integrated pop screen that not only prevents the occurrence of plosive pop noises in vocal recordings, but also efficiently prevents unwanted particles, from respiratory moisture, nicotine, to food remnants, from settling on the diaphragm. The pop screen can be removed for cleaning without the use of tools.
The BCM 104 sports unique electrical features. Instead of using a traditional transformer to couple the microphone output to the available supply voltage, the Neumann 104 has an electronic circuit which, like a transformer, provides fantastic common mode rejection. With a very low self-noise of 7dB(A), and an overload capability extending to 138dB SPL, the Nuemann the 104 enjoys a dynamic range of 131dB.
Telefunken
Telefunken USA was incorporated in 2001 to provide restoration services and build exact reproductions of vintage Telefunken microphones that were produced for nearly a century in Germany.
Once a direct competitor with Neumann, Marconi, and Siemens, Telefunken quickly established a reputation for tremendous quality and uncompromising sound production. In 2003, Telefunken USA won a TEC Award in the area of Studio Microphone Technology for their precise reproduction of the coveted Ela M 250 / 251 Microphone system.
Since this illustrious moment in the spotlight, Telefunken USA has since received several TEC Awards nominations for the following microphone systems: the Telefunken USA M12, the R-F-T M16 MkII, and the AK47.
ELA M 251T
The ELA M 251 T is an upgrade of Telefunken's classic 251 model. Using Alloy 2213 as the diaphragm membrane instead of traditional diaphragm material, the CK-13 has the best of both worlds, that is, modern materials in a time-tested design. The Alloy 2213 diaphragm is crafted of an amalgam of Titanium and Aluminum, which was exclusively developed for the aerospace industry...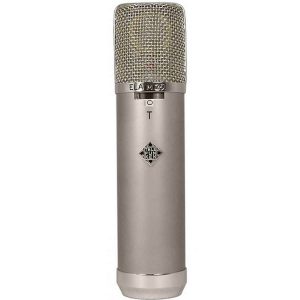 Click Here for Pricing, Pictures and Reviews on Amazon.com 
Traditionally, gold was fused onto Mylar and then placed in the old CK-12 capsule. Using rigid Alloy 2213 which has proven to be far more rigid than gold, the resulting capsule provides greater accuracy in the lowest frequency ranges on the expansive audio spectrum.
How? The T's unique diaphragm attains a higher damping factor to the continuing motion of the membrane. Alloy 2213, coupled with the edge terminated CK-12 system, helps create an airy representation of the upper ranges of the audio spectrum. This affords the producer or performer a higher degree of detail in the recorded sound while still providing a depth of sound.
Telefunken U47
A remake of a classic, the U47 is a tremendous microphone. Often billed as the first condenser microphone to offer selectable polar, the 47 also featured the famous M7 capsule which had been developed in 1928 by Georg Neumann (Remember him?).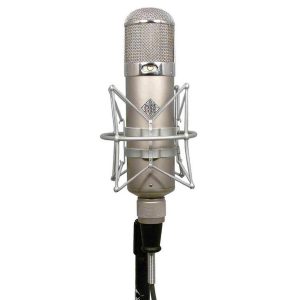 Click Here for Pricing, Pictures and Reviews on Amazon.com 
Telefunken added an amplifier built from old military VF14 tubes BV8 output transformers which were used in aircraft. At the nexus of these tremendous components was a deft sonic quality that was absolutely unavailable in the other parts of the world hooked on ribbon microphones.
When the U47 was released to the English-speaking world, a new level of vocal fidelity took these vast audiences by storm. The U47 features authoritative mid-range and extended low-end response. The large chrome head grill of the 47 houses a newly manufactured M7 capsule.
Its nickel finished body houses a BV8 output transformer and an innovative VF14k vacuum tube which is a replacement for the rare VF14M tube found in the original.
C12
The impressive C4 features a large diaphragm that is a solid pairing for all types of instruments. While especially suited to drum overheads, acoustic guitar and vocals, the C12 has the versatility to handle vocalists.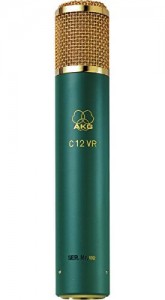 Click Here for Pricing, Pictures and Reviews on Amazon.com 
Known for its smooth top end, the 12 provides plenty of air without sounding harsh or artificial. The C12's midrange creates clear and articulate sound, capturing the source output with a natural presence. Described as taught, the C12's low end is perfectly balanced with the rest of the frequency range.
The C12 is a remastering of a classic. Developed by Austrian craftsmen at AKG Acoustics in 1953, the C12 is universally appreciated for its smooth, airy frequency The amplifier circuit utilizes a European-made Haufe (manufacturer of the original) output transformer built to match the original, and a microphone grade NOS GE JAN 6072a vacuum tube.
Every part of the C12 microphone has been reverse engineered and recreated exactly to the original design so that sound integrity may be maintained along with aesthetic appeal of the original.
Final Thoughts
As most serious studio performers and engineers already know, remakes of classic condenser microphones seem to be the order of the day. Although the market is saturated with suitable digital offerings, the "tubes" of old remain unmatched in sound quality and durable craftsmanship.
With respectable names like Neumann and Telefunken still in the business, consumers trust that they are purchasing some of the finest options available. As with all studio purchases, take your time on this one. With patience and research, you will find the ideal microphone for your needs.
We hope you love our reviews! For your information, we do earn money from commission in the link in the content! For more information click here!