Updated on April 4th, 2022
Before reveling our top pics for USBs, it might be helpful to hear what a USB is and what it is not. For starters, the USB mic contains the features of a traditional microphone like capsule, diaphragm, screen and the like. The uniqueness of USB is found inside of the device.
Unlike traditional microphones, the USB comes equipped with additional circuits including an on board pre-amp and an analog-to-digital (A/D) converter.
Due to the on board pre-amp, it is unnecessary for the USB mic to be connected to a mixer or external mic pre-amp. The circuited A/D converter changes the mic's output from analog (voltage) to digital (data), so it can be plugged directly into a computer and also disseminated by the chips on a connected computer. Mobile digital recording is as easy as plugging in the mic, launching the appropriate software and  hitting record.
When are USB's handy? There are many occasions Mic is the best option. Podcasts are an excellent example. If you or a client feel compelled to communicate ideas and opportunities through podcasts, you will certainly want to devote most of your energy to the content of the podcast rather than the recording setup in your fixed or mobile studio.
The USB set-up offers a convenient plug-and-play ability, allowing for quick set-up and easy dismantling before and after the podcast. You can plug the USB port into your laptop or computer and you are ready to record content and share it.
Interviews and Voiceovers
Because interviewing is always a dynamic process, producers are unable to bring the whole studio to the site. Have no fear, you have USB! By using a simple USB mic plugged into your laptop computer, you can eliminate the burdensome task of transporting cables, amps and the like to your mobile site.
Without all of the cumbersome stuff, producers are able to spend more time focused on the information gathered during the interview instead of the technical tasks of recording. For those engaged in voiceovers, USBs offer tremendous sound quality without the need for an engineered credentialed with all sorts of fancy degrees.
As stated before, USB mics let anyone have access to exceptional sound quality, because a single cable connects you to your recording software. Imagine being able to do the work at a fraction of the cost and hardship.
Blue Microphone Yeti Pro
We love Blue Microphone and feel that this option is perfect for desktop recording and remote feeds.The Yeti Pro is a high-quality microphone with a USB connection for convenient straight-to-computer recording.
The Yeti Pro comes with an added stereo XLR output, so you can use it as stereo mic too. Connected to your Mac or PC over USB, the Yeti Pro delivers 24-bit/192kHz sound quality. It delivers clear sound and a lot of flexibility.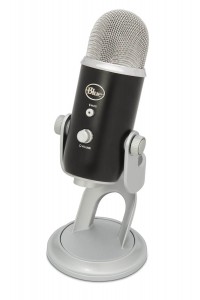 The Yeti Pro features a Tri-Capsule configuration that lets you pick from four different polar pickup patterns. Further, you can record in stereo mode, cardioid mode, omnidirectional mode or bidirectional mode. That's versatility! That means you'll be primed to tackle nearly any recording situation imaginable.
The Yeti Pro also comes with a custom base, included USB and stereo breakout cable and the handy headphone output AND you've got a premium mic that's made with both performer and producer in mind.
Blue Microphone Yeti
Call us crazy but we love this option even more than the Pro Series USB microphone! The Yeti pro can effortlessly and effectively move any source of sound recording directly to the computer. The pro is in an innovative triple capsule array, so you can record in stereo or choose from among three different patterns.
That's right, you can optimize the Yeti for recording vocals, a choir, an entire band, a duet, a speech and about 1000 other options. Many folks say that having a Yeti is like having a bunch of microphones in one. Best of all, the Yeti connects right to your computer via USB.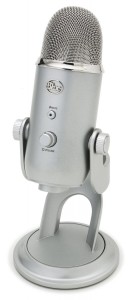 Forget about hauling around lots of cables and an audio interface — just connect this one to your Mac or PC and record something soothing or soaring. What else do you need to know about the Yeti?
The crew over at Blue Microphones is all about building versatility and sex appeal into its products. The Yeti's studio tools have a unique look and vibe. Equipped with a sexy and versatile stand you can park the Yeti right on your desktop.
The Yeti offers the perfect setup for recording vocals, podcasts, interviews, conference calls, meetings, acoustic guitar, etc. There is also a built-in threading so you can easily put the Yeti on a microphone stand and get it in the perfect position for capturing trickier sources.
Blue Microphone Snowball
The Blue Snowball makes computer recording easier than ever. Ideal for podcasting, video conferencing and all-around recording! The Snowball is a USB direct-recording microphone — and it's the next of kin to Blue's unusually hip lineup of spherical microphones.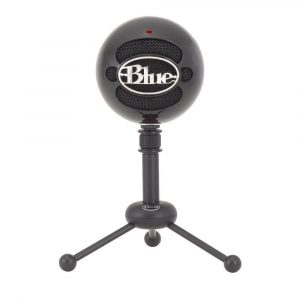 The Snowball is designed for mobile laptop use and for desktop studio use, with its universal drivers for Mac and Windows and its built-in plug-and-play USB connectivity. A stand and USB cable are included, so all you need to start recording is Blue's Snowball and your computer. The Snowball can be customized and colored to fit the scheme of your space.
Rode NT-USB Condenser
Boasting studio-quality sound in an all-in-one package, the Rode NT-USB USB condenser microphone lets you start recording straight out of the box. Whether you're recording vocals, musical instruments, a voice over or your latest podcast, the NT-USB's connectivity and on board A/D conversion ensure that the producer is able to get the project done quickly and easily.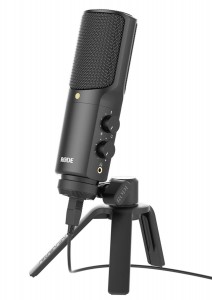 You also get everything you need to set up and record, including a tripod base, mic stand mount, pop filter, USB cable and a padded carrying case. Compatible with Mac OS X, Windows 8 and iOS, the Rode NT-USB USB condenser microphone is your complete recording solution.
Neat Microphones BeeCaster
This beefy, imposing USB microphone has as one of its chief defining characteristics a level of versatility that is astounding, breathtaking, and unmatched. The Beecaster's first impression is its truly radical design and profile.
Ideal for podcasting, the ergonomic design of the Beecaster allows for accurate and pinpoint positioning of the microphone to accommodate the layout of your status broadcasting or mobile recording space.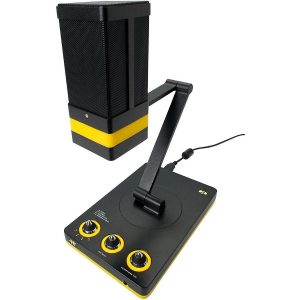 The BeeCaster features 24-bit/96 kHz resolution audio capture, and offers four discrete microphone capsules to choose from: mono, stereo, wide stereo and focused stereo. For monitoring, the BeeCaster offers a zero latency headphone output with independent volume control.
(See some of our other pieces for headphone advice). The BeeCaster also boast an adjustable mic gain, switchable capsule patterns and a fun, funky appearance that will add a dash of flava to your studio or broadcast space.
Neat Bumblebee
Ah, we love the Neat Bumblebee. It is great for professional-sounding podcasts or a convenient recording tool, the Bumblebee USB mic from Neat Microphones is a great solution for a full range of needs.
This all-you-need mic comes with a Bee mic capsule, internal shock mount design and high-resolution 24-bit/96kHz output meaning great recording anywhere that you need it.
And with the simple onboard mic gain headphone output controls, and 3-way switchable mic response, you don't have to concern yourself with control apps or additional equipment, the Neat Microphones Bumblebee gives you studio-quality sound with USB mic plug and play convenience.
The headphone output on the Bumblebee features its own level control right on the surface of the device and offers you zero-latency monitoring while you record.
The internal shock mount, along with a sturdy adjustable boom arm, are designed to keep your tracks free from the low end booms that you get from physical vibrations.
Imagine simply tucking your stand, mic, interface, and all of your other recording necessities into your laptop bag and setting off to a songwriting session. Is this possible? Absolutely id Bumble is an option you seek.
Behringer ULM100 Ultralink Microphone
Behringer breaks the affordability barrier with the Behringer ULM100 Ultralink USB Digital Wireless Microphone. Without serious concerns about price point, you can work diligently on your project without the hassle and restriction of cables underfoot and the burden of an empty bank account.
Highest-quality sound is provided by the dynamic hand-held mic thanks to its built-in transmitter. Also, the Ultralink operates in the license-free 2.4 GHz range.
And because the receiver can be connected directly to your PC/Mac computer's USB port, you can record directly into your favorite DAW application.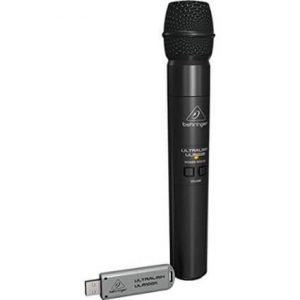 Behringer's state-of-the-art transmitters and receivers operate in the 2.4 GHz frequency band, which is well out of the way of TV stations and cell phone towers, two of the main culprits that wreak havoc in the wireless zone through the constant bleed of peripheral sound. Offering a digital encryption feature, The Ultralink's signal is able to push through all the distractions.
Final Thoughts
There are some terrific USB options out there, friends. Remember, you do not have to spend a fortune to own a good microphone for your studio. Do your research and decided which model will work best for your needs.
More to read:
Best Hand Blender in the U.S. That You Must Check Out 2021               Acekool Hand Blender
Best Air Purifier in the U.S. for Better Respiratory Health 2021             Acekool Air Purifier
Best Toaster in the U.S. That Are Worth Buying 2021                                    Acekool Toaster TA1
Best Stand Mixers in the U.S. That Are Selling Like Hot Cakes 2021        Acekool Stand Mixer
Summary
Article Name
The best USB's on the Market
Description
We reveal The best USB's on the Market for 2019. Sometimes you need a portable microphone or a studio. That is where USB mics come in handy, just plug one cable and you are good to go.
Author
We hope you love our reviews! For your information, we do earn money from commission in the link in the content! For more information click here!