We hope you love our reviews fellow musicians! For your information, we do earn money from commission in the link in the content! For more information click here!
Updated on February 14th, 2020
What defines the quality of a drum set?
Before we dive straight in to our pick of best affordable drum sets, let's define what makes a drum set a good set. A good drum set is made out of high quality materials.
A quality drum set can be made from the best maple, sturdy steel for the frame work, have great cymbals and high quality drum heads. Anyone can build a drum set with the right materials, but that doesn't necessarily mean that the set will sound good.
The manufacturing techniques are just as important as the material the set is made of of course we also want the kit to look great.
With the low price range kits looks are less important, but with in our opinion looks matter in the higher price range.
To recap everything, we'll judge a kit by the material it's made of, the manufacturing technique that defines the sound of the kit and the looks of the kit. Every kit in this article will be graded at the end of the review.
PDP Double Drive 8-Piece Shell Pack Gray Metal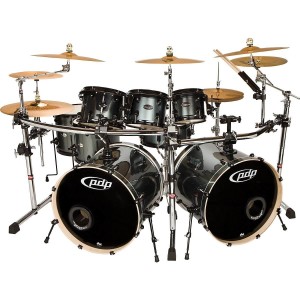 This is probably the best deal you'll ever get on a 8-piece drum set.
The Double Drive by PDP is a high quality 8-piece drum set, that sounds amazing.
This set sounds perfect for any heavier kind of playing like rock and heavy metal.
The shells on this kit are by Popular. They offer a great blend of punch and durability, they're outfitted with black remo head. The lugs and hoops are all black which make this kit look amazing.
Testing out the PDP Double Drive
The entire kit is black except for the hardware (hardware and cymbals are sold separately).
This kit contains  2 – 22" x 18" kicks, 8" x 7", 10" x 8" and 12" x 9" toms, 14" x 12" and 16" x 14" floor toms and a 14" x 5.5" snare drum.
 It's price is relatively low compared to the price of other 8-piece sets and the quality is very high.
Another great thing about this kit is that you get a resonant and batter head for every drum. The heads are well suited to the kit but for studio recording you may wan to consider a higher quality set of heads.
The sound of the kit is really great, it's a mix between Maple and Birch. The drums sound very punchy and have an amazing sound for the money.
A good sounding snare is uncommon for a shell pack, especially in this price range.
Overall this kit is the excellent choice for intermediate and professional players. And its the best two kick kit in it's price class and the next three price classes.
Overall Grade: This is an amazing 8-piece kit; It's cheap, it looks good and it sounds amazing.
Gretsch Catalina Maple 7 Piece Drum Kit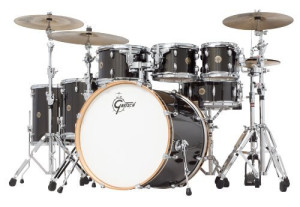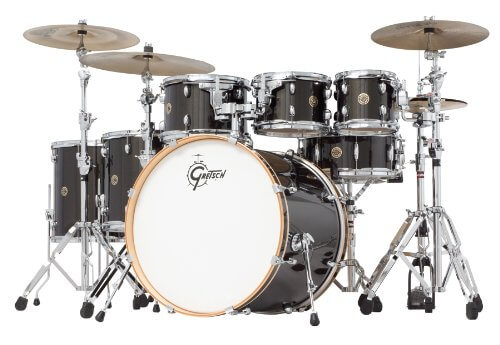 If you are really into drums you've probably heard of this set before. The Catalina Maple is one of the best Gretsch drum sets available.
The kit is available in a full range of colors, we love the satin, satin walnut and dark cherry burst.
The Catalina Maple is a 7-piece drum kit that consists  of a snare, hi-hat, ride, crash 2 toms and 2 floor toms.
My Gretch 7 Piece Catalina Maple Drum Kit with Sabian Cymbals
Gretsch has a secret shell formula, the Catalina Maple has a 7-ply maple with a hand tinted interior.
You'll find some amazing deals on this kit, it will often come with free hardware and sometimes even padded-bags.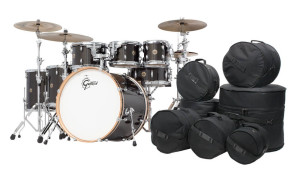 According to customers this is one of the best kits in the medium price range and we couldn't agree more. Gretsch has done an amazing job on this drum set.
It sounds phenomenal and is perfect for any type of play, whether you're in the studio or performing live this is the perfect set for everything.
The Catalina Maple 7-piece drum kit is available in a standard configuration of 22" x 18", 14" x 6",10" x 8", 12" x 9", 14" x 14" and 16" x 16".
The sound of the set is truly amazing; There is no boom and boing in the bass drum, just a drum that sound naturally while still being able to punch through.
The snare drum is versatile, it has a perfectly civilized response when played softly, but it sounds amazing and muscular when violently struck with a 2B.
Combining the amazing sound features of this kit creates the perfect sounding kit for any type of drumming.
If you're a jazz player make sure you use some rings to soften the sound of the kit.
Overall Grade: The set sounds spectacular, it often comes with free hardware, sometimes even padded bags and with its satin finish you are likely to catch some eyes.
Tama Starclassic Performer B/B Birch/Bubinga 7pc Drum Set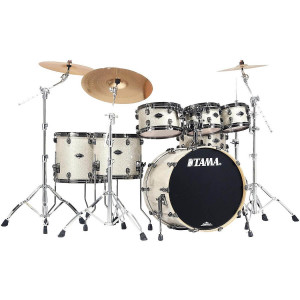 The final kit that made our list is the Tama Starclassic Performer B/B Birch/Bubinga 7-piece drum set made by Tama.
Tama is known for delivering amazing quality sets in the medium to high price range, Tama hasn't been a star in the lower price range but we can't blame them.
Their high end sets sound and feel amazing, so does this Starclassic Performer.
However, this is a limited edition drum set, so if you're going to buy one you better be quick before they run out.
TAMA starclassic performer b/b drums
This 7-piece drum set is made up of a 18" x 22" bass drum, 6" x 8" tom, 6.5" x 10" tom, 7" x 12" tom, 12" x 14" floor tom and another 14" x 16" floor tom.
Tama provides Die-cast hoops, sliding tom holders and a star-cast mounting system with this set, a great deal. The heads on this set are Evans head and allow for great sound.
Another great feature about this set is the air cushioned floor tom legs, they bounce when hit violently.
The sound of this kit is spectacular, especially for groovy players. The snare has all round "in-the-pocket" sound, the high end tones but they can be eliminated with the a lightweight ring. With it's 16" floor tom the Starclassic Performer will blow your mind, or ears.
The floor tom sounds simply amazing, and the clear Evans heads provide a high attack. Not to mention the deep, warm sound of the bass drum which is truly spectacular.
Overall Grade  One of the best drum sets available in the medium price range, it sounds amazing, feels amazing and looks amazing.
Conclusion
We've chosen the top three best drum sets, that are actually affordable. These three drum sets are the best affordable sets on the market.  On two of the sets you'll find great deals, free cymbals, hardware or padded bags.
All of the sets look amazing and they're available in several colours, especially the Tama Starclassic Performer looks good.
Apart from the looks we can safely say that all of the sets mentioned above sound amazing, especially compared to other sets in the same price range.
All of the sets are suited for intermediate and professional drummers, and they won't harm a beginner either.
Learning to play on a good quality set is amazing and you'll develop the ability to distinguish a good and bad sounding drum.
All of the drum kits mentioned in this review are definitely worth your time and money, we insure you that playing on one of these sets is very satisfying.
However, we still advise you to at least try out one or two sets before you are buying. It's good to test sets, you'll get to know the feel and sound of the set and then you can decide for yourself if you like them or not.
If you're not in the position to try out a set, you can use this article as a guide to buying the right set for you.
Every set in this article is worth your time and money!
You decide for yourself!