Updated on April 4th, 2022
In the new age, music-making not only involves creative skills but also involves some digital skills as well. The new music industry uses a technology called beat making software, commonly referred to as Digital Audio Workstations [DAW], for giving music to the beats. DAW software helps you to record sounds, edit samples, play instruments, add effects, and finalize your music tracks. Check out more for best best maker software.
Nearly every type of modern music relies on beat making. From old-school rock n' roll to EDM, most genres of music depend on various music software to hone notes and add color to the tone. Especially the electronic genre demands skills for creating a solid, rhythmic framework using the software.  As there are many beatmakers in town, the demand for beat making software has risen. 
If you are a beatmaker, here we have listed some beat making software that will help you make flawless and creative beats.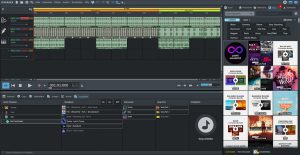 Magix introduced this software as a music editing program in 1994. Music Maker is a DAW that is well known for its easy to use music production suite. Magix Music Maker has sold over a million copies and is one of Europe's most successful music editing programs.
The software presents a huge array of loops, tracks, effects, and tools. This is a user-friendly platform with an intuitive interface, making it popular among beginner beatmakers and professionals alike. The intuitive user interface helps any beginner to start experimenting with the software and easily create a track.  
For the Music Maker to work on your computer you would need a 2 GHz processor, a 1 GB RAM, a 4.2 GB of hard disk drive space, and a graphics card with a minimum resolution of 1026×768p.  Music Maker has a vast sound library filled with a collection of compatible loops. All loops are available in a range of pitches and can easily be edited using several effects provided by the software. 
        Pros
        Cons
Ideal for beginners
No music theory or knowledge required
Real instrument recording
Expensive
Professionals might find it basic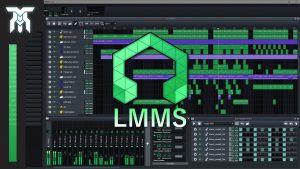 LMMS is a free beat making software that works with Windows, Mac, and Linux. This software lets you build your beats using the sequencer and choosing the BPM and time signature according to your needs. LMMS is designed by musicians and therefore has everything a producer needs to make professional-quality beats. The primary advantage of the software compared to other digital audio workstations is its sequencing workflow. LMMS follows a loop-based approach to sequencing which makes it an intuitive platform for producing beats. 
The intuitive interface allows producers to sequence, compose, mix, and automate songs. LMMS provides built-in effects for mixing and supports VST plugins as well. It also owns an editorial piano roll for fine-tuning your music. This is a great platform for building beats and jamming using your favorite drum samples and virtual instruments.
        Pros
        Cons
Free
MIDI and musical typing
Cross-platform compatible
Limited Sounds and Instrument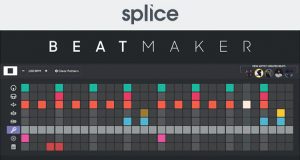 Splice Sounds beat making software is known for its VST plugins. It is a drum sequencer capable of playing eight counts and has an adjustable BPM. There are eight different sounds, which each can be loaded with a new sound from Splice Sounds' huge library. However, 8 sounds are just the free version; their monthly subscription sample service has about 100 that can be downloaded from a library of over 850,000 royalty-free sounds a month.
Splice offers four plans. The basic $7.99 plan includes 100 downloads. You can also upgrade to 300 credits for $13.99, 600 credits for $21.99, or 1,000 credits for $29.99. Even if you stop paying you to get to keep everything you have downloaded. 
The Splice website is fast and easy to navigate and the samples are of top quality. The software owns vast collections of 808 samples, ambient sound effects, and loop grooves. You can manage sounds downloaded in your online account via a browser. It is also possible to create 'Repacks', which are collections of sounds that you can manage manually like electro kicks, piano loops, and so on. 
        Pros
        Cons
Can listen to and edit other producers' beats
Compatible with most popular DAWs
No musical typing
Cannot download beats without a subscription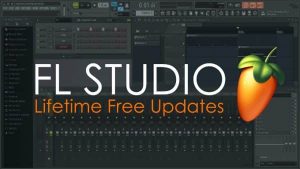 Image-Line, a Belgian software company, introduced FL Studio in 1997 as Fruity Loops. This software became popular with the hip hop community. Professionals loved FL's quick approach to editing which made beat making a breeze.  It is a complete DAW intended to cater to all your music production and beat making needs. 
FL Studio has a graphical UI based on a music sequencer that works on patterns. There are four versions of the program for Windows and macOS that include Fruity Edition, Producer Edition, Signature Bundle, and the All Plugins Bundle.  You can use the software in 3 different modes; step mode which is the plug-and-play mode where you get to create patterns and sequences in seconds. Note mode can be used to add melodies and harmony to your production. The last mode is the drum mode that has MPC-style 16 or 32 pad layouts to build your creativity. 
You will need certain minimum requirements for the software to work on your computer. A 2 GHz Intel Pentium 4, Windows 7 or higher, macOS 10.11 or higher, and 4GB RAM are the minimum requirements for FL Studio to work on your computer. 
This platform helps you create flawless and precise beats conforming to the highest professional standards. The software is packed with all the features that you would need to create complex productions, including a series of effects chains, audio sends, sidechain control, and advanced automation.
        Pros
        Cons
It has a huge collection of native instruments and effects
It has good MIDI controller integration
Takes some time to master it
Does not have audio quantization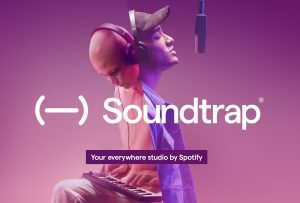 This is perhaps the easiest DAW software to experiment with. And if you are a beginner, completely new to music-making, then you should try out Soundtrap. Soundtrap is designed for learners as well as the advanced music makers capable of many different styles of recording, ranging from podcasts to hip hop. 
Soundtrap has loops and presets, grouped by genre, that is all free to use. It employs the Beatmaker is an easy looping device to create the base of your beats. It is separated into 4 bars and you can choose where you want hits from the drums, as well as which drums you want to be hit.
This DAW software needs to be used in a browser, thereby eliminating storage needs on your computer. The website has a great interface that helps beginners learn the fundamentals of mixing. It also has many options that a more experienced sound engineer could use.
        Pros
        Cons
Ability to record live instruments
Intuitive interface for easy use
Expensive>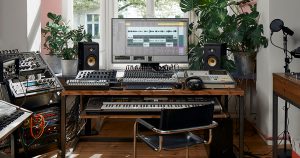 Ableton Live has become a go-to tool for music creation for many musicians since its launch in 2001. This beat making software is one of many DAW options that will function as your software studio hub. It is a powerful one-stop-shop solution for composing and performing live music, particularly electronic-influenced genres of music.
Ableton Live is available in three different versions. At $99 is Intro which gives you 16 audio and MIDI tracks, eight scenes, four simultaneous inputs for recording, and two sends and returns. It comes with a 5GB instrument set that consists of four virtual instruments, with an additional 21 effects plug-ins to mix your creations. 
The Standard version is offered for $449. This makes the track counts unlimited and possesses 256 inputs and 12 sends and returns. The version adds audio warp, slicing, audio-to-MIDI capabilities, and exhibits five instruments, 10GB of sounds, and 34 audio effects. 
Next is the Suite version for $749. This version adds the Max sonic creation environment and many more realistic sample packs for analog synthesizer and orchestral emulation. There is a total of 70GB worth of sounds, 15 instruments, and 55 audio effects. 
The software has Wavetable, a dual-oscillator, dual-filter synthesizer with a modulation matrix complete with an array of new sounds. Wavetable can import your own wavetables or samples. This eases the music editing process and makes it sound clean and modern by providing a powerful modulation matrix and an accessible user interface.   
        Pros
        Cons
Fast navigation
Powerful automation
No notation view
No pitch correction tool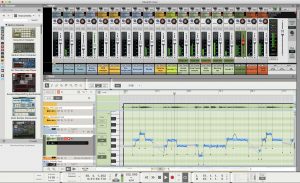 Reason's software has been a great hit in the music industry. Programmed by Propellerhead, Reason is a feature-rich DAW that has seen many generations of innovations. Reason 10 was announced in September 2017 and people were wondering about the new additions to an already enriched beat-making software. 
Reason 10 can be considered as an all-in-one recording, mixing, and mastering tool, particularly if you like electronic or hip-hop music. If you like to play around with a vast collection of sounds and beats this is the software to go for. Since it has numerous features it is best for professional music makers. 
The version 10 update to Reason is all about the addition of new instruments. Europa, which Propellerhead refers to as a "shapeshifting synthesizer." It comprises three Engines, each of which starts with a wave with modifiers, and a digital-style Spectral Filter. There is a bundle of modulation options, four envelopes, three LFOs, and six effect modules. 
The next addition is the Grain sample manipulator.  A grain instrument opens up possibilities of granular synthesis while you are composing music. You can drop any sample into Grain and create multitudes of sounds using its variable selection of playback algorithms, ultra-flexible modulation, routing, and built-in effects. 
Apart from these rack extensions which are more suitable for electronic genres, there are sampled instruments Klang, Pangea, and Humana that offer more acoustic or natural sounds. 
        Pros
        Cons
Fast composition workflow
Bundled factory sound bank
No surround or scoring features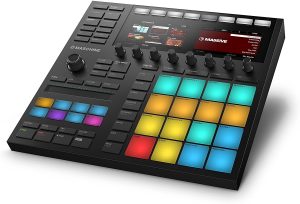 The Native Instruments MK3 is not only a beat making software but accompanies beat-making hardware as well. Even though the software can be used alone, Native Instruments sells the Maschine MK3 hardware along with the software. The hardware and software will work to their full potential only when they are paired together. 
The Maschine MK3 is a production powerhouse built for experienced music producers who want a wide range of options and capabilities in their controller. In Native Instrument's own words the Maschine suite is for "groove production." You can record loops by playing sounds assigned to different pads and then choose effects and apply them on different loops, control automation, etc.
The hardware has high-resolution sound quality with a 24 bit/96KHz audio interface. There is an engaging color display for options which helps you find the samples and sounds easily. These large color screens are situated right on top of the machine that is bright and easily readable. They help in precisely slicing audio samples and navigating through a project to move groups of sounds around. 
        Pros
        Cons
Fitted with smart strip and lock button
Two full-color screens
Takes time to adapt to the controls
The best beat making software depends on your expertise, budget, and your music taste. Some of this software are built for the electronic genre of music and might not produce the warm natural acoustic sound that you might be used to. Therefore, keep in mind to read about any software before you subscribe to it. A trial version is available for most of the beat making software out there. Try the trial version for free before buying a subscription.
Hope our listicle helps you pick the right beat making software that matches your skill.
More to read:
Best Online Drum Machine to Bring Out the Drummer in You
We hope you love our reviews! For your information, we do earn money from commission in the link in the content! For more information click here!