Updated on April 2nd, 2022
Handpans came into the picture in the late 1900s. The handpan, popularly referred to as hang drums, is a convex steel drum that is played with hands and tuned with multiple notes. This instrument is tuned to a particular scale such as major, natural minor, harmonic minor, hijaz, mixolydian, etc. Many musicians love these devices because the best handpans have the capacity to create many layers of sound and some fine effects.
In 2001 there was only one type of handpan, the Hang from PANArt. You could go to visit them, try the instruments, and buy them on spot or place an order. Hang soon started becoming popular and as it started getting a rush of orders, more and more musicians started getting into the new music style. The demand grew exponentially and the company was unable to meet all requests.
Unfortunately, in 2013, PANArt stopped making instruments, and sourcing an instrument became increasingly tough as there were a few makers in the world. The instrument is also much expensive compared to other musical instruments and making one of these is significantly time-consuming. But as the popularity increased handpan makers started cropping up around the world. It is now even available online. There are expert handpan makers with their own websites as well.
Here are a few best handpans from manufactures around the world that are made with skill and perfection. These instruments are capable of ethereal effects and therefore can be considered as an investment.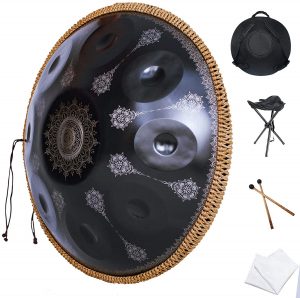 Product Highlights
This instrument is great as a beginner's handpan. This is an easy-to-learn instrument with good overtones. This is suitable for a variety of environments and is travel-friendly.
Features
The KeLishitingDK is a beautiful tambourine instrument that has been tested for its tonal quality. Crafted out of nitrogen material, the product showcases two deep-drawn half-shells that are hammered and flame-treated by hand. This is a 9-note handpan steel drum in D minor that highlights a mid-note and 8 tones in (D3, A3, bB3, C4, D4, E4, F4, G4, A4, C5) range and can produce excellent vibrations. The instrument uses high-quality stainless steel to prevent corrosion.
What We Like About KeLishitingDK
The instrument showcases beautiful tonal quality with superior range.
What We Don't Like About KeLishitingDK
It is expensive.
        Pros
        Cons
Good tonal quality
Versatile
Expensive
2. Tzevaot Handpan Aeolian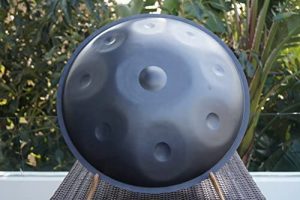 Product Highlights
Tzevaot is a handpan company founded in 2010 that can almost immediately fulfill the orders that they receive for handpans. Tzevaot handpan instruments are licensed and follow the patented PANArt method.
Features
Made of nitride, the  Tzevaot Aeolian handpan is nitrocarburized for a warm sound. The device is rust-resistant and also gives protection against UV radiation and fungus. The handpan measures 21 inches in diameter and is 10 inches high. The scales are in the range of G, C, D, E, F, G, Ab, Bb, C.
What We Like About Tzevaot Handpan Aeolian
The Tzevaot Handpan Aeolian is travel-friendly as it is rust and heat resistant.
What We Don't Like About Tzevaot Handpan Aeolian
It sometimes sounds tinny.
        Pros
        Cons
Travel- friendly
Rust resistant
Lacks sustain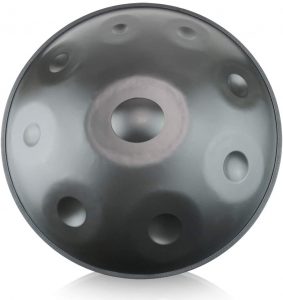 Product Highlights
The Lark Music Handpan is the best handpan for beginners. It is affordable compared to other options in the market. It is crafted with sophistication and decent resonance.
Features
The handpan measures 22.8 inches in diameter and 10 inches high. It has a steel surface that looks clean and sophisticated. The device is tuned in D minor and the scales are D, A, Bb, C, D, E, F, G, A. With decent resonance, the device is crafted for minimal fluctuations. This is more of a fingertip-playing handpan that can produce good overtones.
What We Like About Lark Music Handpan
It accompanies a carry bag and is travel-friendly.
What We Don't Like About Lark Music Handpan
It doesn't resonate as much as handpans the are more expensive.
        Pros
        Cons
Good overtones
Good build quality
Flimsy rubber rim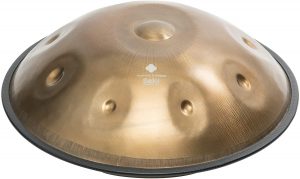 Product Highlights
The Sela Harmony handpan produces notes that are bright and long-lasting with enough sustain. It is designed to minimize metallic sounds and highlight the ethereal effects that handpans are usually known for.
Features
This handpan is crafted from corrosion-resistant stainless steel. This material helps fight off moisture damage, and humidity. It is tuned in F Sharp and includes 9 notes: F3, C4, D4, F4, F4, G4, A4, C5, C5. It also comes with a heavily padded bag that makes it travel-friendly.
What We Like About Sela Harmony Handpan
It comes with a heavily padded brown color bag.
What We Don't Like About Sela Harmony Handpan
The resonant vibrations could be improved.
        Pros
        Cons
Made of corrosion-resistant stainless steel
Travel friendly
Expensive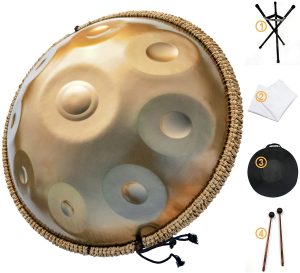 Product Highlights
The AS Teman handpan is a handcrafted device known for producing a wonderful sound on par with the best handpans.
Features
This hand drum is built with heavy-duty nitrogen stainless steel material. The color of each one will be different due to the different heating temperatures from the quenching treatment. Therefore, this model is available in different colors. This is handcrafted with traces of manual thumping. It is tuned in D Minor, including 1 center note and 8 tones; D3,A3,B3,C4,D4,E4,F4,G4,A4.
What We Like About AS Teman Handpan
It is a beginner's device with good overtones.
What We Don't Like About AS Teman Handpan
It is hard to clean.
        Pros
        Cons
Beginners handpan
Excellent sound 
Hard to clean
Final Verdict
Based on our review, we select the AS Teman Handpan as the best one. Many artists have written good reviews about the product and the device is also quite popular for its features and value of money. This handcrafted device produces wonderful tones and is long-lasting.
Handpan is an instrument that belongs to the idiophone class. Drummers seem to enjoy the effects this instrument can produce. If you are a beginner you can check out some YouTube videos of professional handpan players to know the musical potential of the device. Flash sales occasionally occur on the sites of various makers and second-hand resale of handpans is common.
Buyer's Guide
Check the tone
Refer to YouTube videos where handpan artists play their tunes on handpans. Make sure that the sound system that you are listening to or the headphones that you are using have flawless performance and can elucidate each beat for you. Make sure you judge handpans based on these parameters; tuning, timber, sustain, balance, absence of cross-talk, dynamic range, harmonics, and precision. This helps you decide the quality of each instrument.
Scales
There are handpans tuned in a variety of ranges. There are handpans tuned in D minor, F sharp, etc. While you are listening to videos for quality assessment of these devices, also note the scale each instrument is tuned in and then listen to the device. Note down the scale you like the most, the one that appealed the most to your hearing sense.
Purpose 
Purchase the instrument after you are fixated on the tone you want. You may prefer mellow tones, bassy or bright tones, oriental, jazzy, bluesy, or Celtic tones, etc.
Hope our review on the best handpans was helpful for you!
Read also:
Top Legendary Drummers You Should Know About
We hope you love our reviews! For your information, we do earn money from commission in the link in the content! For more information click here!