Updated on April 2nd, 2022
It starts with pots, pans, ladles and wooden spoons. Your little drummer boy or girl dives into the kitchen cupboards to select the instruments of the day. As you prepare supper, tiny Ringo Star pounds away on your stuff creating a joyful NOISE!You convince yourself that it is "just a phase" only to realize – 6 months later – that the drumming will never stop. It is time to shop, friend. Junior needs electro traps.
The electronic trap market is full of colorful, bedazzled junk. Every toy company on the market has attempted to cash-in on the musical desires of young children.
Parents should stay clear of all electro traps created and sold by the big box toy companies like Hasbro, Mattel, and the like. Instead, look for models that come from reputable music outfits.
Do not be concerned with providing Junior with all the "bells and whistles" money can buy. Instead, seek electronic percussives that are durably built and sized for children. As always, ask some good questions along the way.
Pyle-Pro PTED01 and Other Sample Pads
Pyle-Pro's PTED01 is a light, portable sample pad unit that sits on a tabletop. With a broadest width just under 23 inches and weighing just a little under 13 pounds, the PTED01 is transportable by even the smallest percussionist.
With over 200 standard voices and usb capabilities for computer interface, the 01 provides the child with ample play-along opportunities.
Additionally, the 01 offers a headphone interface so that the child's practice time on the instrument can be for the child alone, saving the house from disruptive rim shots and repetitive paradiddles.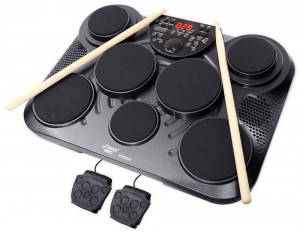 As the child percussionist becomes more skilled, mom and dad may want to consider an upgrade to Pyle-Pro's PED models. PEDs feature H-shaped racks for a truer drum set experience.
Other pad models worth exploring include the Alesis Sample Pad Pro and Roland's SPD-SX. That said, if your child develops a love for percussion, pad models will only be an appropriate approach for a short time.
For those with restrictive space and budget needs, the Yamaha DD-65 is the topline sample pad, offering advanced capabilities to the little one in a size and at a price that should work for most.
Simmons
Simmons offers some excellent, low-priced options for children moving beyond tabletop electro traps. Featuring a sturdy aluminum rack, five drum pads and three cymbal pads, the Simmons SD5Xpress is a full-size model that will not break the bank.
With over 100 standard voices, easily accessible controls and midi/usb outputs, the SD5Xpress provides extensive versatility in a robust build.
Designed to be on the quiet side of output, the Xpress is ideal for an apartment, small home,or a child's bedroom studio.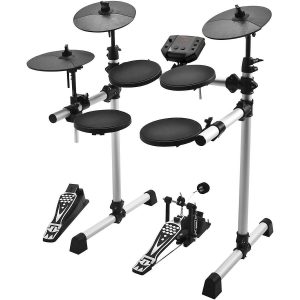 Within the Simmons family, the SD500 stands out as a worthy option for a child interested in a variety of musical niches.
With over 300 percussive voices from jazz, rock and numerous other genres, the SD500 affords your little virtuoso myriad recording options for his or her studio.
Ddrum
Ddrum's DD Beta is a simple, attractive and rugged instrument designed for the child. With an onboard metronome, 100+ voice offerings,and a Midi output jack, the Beta offers everything a child could need as he or she begins an exploration of the percussive arts.
As an added bonus, headphones are standard equipment in the Beta kit as well as many other Ddrum models. Encourage your child to use the headphones often!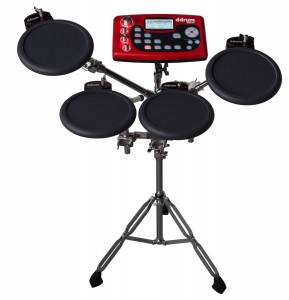 Ddrum's next step option is the elegant little DD2XS. With 4 drum heads, over 400 sounds and a tidy tree stand design, the 2XS gives Junior a plethora of mixing and recording options at a sustainable size and price. On the downside, the 2XS's unconventional design does not allow for too many expansion options.
Yamaha
While the Yamaha brand is recognized for providing professional level instruments at a professional price point, the venerable company does offer some options that will work quite well for the child drummer.
Relatively simple and straightforward for a Yamaha instrument, the Yamaha DTX400K provides some hearty "wow factors" for the beginner.
Featuring a professional H rack design and Yamaha technological innovations, the DTX400K offers the percussionist expandability and a host of standard voices and songs.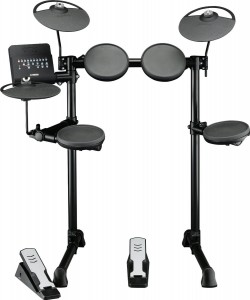 Finished in chrome, the 400s big brother, the DTX450K, has the look of a far more expensive model. Slightly larger than the 400, the 450 provides a little more space for expansion as the child begins to add blocks, cowbells, and other acoustic embellishments to the rack.
Roland
No review of children's electro traps is complete without a few words about Roland's options. Like Yamaha, Roland tends to serve the professional community with high-end, heftily-priced kits.
However, in an apparent attempt to build brand identification with the youngest members of the percussive community, Roland offers an inexpensive beginner's model that can be enhanced and enlarged as the child's skills improve.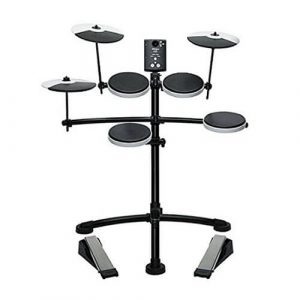 In addition to its space-saving scheme, superior sound and precise craftsmanship, the Roland TD-1K is designed to teach the novice how to play the trap from day 1.
With onboard tutorials, progress tests and play along features, the TD-1K functions like a digital teacher in the child's home studio.
As the child progresses through the TD-1K's lesson library, the lessons intensify and expand the drummer's skills.
While a bit more expansive than other child-friendly options on the market, the TD-1K can be played for years through enlargement and software expansion. With this model, the initial investment pays for itself as the instrument grows with its musician.
Final Thoughts
It is important to nurture your aspiring musician's encounter with sticks, drum heads, high hats and the like. While instrument selection is a vital consideration, nothing compares to strong support in the home.
Help your child find an electro kit that fits stature, skill level, budget and space demands. When the instrument is assembled and played offer affirmation instead of covered ears and pained grimaces.
Even if your child does not matriculate at the Eastman School of Music, he or she will benefit from his or her time working through snare exercises, bass drum progressions and strident taps on the cymbal. And to think… it all started in the kitchen with spoons, pots and pans.
Happy Playing!
We hope you love our reviews! For your information, we do earn money from commission in the link in the content! For more information click here!