If you are a Marvel comics fan you would have probably heard about Miracleman. Well! This year is Miracleman's 40th anniversary and Marvel has great plan for celebrating the superhero. The creators of the superhero character, Neil Gaiman and Mark Buckingham will reunite to continue the Miracleman saga. The authors are planning to release a comic book based on the character in October to kickoff the Miracleman 40th anniversary celebration.
"Arriving in October, Miracleman by Gaiman & Buckingham Book 1: The Golden Age TPB will collect the first six issues of Miracleman By Gaiman and Buckingham. Gaiman and Buckingham's take on Miracleman laid the groundwork for a fascinating future for the legendary super hero — a future that will now come to pass!  Available for the first time in paperback, the Miracleman By Gaiman & Buckingham Book 1: The Golden Age TPB will give fans a chance to revisit this beloved era of Miracleman ahead of the exciting plans Marvel has in store for the iconic character later this year," announced Marvel.
Miracleman 40th Anniversary Celebration
Marvel teased Miracleman's return in last year's Timeless #1, featuring the double "MM" symbol for Miracleman, as the author Anatoly Petrov scribbles the symbol in his journal after witnessing the time-travel exploits of Kang the Conqueror. This story of return will be captured in the Miracleman By Gaiman & Buckingham: The Silver Age series including remastered editions of the first two published issues, with new artwork and bonus material.
"We're back! And after thirty years away it is both thrilling and terrifying. Neil and I have had these stories in our heads since 1989 so it is amazing to finally be on the verge of sharing them with our readers," said Buckingham during the announcement of Miracleman 40th anniversary celebration.
Marvel has given a sneakpeek into the storyline: "Atop Olympus, Miracleman presides over a brave new world forged from London's destruction. It is a world free of war, of famine, of poverty. A world of countless wonders. A world where pilgrims scale Olympus' peak to petition their living god, while miles below the dead return in fantastic android bodies. It is an Age of Miracles — but is humankind ready for it? Do we even want it? Is there a place for humanity in a world of gods?"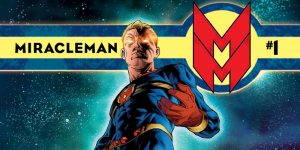 Miracleman History
Miracleman was previously known as Marvelman. The superhero debuted as Marvelman in 1954 as a UK substitute for Captain Marvel created by Mick Anglo. Marvelman later became Miracleman when he appeared on the scene in 1982 in a post-modern reboot helmed by Alan Moore and the late Garry Leach.
Marvelman or Micky Moran was an orphan kid working as a copy boy for the Daily Record. He was given the power to tap into the 'key harmonic of the universe' by an astrophysicist Guntag Barghelt . Moran could transform into his superhuman self by simply saying the word 'Kimota'! This gift of superhuman abilites was given to him by a dying Barghelt. Because Micky was honest, studious and good, and would therefore use his powers for justice. Later, Marvelman would obtain two kid sidekicks: Dicky Dauntless, AKA Young Marvelman, and Johnny Bates, AKA Kid Marvelman, collectively known as the Miracleman Family.
More to read:
Summer Game Fest 2022: Watch Out for These Games
Wage War with Battlefield 2042: Season 1 Zero Hour Launch
Games Coming to Xbox Game Pass June 2022
We hope you love our reviews! For your information, we do earn money from commission in the link in the content! For more information click here!